Russia has warned of an "explosive" spread of the Delta coronavirus variant, made worse by a sluggish vaccination campaign leading to rapidly rising infections and deaths.
Citing increases in cases of coronavirus in all Russian regions, Deputy Prime Minister Tatiana Golikova called for stronger restrictive measures and speeding up of inoculations.
"Last week the death rate linked to Covid increased by 21.3 percent compared to previous months," Ms Golikova said, as the country records thousands of new cases and hundreds of deaths every day.
"The situation has become explosive," said Moscow Mayor Sergei Sobyanin, who has taken a leading role in Russia's response to the pandemic.
He said that more than 50,000 new infections had been recorded in the Russian capital, the epicentre of the country's outbreak, over the past two weeks, calling it a pandemic high.
The highly infectious Delta variant, which first appeared in India, represents nearly 90% of new cases in Moscow, Sobyanin said.
He said that the city has 20,000 beds available for coronavirus patients, more than half of which are occupied.
Russian authorities have stepped up measures to encourage a populace suspicious of coronavirus vaccines to get inoculated.
Last week Sobyanin announced mandatory vaccinations for 60 percent of service sector workers by 15 August.
The city has also introduced an anti-Covid pass for dining out starting 28 June, allowing only residents who have been vaccinated, were sick in the past six months or can present a recent negative PCR test into restaurants.
Although free jabs have been available to Russians since December, just 20.6 million out of a population of about 146 million have received at least one dose of a vaccine, according to the Gogov website which tallies Covid figures from the regions and the media.
Russia is among the countries hardest hit by the pandemic, with the sixth-highest number of cases in the world, according to an AFP tally based on official figures.
---
---
Israel empowered health officials to quarantine anyone deemed to have been exposed to an especially infectious variant of Covid-19, even if they were previously vaccinated or recovered from the disease with presumed immunity.
The decision followed a warning by Prime Minister Naftali Bennett yesterday over new outbreaks caused by the Delta variant, with daily infections rising after weeks of low plateau credited to Israel's record mass-vaccination drive.
Under the updated Health Ministry directives, vaccinated or formerly infected people can be ordered to self-isolate for up to 14 days if authorities believe they may have been in "close contact with a carrier of a dangerous virus variant".
Such proximity could include having been passengers on the same plane, the ministry said - a possible dampener on Israel's gradual opening of its borders to vaccinated summer tourists.
Addressing parliament, Health Minister Nitzan Horowitz said fines of "thousands of shekels" would also be levied against Israeli citizens or residents who travel to countries blacklisted as high Covid-19 risks.
On 16 June, the Health Ministry listed Argentina, Brazil, South Africa, India, Mexico and Russia as off-limits to Israeli citizens or residents unless they receive special permission.
Some 55% of Israel's 9.3 million population have received both doses of the Pfizer-BioNTech vaccine, and a steep drop in cases had prompted most economic restrictions to be lifted.
Eligibility for the shots was extended to 12- to15-year-olds last month but turnout in that age group has been low. Alarmed by contagions in two Israeli schools last week, Mr Bennett urged parents to vaccinate their adolescents.
The Health Ministry said that parents of children who violate quarantine would face fines of 5,000 shekels (€1,290).
Mr Bennett said a new "corona cabinet", or ministerial taskforce to deal with the pandemic, would be established as part of the new government sworn in this month.
Fiji's virus spike 'wake-up call' for Pacific Islands: Red Cross
The Red Cross called for faster vaccine rollouts in vulnerable Pacific island nations as a record Covid-19 surge threatens to overload Fiji's health system.
Fiji's two largest hospitals have been converted into dedicated Covid-19 facilities, with cases doubling every nine days since a second wave began in April.
The situation has been a "serious wake-up call" showing the need for more urgency across the region, Red Cross Pacific chief Katie Greenwood said.
"In the Pacific, it's a critical time to ramp up vaccinations... we can't let our guards down," she said.
Only about 1% of Fiji's 930,000 population has been fully vaccinated and government health chief James Fong said community unease about inoculations was putting a strain on hospitals.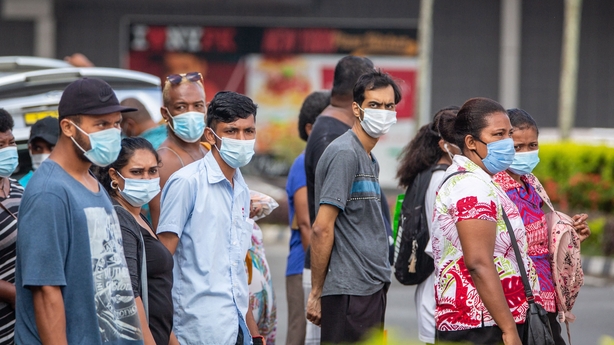 "If people keep rejecting vaccination and Covid-safe measures, that group will start to take up a lot of our health resources because the sick will come from them," he said.
"That means we have less and less (resources) for non-Covid patients."
Fiji kept community transmission at bay for more than a year by closing its borders but is currently struggling to contain an outbreak of the highly contagious Delta variant, first identified in India.
Field hospitals have been set up to treat non-virus patients as Covid cases hit 2,200 yesterday, with the daily infection tally at 180.
There have also been seven deaths during the latest outbreak, in addition to two recorded last year.
Mr Fong said experts from Australia and New Zealand were drawing up plans to help the overworked healthcare system handle an outbreak that shows no sign of slowing.
"We're in the escalating phase, we're in the steeply rising part of the phase over here," he told broadcaster Fijivillage.
"Given the current situation and the way it is escalating, we will outstrip our reserves."
But Mr Fong defended the government's policy of attempting to contain the virus through localised stay-at-home orders, rather than a national lockdown, arguing the major problem was people failing to follow social distancing rules.
"People are frightened... (but) it's a little bit frustrating when you see that the fear only induces anger and some people lash out with negative comments," he said.
More than 150 Texas hospital staff fired or quit over vaccine ruling

More than 150 employees at the Houston Methodist hospital in Texas were fired or resigned after failing to comply with orders to get a Covid-19 vaccination to continue working there, a hospital spokeswoman said.
Officials Houston Methodist told its staff they needed to have received a Covid vaccination by 7 June or be suspended for two weeks.
Hospital spokeswoman Gale Smith said 153 employees "either resigned in the two-week suspension period or were terminated today.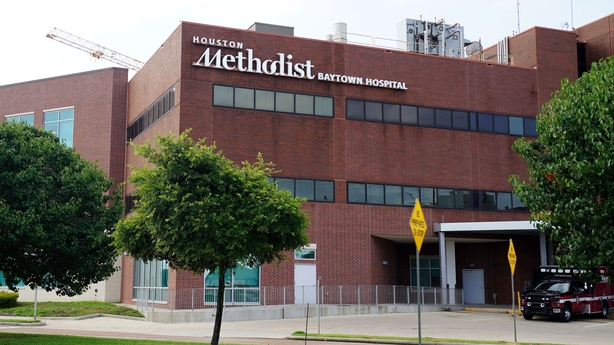 "The employees who became compliant during the suspension period returned to work the day after they became compliant," she said.
Nearly 200 staff had been suspended, the New York Times reported, and protests were staged against the mandatory vaccine rule.
Last month, 117 staff members filed a lawsuit against the hospital, accusing it of "forcing its employees to be human 'guinea pigs' as a condition for continued employment."
The lawsuit was dismissed by a judge who said the vaccines' safety was not at issue, and that Texas law only protects employees from refusing to commit a crime.
"Receiving a Covid-19 vaccination is not an illegal act, and it carries no criminal penalties," Judge Lynn Hughes wrote.
The judge also reprimanded one of the main plaintiffs behind the lawsuit, nurse Jennifer Bridges, for the analogy that the threat of being fired for not getting vaccinated was like "forced medical experimentation during the Holocaust."
"Equating the injection requirement to medical experimentation in concentration camps is reprehensible," Judge Hughes wrote.
But Ms Bridges, who was one of the staff to have lost their job in the protest, told AFP their legal push was receiving more support.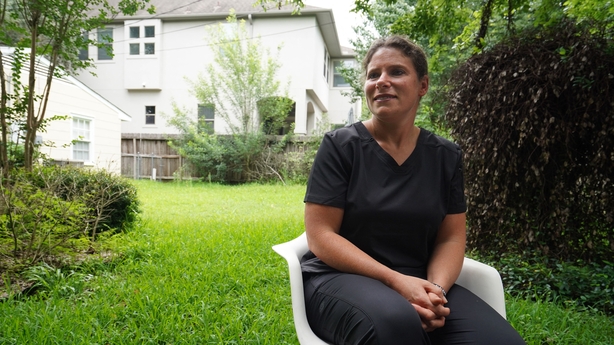 "117 people joined us initially. Now we're about to add another 70. We want Methodist to be held accountable for their actions. We want the public to see that we should not have lost our jobs and that Methodist is not properly giving people informed consent or talking about adverse reactions," the 39-year-old said.
"I chose not to get this shot because the risks for me are too great. I've personally seen adverse reactions within employees and patients. Everything from severe headaches to blood clots, to paralysis, to even death," she said.
"At my age, my benefits from getting this vaccine aren't much at all because I only have a 1% chance of dying from the virus anyways."
As of yesterday, 65.4% of adults in the United States had received one or more doses of the Pfizer, Moderna or Johnson & Johnson shots.
And yet, surveys show that health care workers have been among the greatest vaccine sceptics.
China's Covid-hit Shenzhen suspends direct flights to Beijing
Direct flights from the southern Chinese city of Shenzhen to Beijing have been suspended until at least 1 July, booking apps showed, ahead of celebrations for the Chinese Communist Party's founding in the capital on that date.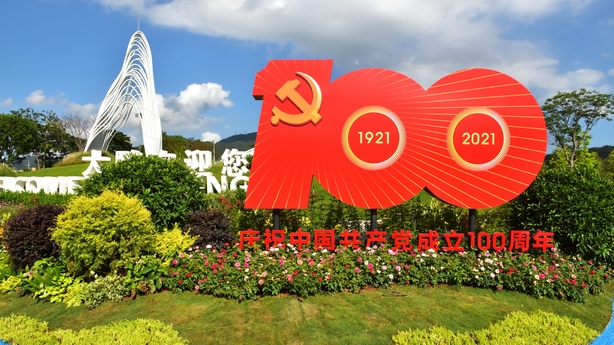 China's most populous province Guangdong is battling a Covid-19 outbreak, with 170 confirmed local cases between 21 May and 21 June. No new confirmed local cases were reported for yesterday.
Of the cases, eight were recorded in Shenzhen, while 146 were reported in the provincial capital Guangzhou, though direct flights were still available to Beijing as of today, booking apps such as CTrip and Fliggy showed.
A Shenzhen government official who declined to be identified and two airline representatives confirmed flights from Shenzhen to the capital had been suspended.
Flights to other mainland destinations appeared to be operating as normal.
The airport in Foshan city, which borders Guangzhou and has seen 12 cases in the last month, announced that it was suspending all flights until 7 July due to the pandemic.
While the Chinese city of Wuhan was the initial epicentre ofthe coronavirus pandemic, which first emerged there in late 2019, China has largely kept Covid-19 at bay over the past year, with intermittent outbreaks that were quickly contained.