Over half the new Covid-19 cases being reported in the Lisbon region are of the more infectious Delta coronavirus variant, preliminary data showed as Portuguese authorities scramble to curb a worrying spike in infections.
Ricardo Jorge, the national health institute, said the Delta variant, first identified in India, represented over 60% of cases in the Lisbon area though still less than 15% in the northern half of Portugal.
The Alpha variant, which was previously dominant in Britain, is more prevalent across Portugal's north, representing 80% of infections there and only 30% in and around Lisbon, according to the institute.
Portugal posted over 1,000 new Covid-19 cases for the fourth straight day yesterday and the number of people testing newly positive every 24 hours is back to late February levels, when the country was still under lockdown.
However, about 2.5 million of Portugal's 10 million population has now been fully vaccinated against Covid-19.
While there has been a slight increase in hospitalisations in recent days, there has been no noticeable rise in deaths given that most older, more vulnerable people have been vaccinated.
The recent jump in infections comes around a month after tourism-dependent Portugal opened to visitors from the rest of the EU as well as Britain.
Most of the new daily infections were in the Lisbon area, where a weekend travel ban took force on Friday.
---
---
Portugal has the European Union's highest seven-day rolling average of cases per capita, according to data trackerourworldindata.org.
A lockdown was imposed in January to tackle what was then the world's worst coronavirus surge that brought the health system to the brink of collapse. Most restrictions have since been lifted.
Britain removed Portugal from its green list of foreign destinations on 3 June, less than a week after a mass gathering of football fans in Porto during the Champions League final was allowed to take place.
Portugal said last week it would allow US visitors into the country but they must show a negative Covid-19 test result on arrival.
Belgium bans arrivals from Britain over Delta variant
Belgium will ban entry to non-EU travellers from Britain in order to limit the spread of a Covid-19 variant that has forced London to delay the lifting of its pandemic curbs.
Britain is on a list of 27 nations that will also face the order which will take effect by 27 June at the latest, a spokesman for Health Minister Frank Vandenbroucke, said.
Belgium is concerned about the Delta variant, which first emerged in India, that has caused a surge in Covid cases in Britain, and forced the UK government to delay plans to ease curbs from 21 June.
With Belgium's restrictions, which already apply to South Africa, India and Brazil, only EU citizens or residents of Belgium will be able to enter the country.
Those travellers will still have to meet tight quarantine rules as well as take covid tests before being free to move in Europe.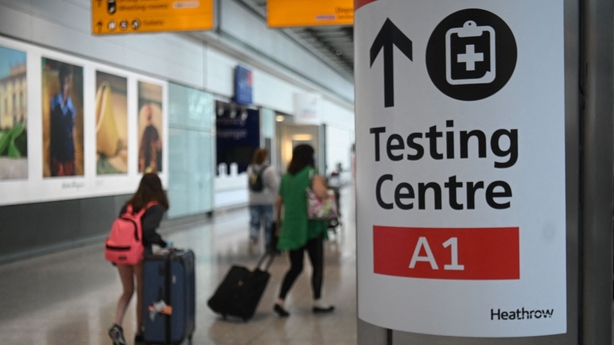 The only exceptions for British or other non-EU travellers coming from a banned country will be diplomats on essential work and transport personnel, the government said.
So far in Belgium, the Delta variant accounts for 6.1% of infections, according to the most recent official data, but other research indicates the actual rate is higher.
The spokesman said the government did not want to jeopardise the massive effort made by the Belgians just when the country's vaccination rate had become the fastest in the EU.
"Britain is five weeks ahead of us in their vaccination drive and they had to postpone their plans to lift restrictions," he said.
"But this is a temporary situation that will be re-evaluated regularly," he added.
The ban would tighten the current situation in which British travellers have to show proof of the essential nature of their trip when making a visit from Britain.
The decision was taken at a meeting on Friday of Belgian government's covid committee that sets the rules for fighting the spread of Covid-19 and will be published in the official journal in the coming days.
Of the 27 banned countries, Britain and Georgia are the only Europeans on the Belgium's list.
Fever clinic and Covid kits: Tokyo 2020 shows off Olympic Village

Tokyo 2020 organisers threw open the doors of the Olympic Village to the media today, showcasing virus upgrades including a fever clinic just over a month before the Games begin.
Organisers are in the home stretch of preparations before the 23 July opening ceremony, and are trying to build confidence that the mega-event will be safe for athletes and the Japanese public.
They unveiled the dedicated virus clinic, warned that drinking in groups would be prohibited and said a mixed zone for guests had been scrapped.
Warning posters that caution residents to take anti-virus measures including room ventilation have been placed throughout the mini-city, which can sleep 18,000 athletes and team members during the Olympics and 8,000 during the Paralympics.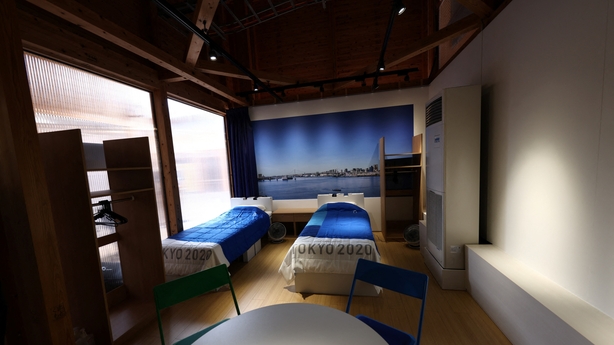 The fever clinic, separate from the main medical facility, will be used to test and isolate people suspected of virus infection or considered close contacts of those who test positive.
"If there is suspicion of being infected... we should be able to properly isolate this person," said Takashi Kitajima, general manager for the village.
"This is just another example of how we are stringently managing matters about possible Covid infections," he told reporters.
Other measures include reduced seating for diners, plexiglass shields between gym equipment, and a kit of hand sanitisers and soap to be handed to village residents.
Built on reclaimed land looking out over Tokyo Bay, the village has been empty except for workers since the event was postponed last March.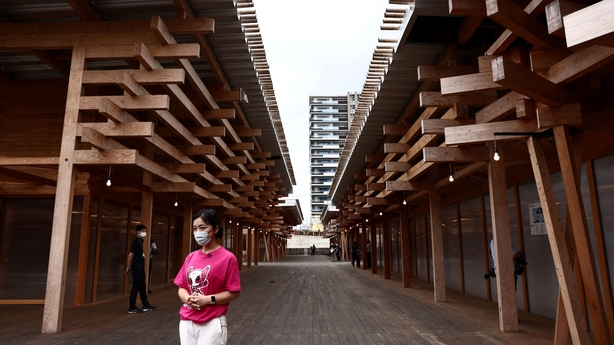 Opening in just over a fortnight, the village will be particularly important for athletes this Games because they are barred from going anywhere else except training and competition venues.
Under strict virus rules, athletes will be tested daily and required to wear masks except during competition, eating and sleeping. And there will be no partying, officials warned.
"When you drink alcohol, in principle, you are requested to drink alone," said Kitajima.
Competitors can only enter the village shortly before their event and must leave within 48 hours of being eliminated or their competition ending.
Olympic officials expect most of those staying in the village will have been vaccinated, but the rules apply regardless of inoculation status, and athletes could be kicked out of the Games if they fail to comply.
In a taste of the challenges ahead, a member of the Ugandan Olympic delegation that arrived in Japan yesterday tested positive for the virus, despite reportedly being vaccinated and testing negative before travel.
The safety measures are set to make for a Games like no other, with overseas fans already banned and a decision on domestic spectators expected next week.
China vaccine doses pass one billion mark

The number of Covid-19 jabs administered in China has passed the one billion mark, health officials said, more than a third of the doses given worldwide.
The announcement by the National Health Commission comes after the number of shots administered globally surpassed 2.5 billion on Friday, according to an AFP count from official sources.
It is unclear what percentage of China's population has now been inoculated but its vaccination drive got off to a slow start after a successful fight against the virus left little sense of urgency to get jabbed.
A lack of transparency and previous vaccine scandals have also led to resistance among residents.
Authorities have set an ambitious target of fully vaccinating 40% of the country's nearly 1.4 billion people by the end of this month.
Some provinces are offering vaccines for free to encourage people to roll up their sleeves. Residents in central Anhui province have been given free eggs, while some living in Beijing have received shopping coupons.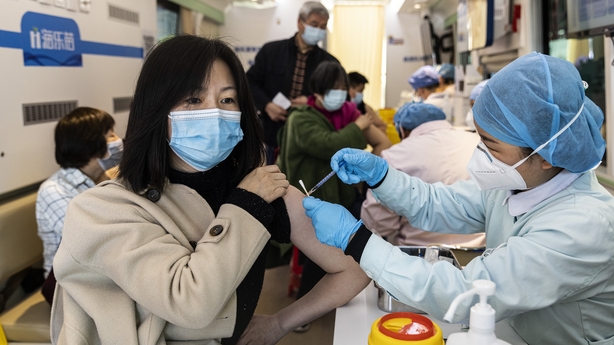 A recent outbreak of the more contagious Delta variant of the virus in the southern city of Guangzhou has also served as a wake-up call for many dragging their feet.
China reported 23 new coronavirus cases today.
The country has four conditionally approved vaccines, whose published efficacy rates remain behind rival jabs by Pfizer-BioNTech and Moderna, which have 95% and 94% success rates respectively.
China's Sinovac previously said trials of its shot in Brazil showed around 50% efficacy in preventing infection and 80% in preventing cases requiring medical intervention.
Sinopharm's two vaccines have efficacy rates of 79% and 72% respectively, while the overall efficacy for CanSino's stands at 65% after 28 days.
Many of them require two doses.
China is expected to produce more than three billion vaccine doses this year, state news agency Xinhua reported in April.
Health authorities have not said when China will reach herd immunity or what proportion of its vaccine doses will be sold abroad.
Russian employees rejecting vaccines risk unpaid leave

Russian workers who refuse Covid-19 vaccinations in areas where they are compulsory could be forced to take unpaid leave, the labour minister has warned as infections spike and inoculation drives slow.
Anton Kotyakov's comments come as Moscow and other cities introduce an array of curbs, including for the Euro 2020 football tournament.
"If the health authorities in a region make vaccination mandatory for some categories of workers, an unvaccinated employee could be suspended," Mr Kotyakov said in comments posted to a state-run channel on the Telegram messaging app.
He added that the suspension would last as long as the decree for mandatory vaccination is in effect.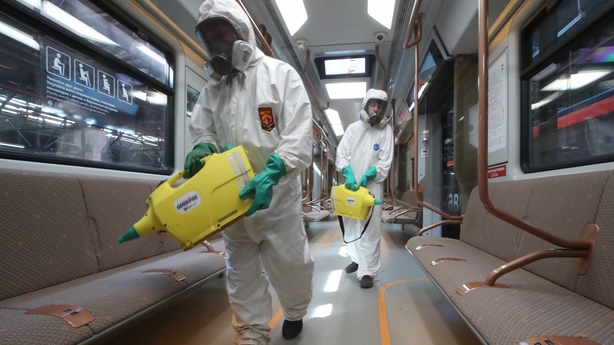 Moscow has ordered mandatory vaccination for residents working in the service industry, saying some 60% would have to be fully inoculated by 15 August and seven other cities and areas, including the second city of Saint Petersburg, have imposed similar rules, according to Russian media.
The new wave of infections came as Saint Petersburg, the country's worst Covid hotspot after Moscow, is slated to host seven Euro 2020 matches - including a quarter-final on 2 July - expected to draw thousands of European football fans.
Although free jabs have been available to Russians since December, just 19.5 million out of a population of some 146 million have received at least one dose of a vaccine, according to the Gogov website which tallies Covid figures from the regions and the media.
In Moscow, only 1.5 million of the city's roughly 12 million people have been fully vaccinated.
A recent independent survey found that 60% of Russians do not intend to get the shot.
After two straight days of record infections, Moscow registered a slight decrease today with 8,305 infections in 24 hours. This is still far higher than two weeks ago when about 3,000 cases were recorded daily.
Moscow Mayor Sergei Sobyanin has said the highly infectious Delta variant first identified in India represented nearly 90% of new cases.
The number of new cases surpassed 1,000 for the first time in 24 hours in Saint Petersburg since the end of February, out of 17,611 nationwide.
Russia, with 129,361 deaths recorded by the government, is the hardest hit country in Europe.
Under a broader definition for deaths linked to Covid, statistics agency Rosstat has counted at least 270,000 deaths since the pandemic began.