The Department of Health has been notified of a further 313 new cases of Covid-19.
The total number of people in hospital with the virus is 44 and of those, 15 are in intensive care - this is three fewer compared to yesterday.
The CEO of the Health Service Executive praised the benefits of vaccines, with 21 hospitals having just one Covid patient or less.
Paul Reid said on Twitter: "Huge credit to public support and for the take-up of vaccines here."
Every day that supplies allow for further vaccines, we see the benefits. We're now down to 44 positive #COVID19 inpatients in hospital, 15 of those in ICU. 21 hospitals with just one case or less. Huge credit to public support & for the take up of vaccines here. @HSELive

— Paul Reid (@paulreiddublin) June 18, 2021
Professor Philip Nolan of the National Public Health Emergency Team earlier shared his optimism over the current Covid-19 incidence rate.
The head of the Epidemiological Modelling Advisory Group posted a thread on Twitter, hailing a 27% fall in the seven-day moving average of coronavirus case numbers, from 442 on 21 May to 321 today.
He added: "The numbers of people in hospital and ICU are less than half what they were six weeks ago, and new admissions are low (on average seven new admissions to hospital per day, and two admissions to ICU every five days).
"We see incidence falling in adults aged 40-65 as vaccines take effect: one by one, from the oldest age group (60-64) down, incidence falls, precisely at the point we would expect, given the dates when each group was vaccinated and the time to effectiveness of the vaccines."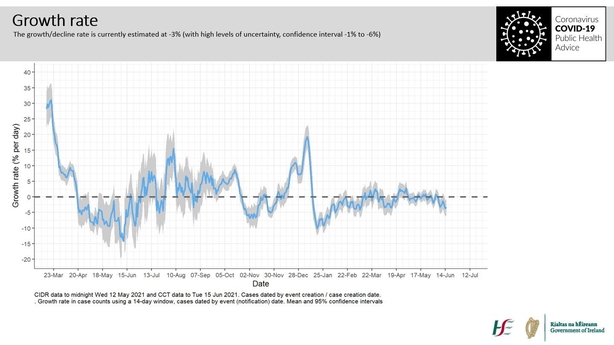 Prof Nolan stated: "Interestingly, incidence has also fallen significantly in children of school-going age (primary and secondary) over the last three weeks.
"Incidence in those aged 19-24 years remains high (twice that in 16-18 or 25-29-year-olds)."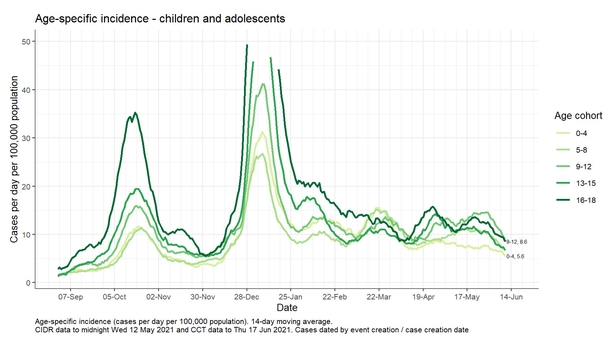 He said there were four reasons "why we are suppressing the virus".
These included vaccination and the collective public effort to limit transmission as well as local public health action in partnership with the community alongside the national strategy and response.
---
---
The figures come as Taoiseach Micheál Martin said that this week will be "the biggest week yet" in terms of the vaccine roll-out.
Over the course of this weekend, two-thirds of the eligible population will have received a first vaccine dose and one third will be considered fully vaccinated.
Mr Martin said 330,000 vaccines will be administered this week and the milestone of 3.5 million vaccine doses will also be reached.
Also today, the Department of Health confirmed that Canada has been removed from the Mandatory Hotel Quarantine list of designated countries with immediate effect.
Mongolia is being added to the MHQ list for all arrivals with effect from 4am on Tuesday 22 June.
Meanwhile, the online portal for people to register for a Covid-19 vaccine will open for those aged 35-39 from this Sunday.
The HSE has said people aged 39 will be able to register on Sunday, with those aged 38 from Monday, 37 from Tuesday, 36 from Wednesday, and those aged 35 from Thursday 24 June.
Once registered, appointment details will follow within three weeks, the HSE said. Those who register will be referred to a HSE vaccination centre and will be vaccinated with either the Pfizer or Moderna vaccine.
Earlier, the Taoiseach also paid tribute to all of those involved in the roll-out.
He said that very good progress had been made in terms of reducing serious illness, with less than 2% of cases in the age cohort of over 65s.
Chief Medical Officer Dr Tony Holohan met his Northern Ireland counterparts today due to concerns over the Delta variant.
The Minister for Health, Stephen Donnelly, described it as "another positive bilateral meeting" adding: "We're working together on Covid-19 incidence levels, cross-border co-operation and data sharing."