A coronavirus state of emergency in Tokyo and several other Japanese regions will be lifted on Sunday, just over a month before the Olympic Games, Prime Minister Yoshihide Suga has announced.
But in its place the government will implement so-called "quasi-emergency" measures in the capital and several other areas until 11 July, limiting alcohol sales and opening hours for bars and restaurants.
Earlier, a panel of government-appointed experts approved a plan to downgrade the state of emergency in eight Japanese prefectures, including Tokyo.
Economy Minister Yasutoshi Nishimura, who oversees Japan's coronavirus response, said the latter half of the discussions centred on the wisdom of lifting the measures in Tokyo.
With the pace of decline in new infections slowing in recent days, some warned of a likely rebound and stressed the need to respond without hesitation through further curbs or even the reinstatement of a state of emergency, he added.
Meanwhile, Japan will make a vaccine passport available from next month for Japanese travellers, as governments around the world experiment with ways to relaunch tourism and business trips.
"We are preparing to issue a certificate of vaccination for those who need one ... when they visit foreign countries," government spokesman Katsunobu Kato told reporters.
The certificate will be paper-based rather than digital and will be issued by local governments from sometime next month, he said.
Company officials in Japan have been keen for a vaccine document that would help re-establish business travel.
Its vaccine roll-out started comparatively slowly, but has picked up pace in recent weeks. Just over 6% of the population is fully vaccinated.
The country's borders are closed to almost all foreign arrivals, though the rules will be relaxed for the Olympic Games, which open on 23 July.
Australia further restricts AstraZeneca vaccine over clotting concerns
Australia has recommended that AstraZeneca's Covid-19 jab should not be given to people aged under 60 in a fresh blow to the country's slow vaccine roll-out.
Health Minister Greg Hunt said concerns over possible links to blood clots meant Pfizer was now "the preferred vaccine" for everyone under 60.
Australian authorities had already restricted the AstraZeneca shot to those over 50 in April, after several cases of severe blood clots were possibly linked to it.
The further restriction came after a 52-year-old woman died of blood clotting after receiving the jab.
Mr Hunt admitted the move would "challenge" the country's already badly stalled vaccine roll-out, which has seen just 3% of its population of 25 million fully inoculated.
Facing growing public disquiet over the slow rate of jabs, the government also announced that a senior army officer, Lieutenant General John Frewen, would lead the federal vaccine roll-out, now dubbed operation "Vaccine Shield".
The move is likely to have a marginal impact, as responsibility for inoculations has largely fallen to individual states.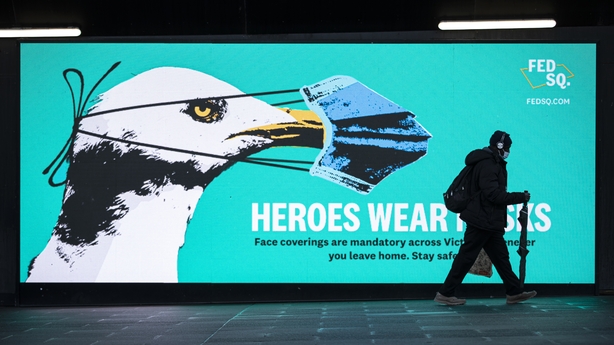 Australia has invested heavily in the AstraZeneca vaccine, developing a facility to produce 50 million doses locally.
Purchases of other shots have been more limited and have faced multiple delays, forcing the government to abandon its target of vaccinating all adults by September this year.
Australia has only a few locally transmitted cases of Covid-19 and has closed its borders to all but a handful of foreign travellers.
Those measures are likely to stay in place until a large percentage of adults are vaccinated, but in the meantime the virus has repeatedly jumped from hotel quarantine facilities into the community, sparking lockdowns and costly restrictions.
Melbourne exited its fourth lockdown last week and Sydney is now on high alert after a cluster of three cases linked to a foreign air crew shuttle driver emerged.
Several venues around the famed Bondi beach have been labelled potential virus hotspots, with anyone visiting told to get tested and stay at home for two weeks.
Hundreds of Indonesian doctors contract Covid-19 despite vaccination
More than 350 Indonesian doctors have contracted the coronavirus despite being vaccinated with Sinovac and dozens have been hospitalised, officials said, as concerns rise about the efficacy of some vaccines against more virulent strains.
Most of the doctors were asymptomatic and self-isolating at home, according to Badai Ismoyo, head of the Kudus district health office in Central Java, but dozens were in hospital with high fevers and declining oxygen saturation levels.
Kudus is battling an outbreak believed to be driven by the more transmissible Delta variant, which has pushed bed occupancy rates above 90% in the district.
Designated as a priority group, Indonesian healthcare workers were among the first to be vaccinated when the inoculation drive started in January.
Almost all have received the Covid-19 vaccine developed by Chinese biopharmaceutical company Sinovac, according to the Indonesian Medical Association (IDI).
While the number of Indonesian healthcare workers dying from Covid-19 has decreased significantly - dropping from 158 deaths last January to 13 last month, according to data initiative group Lapor - public health experts say the Java hospitalisations are cause for concern.
Grappling with one of the worst outbreaks in Asia, with more than 1.9 million cases and 53,000 deaths, there has been a heavy toll on Indonesia's doctors and nurses with 946 deaths.
In its latest situation report the World Health Organization called for Indonesia to implement a stricter lockdown with increased transmission due to variants of concern and a "drastic increase in bed occupancy rates" necessitating urgent action.
Arthritis drug shows promise against severe Covid - study
A repurposed arthritis drug has shown positive results in a clinical trial of patients hospitalised with the coronavirus, according to a paper published in the New England Journal of Medicine.
Tofacitinib, taken orally and sold under the brand name Xeljanz among others, was tested in a trial of 289 patients in hospital with severe Covid-19 across 15 locations in Brazil.
Half received the drug - a 10mg pill twice a day - and standard care like glucocorticoids that reduce an overactive immune response, while the other half received a placebo and standard care.
After 28 days, 18.1% of the group receiving tofacitinib progressed to respiratory failure or death, compared to 29% in the placebo group.
This represented a statistically significant relative risk reduction of 63%.
Respiratory failure refers to a patient requiring noninvasive ventilation through an oxygen mask, or being intubated and placed on a mechanical ventilator.
Deaths after 28 days occurred in 2.8% of patients in the tofacitinib group and in 5.5% of those in the placebo group.
Serious side effects occurred in 14.1% in the tofacitinib group and in 12% in the placebo group.