Denmark has announced the easing of several Covid measures, regarding the use of face masks, bar and restaurant opening hours, and crowd sizes at Euro matches as it prepares to lift all restrictions by 1 October.
It also plans to phase out its "corona pass" required for some activities by the same date.
"We will be able to do everything that we have missed, because we now have the epidemic under control," Health Minister Magnus Heunicke told reporters.
Masks will no longer be required as of 14 June, except on public transport during rush hour and for standing passengers. That requirement will subsequently be lifted on 1 September.
Bars and restaurants will be allowed to stay open until midnight as of 11 June, compared to 11pm currently. As of 15 July, they will be allowed to remain open until 2am.
Nightclubs will be authorised to reopen on 1 September, but people will need to show a "corona pass" to enter until 1 October.
The document, which certifies that the bearer has either tested negative for the virus or is immune, will be phased out entirely by 1 October.
Museums, cinemas and theatres will no longer require it as of 1 August, and bars and restaurants as of 1 September.
Up to 10,000 people will be allowed at public events of 14 June.
---
---
Exceptionally, the four Euro 2020 matches to be played in Copenhagen will be able to welcome 25,000 spectators, up from the 16,000 that had been planned until now.
However, given the short notice, Denmark's football association said the increase will not apply to the first match on Saturday, when Denmark meets Finland.
Relatively spared from the pandemic, Denmark currently has just 122 Covid patients in hospital, the lowest number since October.
Among the country's 5.8 million inhabitants, 24.2% are fully vaccinated and 42.7% have received a first dose.
Two Australian states on Covid-19 alert after infected woman's interstate travel
Two Australian states are on Covid-19 alert after an infected woman and her husband travelled from Victoria, the epicentre of the country's latest outbreak, through the states of New South Wales and into Queensland, visiting dozens of sites en route.
Authorities in New South Wales and Queensland are trying to trace close contacts and locate virus hotspots. The couple may face criminal charges for breaching Covid-19 border restrictions.
The 44-year-old woman tested positive for Covid-19 once in Queensland, authorities said, and her husband has since tested positive.
Queensland state Health Minister Yvette D'Ath told reporters in Brisbane that the couple's tests suggested they were likely at the end of their infectious period.
"This means the risk is lower than we were expecting yesterday, which is really positive news," Ms D'Ath said.
No other cases were reported from the state.
Australia has largely contained all prior outbreaks through snap lockdowns, regional border controls and swift contact tracing, with just over 30,200 cases and 910 deaths since the pandemic began.
It has reported zero cases most days this year.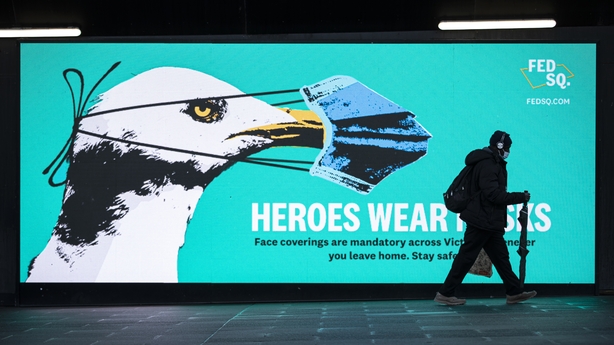 Queensland authorities said they were investigating if the couple, who drove from Melbourne, had a travel exemption to enter the state, despite their home state of Victoria being under a hard lockdown.
Queensland has issued alerts for parts of Sunshine Coast, a popular tourist spot, and two regional areas.
New South Wales' authorities said the pair travelled mostly through regional towns over five days last week.
"The message broadly to our regional communities is be on high alert, this is a real and present danger to us, having people who are positive, travelling through our state stopping at multiple venues puts our state at risk," state Health Minister Brad Hazzard said.
NSW, the country's most populous state, has not reported any locally acquired cases of Covid-19 in more than a month, while Queensland last reported cases in late March.
Melbourne lockdown to be lifted
Today, Victoria reported four new locally acquired cases, versus one case a day earlier, taking the total infections in the latest outbreak to 90.
The new cases, all from the same household, come as Melbourne prepares to come out of a two-week lockdown tonight, although some curbs on travel and gatherings remain.
Melbourne's five million residents must stay within 25 km of their homes, a move that could inflict more pain on businesses in rural areas as officials seek to limit community transmission during an upcoming long weekend.
Though today's cases are not linked to any other clusters in the latest outbreak, the lifting of lockdown in Melbourne will proceed due to low-risk levels, Victoria state Acting Premier James Merlino said.
Separately, New Zealand authorities have moved three Melbourne residents into managed isolation after they boarded their flight from Sydney to beat a travel ban imposed in response to the Victoria outbreak, New Zealand media reported.
New Zealand began quarantine-free travel for Australian travellers in April, a pandemic milestone, but paused the so-called "travel bubble" with Victoria late last month.
India records world's highest daily Covid-19 deaths
India has reported the highest single-day death toll from Covid-19 in the world, at 6,148, after a big eastern state revised its figures to account for people who succumbed to the disease at home or in private hospitals.
The health department of Bihar, one of the country's poorest states, revised its total virus-related death toll to more than 9,400 from about 5,400.
The United States had recorded 5,444 Covid-19 deaths on 12 February.
India's total case load now stands at 29.2 million after rising by 94,052 in the past 24 hours, while total fatalities are at 359,676, according to data from the health ministry.
Japan's Sapporo unprepared for Olympics amid Covid-19 resurgence
When Olympics organisers moved the marathon event from Tokyo to the northern city of Sapporo, they did so because of concerns about the intense summer heat in the Japanese capital.
Two years down the track, critics say organisers have effectively leapt from the frying pan into the fire.
Sapporo is currently under a state of emergency amid a resurgence in coronavirus infections.
Officials in the city say they still do not have key information, including the number of athletes to expect and details on health facilities, while opposition from residents to hosting part of the world's biggest multi-sporting event has grown.
Bulgaria to ease rules for mask wearing indoors

Bulgaria plans to lift the compulsory wearing of face masks in gyms, hairdressing salons, small shops and offices where all workers are vaccinated as coronavirus infections decrease, a deputy health minister said.
"We have seen a drop in new infections and given the coming summer heat, we plan to take steps to ease the wearing of masks in some indoor spaces," deputy minister Alexander Zlatanov told reporters.
Bartenders in small restaurants and cafes will also be allowed to work without masks if fully vaccinated, he said.
The wearing of face masks will remain obligatory in big shops, large administrative buildings and public transport.
Bulgaria has seen a significant drop in new infections since the third coronavirus wave peaked in April. It reported 131 new infections today.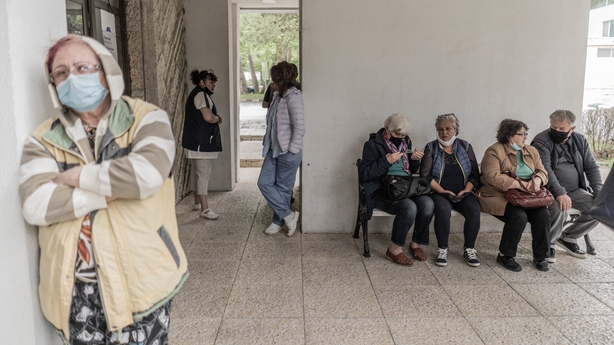 The country has the lowest vaccination rate in the European Union, with only 665,000 people of its 7 million population fully vaccinated. The interim government has opened special units in city parks to make access to anti-Covid vaccines easier.
Bulgaria has reported a total of 419,990 coronavirus cases, including 17,872 deaths since the start of the pandemic.