The United States is set to buy 500 million Covid-19 vaccine doses to distribute around the world, media reported today.
The Washington Post and New York Times, citing people familiar with the matter, said President Joe Biden was due to formally announce the huge donation of Pfizer-BioNTech doses at a G7 meeting in Britain this week.
The move comes as the United States faces pressure to do more about the global vaccine shortage, with rich countries having bought up the lion's share of early supplies.
With the global death toll at more than 3.7 million, many nations are still struggling to contain outbreaks.
Rapid vaccine rollouts in wealthier parts of the world, however, including the US and Europe, are allowing the return of activities unthinkable just a few months ago.
Biden hinted at the announcement before boarding Air Force One bound for Britain to meet with leaders with the G7 nations.
Asked if he had a vaccine strategy for the world, he said: "I have one and I'll be announcing it."
The Times said Biden would appear with Pfizer CEO Albert Bourla to make the announcement.
The deal would see the US paying the "not for profit" price for the doses, with the first 200 million to ship this year and the remaining 300 million the next year.
Spain to ditch nightclub plan
Spain's health ministry today scrapped a nationwide plan to gradually reopen nightlife just a week after introducing it, following widespread complaints from regional authorities who dismissed it as either too strict or too loose.
The plan, which would have allowed areas with low infection rates to open nightclubs until 3 am, drew the ire of several regions and a legal challenge from Madrid's conservative leader Isabel Diaz Ayuso.
After a week of tension, health chiefs from Spain's 17 regions unanimously approved a revised version of the document today in which the rules are reduced to non-binding guidelines, Health Minister Carolina Darias told reporters.
"The measures for the hospitality sector are no longer included in the document, and those for nightlife...are now recommendations," she said at a news conference.
"It doesn't mean that (clubs) will open everywhere, but rather that each region, depending on its epidemiological situation, will decide how to open," she added.
While Madrid's Ayuso, who won a landslide election campaigning for looser Covid-19 measures, slammed the plan as restricting civil liberties, Basque leader Inigo Urkullu said he wanted tougher rules to curb infections, highlighting the stark divisions between regions.
Since a nationwide state of emergency expired a month ago, restrictions on travel and business have eased, with bars inmost regions open until midnight or later.
Transmission has fallen steadily as vaccination rates have picked up, Darias said, adding that Spain's 14-day infection rate had fallen 5% over the week to 111.9 cases per 100,000 people.
Provisional data showed 24% of the population had received a full course of vaccine, while nearly 43% had at least one dose.
One of a handful of countries participating in an early rollout of the European Union's digital vaccine certificate,Spain has given out nearly 125,000 of the green cards since Monday, Darias said.
Portugal's 'worrying' rise
Most of Portugal will move to the next stage of lockdown easing next Monday but stricter rules will remain in place in the capital Lisbon due to a "worrying" rise in Covid-19 infections, the government has said.
Portugal imposed a nationwide lockdown in January to tackle what then was the world's worst coronavirus surge, but restrictions have been gradually lifted since mid-March and most businesses have already reopened.
Across most of the country, restaurants, cafes and pastry shops, which now must close at 10.30pm, will be able to keep their doors open until 1am from next Monday, 14 June, and there are no more restrictions on stores' opening hours.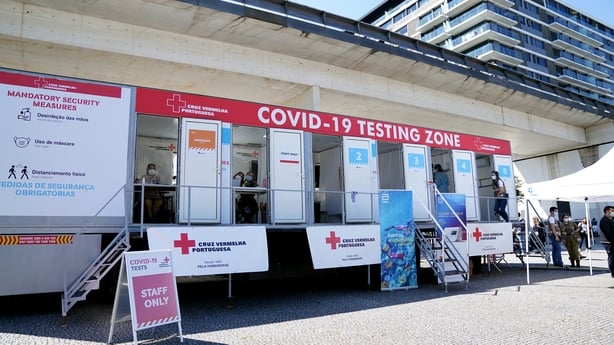 Cultural shows can run until 1am and venues for amateur sports activities will be able to welcome back people at reduced capacity. Remote work will no longer be mandatory but it is still recommended.
However, Lisbon and three other municipalities will not move to the next phase of the plan to ease the lockdown and the rules currently in place will remain unchanged until the Covid-19 situation improves.
A country of just over 10 million, Portugal has reported a total of 854,522 infections since the pandemic started and 17,037 deaths.
It posted 890 new cases but no deaths today, the biggest daily jump since early March. Most new cases were concentrated in and around Lisbon.
"The situation in the Lisbon area is worrying," Cabinet Minister Mariana Vieira da Silva told a news conference. "We are having difficulties in reducing cases."
All companies with more than 150 workers must test their employees and tests will now be required to access some events, she said.
The decision came after the government came under fire for allowing two mass gatherings of soccer fans to take place - one in Lisbon when Sporting won the Portuguese league title and one in Porto for the Champions League final.
Indoor dining resumes in France as restrictions ease
People in France are enjoying indoor dining and can stay out until 11pm for the first time in months under a new relaxation of Covid-19 rules, as cases fall and vaccinations rise.
In a key new phase of the programme relaxing the lockdown, diners will be able to go inside cafes and restaurants, terrace consumption having already resumed on 19 May.
The overnight curfew will now start later - at 11pm instead of 9pm - before being dropped entirely if all goes to plan on 30 June.
Restrictions at cultural venues, reopened on 19 May, are also being eased as a sense of normality returns to France with glorious early summer weather.
Tables of up to six will be permitted at cafes and restaurants while gyms can also reopen for clients indoors.
In virtually all of France, however, masks however remain obligatory even out of doors until further notice.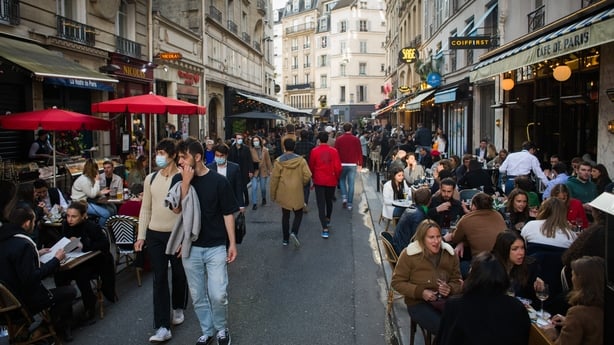 Latest figures suggest the health situation is improving in France.
The numbers in intensive care are down to 2,394 compared with 6,000 in late April.
And as of yesterday more than 28 million people had had at least one vaccine shot - nearly 43% of the population, and 55% of the adult population.
Despite the closures, France over the last half year endured less severe lockdowns than its neighbours - notably avoiding major school closures - in what was seen as a major gamble by Mr Macron.
Its vaccine campaign got off to a wobbly start but is now seen as a success, with 700,000 jabs being given on some days.
Travel to France is also becoming easier, with the country fully opening its borders to European Union residents.
Visitors from the EU will not have to provide a negative antigen or PCR test if they have had a full course of one of the four vaccines authorised by the bloc.
Travel from other zones including the US and the UK are subject to tighter restrictions but visitors will no longer have to prove a compelling reason for a visit, so long as they have had the full course of vaccinations.

Australia's second-largest city to exit two-week virus lockdown

Five million Melbourne residents will exit lockdown tomorrow after Australian authorities said their adherence to strict rules had "changed the course" of a coronavirus outbreak in the city.
After two weeks under stay-at-home orders, the toughest restrictions in Australia's second-biggest city will be lifted, after just one new virus case was recorded yesterday.
"This is a good day. Everyone should be absolutely proud of what we have all achieved together," Victoria state acting Premier James Merlino said.
He said collective efforts had steamed the outbreak in the city, which has seen more than 80 people test positive for either the Kappa or Delta strains that originated in India.
"But we know this isn't over yet, and until we have widespread vaccination across Victoria and across our country, the virus will still be with us," Mr Merlino said.
Melbourne residents still cannot travel more than 25km from their homes or have visitors over, but may gather in groups of up to 10 outside.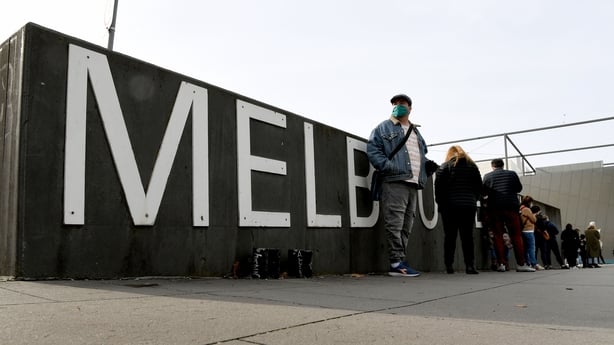 Schools, cafes and beauty salons can reopen, but gyms and nightclubs must remain closed for at least another week.
Brett Sutton, Victoria's chief health officer, said there could not be a "snap back" to no restrictions as the situation remains "reasonably volatile".
"We have to move by increments, safely, but with the minimum restrictions that we know will continue to control this," he said.
Australia is one of the few countries globally without endemic transmission, recording 30,000 Covid-19 cases and fewer than 1,000 deaths in a population of 25 million.
The border remains closed to most travellers - with the exception of those from New Zealand - and authorities are quick to impose restrictions when cases are detected.
The virus is believed to have leaked out of Australia's makeshift hotel quarantine facilities up to 18 times in six months, prompting tough scrutiny of the system in recent weeks.
Outbreaks in Taiwan and Japan have also underscored how initial success in containing the virus can quickly erode without widespread vaccination.
Australia had administered about 5.2 million jabs as of Monday, but only a small fraction of people are fully vaccinated.
---
---
US eases travel warning to dozens of countries including Japan

The United States has eased its warnings against travel to dozens of countries including Olympics host Japan and much of Europe, raising hopes that widespread vaccinations will bring a return to normal travel.
Close US allies and neighbors including Canada, Mexico, France and Germany also received upgrades, with the State Department asking Americans to reconsider travel but ending its blanket advice not to go at all.
The State Department also elevated 11 nations to say that Americans can exercise normal precautions when traveling there - the standard US travel advice for developed nations before the pandemic.
Nations receiving a clean bill of health included Ghana, Senegal Singapore and South Korea and a sole European nation - Malta.
A State Department official said the changes reflect recommendations issued on Monday by the Centers for Disease Control and Prevention, which called on Americans to be fully vaccinated before traveling but said non-vaccinated people should avoid trips.
"As conditions evolve, we regularly update our advice to US travelers," the official said.
Such travel advice has been closely watched for clues on when the United States will end a ban imposed more than a year ago by former president Donald Trump on most visitors from the European Union and Britain.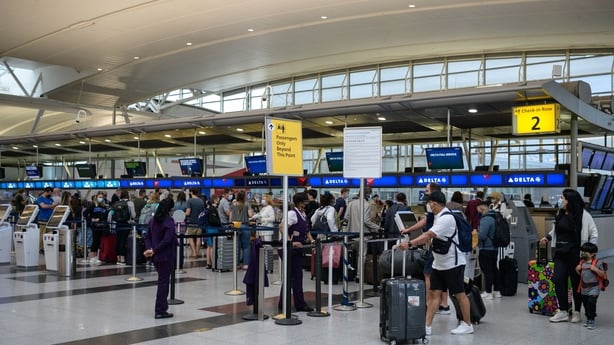 Ahead of Joe Biden's first trip to Europe as president, Jake Sullivan, his national security advisor, said that any easing of travel restrictions would be transparent and "guided by science and evidence."
The US also said it will hold talks with Canada, Mexico, the European Union and Britain on how to restart international travel.
"While we are not reopening international travel today, we hope that these expert working groups will help us use our collective expertise to chart a path forward," an official said.

The US State Department made headlines last month by warning against all travel to Japan, which in July will hold the Olympics that were already put off by a year due to Covid.
The Summer Games have stirred public opposition within Japan, which is barring foreign fans from coming.
Other countries for which US travel advice was eased include South Africa, which has battled a Covid variant, as well as Greece and Spain, which have been at the forefront of reopening to tourists.
Russia sees surge in virus cases amid slow vaccine drive
Russia has reported a spike in the number of coronavirus infections as officials struggle to encourage Russians to get vaccinated.
A government tally reported 10,407 new coronavirus infections across the country, the highest since 14 March.
Moscow, the worst-hit city in Russia, also saw a surge in new infections, registering the highest number of daily cases since 16 January.
Russia has been among the countries hardest hit by the coronavirus pandemic with the sixth-highest number of cases in the world.
But Russian authorities have been accused of downplaying the pandemic's severity by only counting fatalities where the coronavirus was found to be the primary cause of death after an autopsy.
Figures released by federal statistics agency Rosstat show that Russia had actually recorded some 270,000 virus-related deaths by the end of April - more than double the official tally.
Russia imposed a strict lockdown when the pandemic first swept across the country last spring.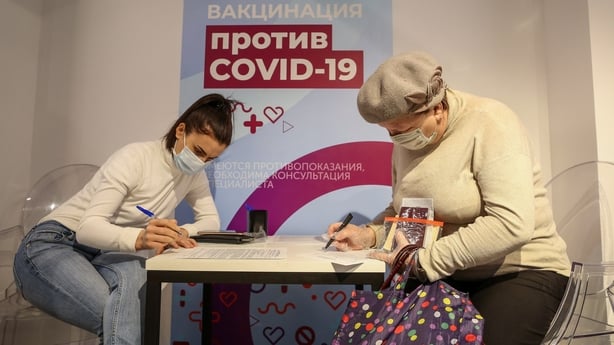 But authorities lifted most measures within several months, opting to protect the struggling economy and pinning their hopes on curbing the outbreak with vaccines.
Officials have registered four homegrown vaccines - Sputnik V, it's single-dose version Sputnik Light, EpiVacCorona and CoviVac.
While Russia's domestic vaccination campaign started in early December ahead of most countries, so far around 18 million Russians or 12% percent of the population has received at least one dose of a vaccine.
President Vladimir Putin has repeatedly called on Russians to get immunised as authorities struggle to ramp up vaccination efforts.
According to a recent survey by the independent Levada pollster, over 60% of respondents said they do not intend to be vaccinated.
Independent sociologists say vaccine hesitancy is a sign of a breakdown in trust between Russians and the authorities after decades of Kremlin propaganda.