Britain has reported zero daily deaths from Covid-19 for the first time since 30 July last year despite a recent rise in cases linked to the Delta (Indian) variant.
According to the latest government figures, 127,782 people in the UK have died within 28 days of a positive test since the start of the pandemic - the worst death toll in any European country.
The UK has had 4.49 million cases in total.
The zero daily deaths comes after the British government reported just one Covid death across the UK yesterday.
Official death figures are typically lower at weekends and holidays because of a lag in reporting.
Health Secretary Matt Hancock welcomed the milestone as "undoubtedly good news", saying Britain's vaccine rollout, was "clearly working".
However, he also sounded a note of caution with coronavirus cases on the rise.
"We know we haven't beaten this virus just yet," Hancock added, urging people to follow public health guidance.
The milestone comes after Britain moved forward with plans in recent months to unlock its economy.
The government imposed a tough lockdown in January during a second wave of cases and deaths that followed the emergence of a more transmissible variant.
The UK was one of the first nations in the world to begin a mass vaccination campaign.
Since the roll-out in December, it has administered two doses of vaccine to more than 25 million people - almost half the adult population.
Experts have warned, however, that Britain could face a third wave of cases driven by the Delta variant of concern first identified in India.
Britain has recorded over 3,000 coronavirus cases for the seventh straight day, putting plans by Prime Minister Boris Johnson's government to completely lift restrictions on 21 June in doubt.
"We will continue to assess and monitor the data daily," a UK government spokesman said, adding that the roadmap for removing Covid measures was "based on data, not dates".
Last week, Mr Johnson said there was nothing in current data that suggested England's roadmap would have to be delayed.
---
---
We need your consent to load this rte-player contentWe use rte-player to manage extra content that can set cookies on your device and collect data about your activity. Please review their details and accept them to load the content.Manage Preferences
Peru has highest global Covid-19 mortality rate
Peru more than doubled its official coronavirus death toll, becoming the country with the highest Covid-19 mortality per capita anywhere in the world.
The government said it had raised the count from 69,342 to 180,764 on the advice of a panel of health experts, which found there had been an undercount.
With the adjustment, Peru now has the highest coronavirus mortality per capita of any country, with 5,484 deaths per million inhabitants, according to an AFP count.
The country of about 33 million people previously ranked 13th in the world with 2,103 deaths per million, according to AFP's data.
Hungary is in a distant second place with 3,077 deaths per million.
Peru has registered more than 1.9 million infections to date, and has in recent months suffered acute shortages of oxygen to treat coronavirus patients.
Prime Minister Violeta Bermudez said the toll was adjusted on the advice of a panel that suggested modifying Peru's record-keeping criteria.
The panel said in a report the existing methodology generated "an under-representation in the number of deaths due to Covid-19".
The criteria were broadened beyond people who tested positive for the virus to include "probable" cases with "an epidemiological link to a confirmed case".
They will also now include people thought to be infected with the virus who present "a clinical picture compatible with the disease".
The panel, convened in April, was composed of experts from public and private health entities in Peru and from the World Health Organization.
Peru started its vaccination campaign on 9 February, but it has been slow and has so far reached 5% of the adult population with at least one shot.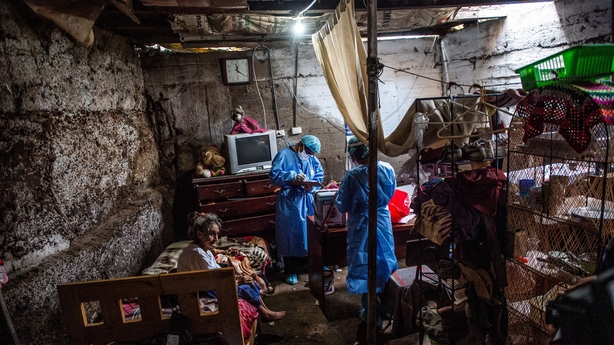 It has battled a second pandemic wave since December, with a record of almost 13,000 infections on 1 April.
There are nearly 12,000 Covid-19 patients in hospital, but the health system has been able to breathe a little since the peak of 15,547 occupied beds recorded on 20 April.
Aussie softball team first to arrive in Japan for Olympics
Australia's softball team has become the first athletes to land in Japan for the Tokyo Olympics, in a major step forward for the pandemic-postponed event, which remains plagued by coronavirus fears.
The "Aussie Spirit" team, wearing face masks and green and gold uniforms, were ushered straight from the plane for coronavirus testing, part of the strict biosecurity measures designed to stop infections at the games.
The 2020 games, which will start a year late on 23 July, continue to suffer low public support with much of Japan including Tokyo under a virus state of emergency until late June.
Around three hours after landing, an official confirmed the group had all tested negative and they left for their training camp in Ota City, around 100km north of Tokyo.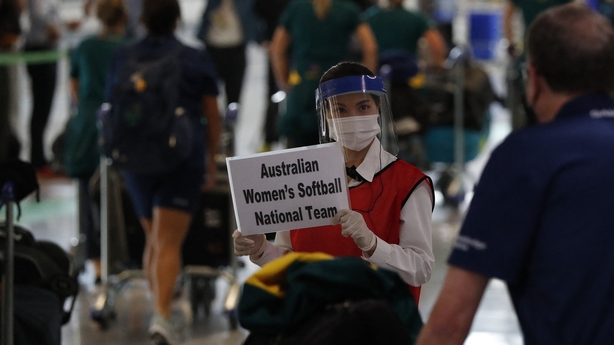 The team and staff are all vaccinated but still had to test negative before departure and on arrival in Japan.
They will face stringent rules during their training camp, with no family members allowed and the delegation confined to one floor of their hotel.
Despite the unusual "bubble" conditions, their arrival is a boost for the games at a time when polls indicate a majority of Japanese want the games further delayed or cancelled altogether.
However, organisers say detailed virus rulebooks will keep athletes and the public safe, and point out that around 80% of those in the Olympic Village will be vaccinated.
Before leaving Australia, the team said they were excited to be getting back to play after pandemic disruption.
For some, Tokyo 2020 could be their last shot at Olympic glory, as softball will not feature at Paris 2024.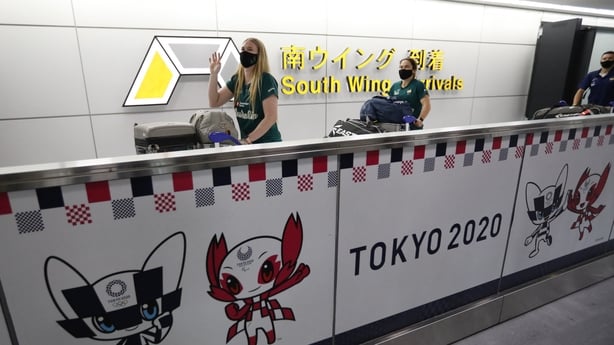 Their first fixture - against the hosts - will kick off Olympic competition on 21 July, two days before the opening ceremony.
In another sign of momentum towards the games, vaccinations of Japanese Olympic athletes begin later today.
They will be jumping the queue, as Japan's comparatively slow vaccine roll-out so far only applies to medical workers and the elderly.
Just over 7% of people in Japan have so far received a first dose, with around 2.5% fully vaccinated, though the pace has picked up in recent days.
South Korea expands vaccination with J&J's shot offered by US
South Korean military personnel rushed to sign up for Johnson & Johnson's Covid-19 vaccine, as the country expanded its vaccination campaign and eased restrictions on inoculated people in a bid to encourage immunisation.
South Korea received one million doses of the vaccine this week after the United States almost doubled a pledge made during President Moon Jae-in's first summit with US President Joe Biden last month.
Authorities have designated the J&J vaccine for military-related personnel, including reserve forces and the civil defence corps, as well as people planning overseas business trips or diplomatic missions.
Around 3.7 million people are eligible to receive the single-dose vaccine.
South Korea has inoculated 5.79 million people, or 11% of its population, with a first dose of the two-dose vaccines from AstraZeneca or Pfizer. It aims to vaccinate 14 million by the end of this month.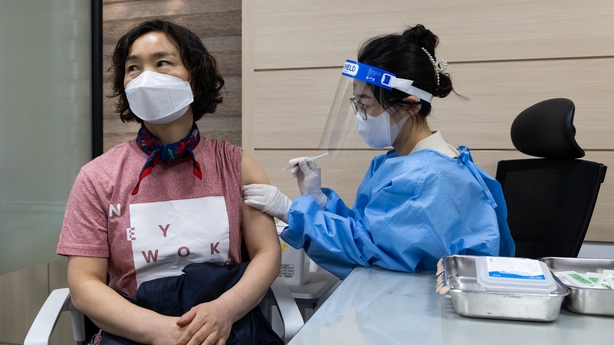 It said the plan is on track as more vaccine shipments are due to arrive later this month and willingness to get vaccinated appears to be rising, lured by incentives.
A survey in May showed 69.2% of respondents were willing to get vaccinated, up from 61.4% a month earlier, Lee Sang-won, a senior health official, told a briefing.
The government has allowed people who have received at least one dose to have family gatherings without restrictions and visit nursing homes.
Those fully vaccinated will no longer be required to wear masks outdoors from July.
The country has reported 459 new confirmed cases yesterday, bringing the total tally to 140,799 infections, with 1,963 deaths.
Israel eases Covid restrictions after mass vaccination
Israel inched closer to lifting Covid restrictions as its caseload remains tiny following a vaccination campaign.
People are no longer required to show vaccination certificates to enter restaurants and entertainment venues, and capacity limits on businesses have been lifted.
Health Minister Yuli Edelstein said his office would discuss ending an indoor mask requirement over the coming two weeks.
The country remains largely closed to travellers from abroad, however, the tourism ministry said, except for first-degree relatives, some experts, and vaccinated tourists participating in a pilot programme.
There were just four new positive cases of the virus reported today, and 350 actively sick people in Israel.
At the peak of the epidemic in early 2021, Israel saw 10,000 new cases a day and 88,000 active cases.
The changes became possible after Israel obtained millions of doses of the Pfizer/BioNTech vaccine. More than 90% of people in Israel aged 50 and over have been vaccinated or recovered from the virus.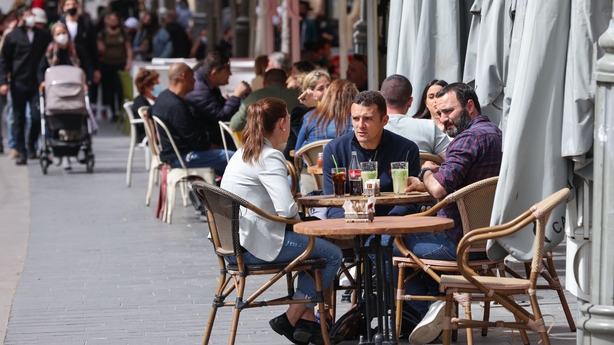 Children continue to be required to wear masks in school, as under-18s have yet to be vaccinated in large numbers.
Covid-19 cases among Palestinians in the Israeli-occupied West Bank have also declined in recent weeks as vaccines from the Covax campaign for poorer countries have been distributed.
In Gaza, the coronavirus response has been hobbled by 11 days of devastating Israeli air strikes last month in retaliation for Hamas rocket fire over tension in Jerusalem.
Its only laboratory conducting Covid tests was hit in a strike, and two doctors were killed in a bombardment.
Tens of thousands of people seeking shelter could not socially distance.
Gaza recorded 246 new cases of the virus yesterday, while the West Bank recorded 56.
Tough new lockdown imposed in Malaysia
Malaysia has imposed a tough nationwide lockdown as it battles a worsening outbreak, with other countries in south-east Asia struggling with a resurgence in cases driven by infectious variants.
Much of the region escaped the pandemic's first wave last year relatively unscathed by rapidly closing borders and introducing curbs.
But countries from Thailand to Vietnam are being hammered by fresh surges, with efforts to quell outbreaks hampered by slow vaccine rollouts and populations weary of restrictions.
Malaysia is among the worst hit. Of almost 2,800 deaths from Covid-19 recorded in the country of 32 million since the start of the pandemic, over 40 percent were in May alone.
More than 570,000 infections have been reported, with a string of new daily records last week.
Under what authorities have termed a "total lockdown" in force from Tuesday, only essential businesses -- such as supermarkets and medical clinics -- can operate, people can only go outside for necessities, and most schools are closed.
Travel between most parts of the country had already been banned for months.
Fewer than 6% of Malaysia's population have so far received at least one vaccine dose.