The number of patients taking part in clinical trials vital to cancer research and the development of new treatments almost halved because of the Covid-19 pandemic.
New figures seen by RTÉ's News at One show a drop of 45% in the number of patients recruited to clinical trials in the first three months of this year, when compared to the same period in 2020.
Figures from Cancer Trials Ireland - which is funded by the Irish Cancer Society - show 179 patients were recruited for clinical trials in the first three months of 2021, compared to the same period last year when 324 were recruited.
The total number of patients who got clinical trials in 2020 amounted to 806 when compared to 1,017 in 2019 - a 21% drop.
The fall in the number of people recruited to clinical trials and the impact of the pandemic on cancer research impacts greatly on treatment, research and development, Irish Cancer Society Director of Research Dr Robert O'Connor said.
"Covid has had a very significant impact all across the health system. There is a lot of other types of research that goes on in labs, in hospitals and in public health settings all of which has been disrupted. In reality probably about half of all cancer research has been disrupted in the last year," said Dr O'Connor.
Disruption to cancer research and trials raises deep concerns because both are key to developing new treatments.
"We are very concerned. We know that trials and research in general are very important to patients. They give patients the opportunity to contribute to advances - not every trial will have a positive outcome. If we are not doing research, if we are not getting patients in, we are losing the opportunity to help those people identify new treatments and new advances," he said.
Dr O'Connor added national clinical trial targets as set out in the National Cancer Strategy 2017-2026 are not being met.
"The 2017 National Cancer Strategy stated an ambition of 6% of patients on trials by 2020; we are struggling to get above 1% at the minute," said Dr O'Connor.
"Prior to Covid-19 we were working to an ambitious strategy in this area. But the impact of the pandemic has been so far-reaching on both cancer research and services that the entire sector, and the Government, must now come together to do even more to close the cancer research gap that has emerged by expanding our commitment and investment in cancer research to ensure the best possible outcomes for patients," added Dr O'Connor.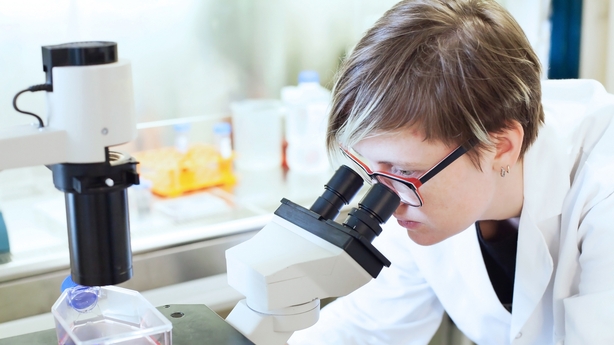 40-year-old Caroline Gray from Cork is undergoing standard treatment for stage four gastric junction cancer and had a clinical trial cancelled after an adverse reaction to it.
She told News at One she is not surprised by the decline in recruiting patients for clinical trials and said Covid-19 created "a fear factor" for people considering trials.
"Covid-19, you can definitely see the impact of it in terms of the social distancing, the separation, the PPE gear - it was like something from a sci-fi movie. It was that fear factor - that constant fear factor. I was more afraid of Covid than actually dying of cancer," Ms Gray said.
51-year-old Liam Cuddihy from Waterford, who is currently undergoing treatment for stage 4 non-Hodgkin lymphoma, said continued participation in cancer trials is important.
A recent clinical trial he underwent means he can get further treatment for his cancer this week in London.
"The initial treatment that I got here in Waterford didn't really take things down as much as they wanted so they put me on a trial in St James's in Dublin. It was hugely successful. It reduced the amount of cancer that was there significantly.
"Because it brought it down so much it enabled me to go for this treatment [the treatment in London this week] which hopefully will clear things up fully," Mr Cuddihy said.