Health Service Executive CEO Paul Reid has revealed that the number of hospital patients with Covid-19 is down to 99. This is the lowest such figure since 24 September.
"Great to see the #COVID19 hospitalised numbers drop to 99 tonight & 36 in ICU," he said in a post on Twitter.
"A clear demonstration that the vaccination programme has for now broken the link from daily cases to sickness, hospitalisations, ICU and mortality."
Earlier, the Department of Health reported 456 new cases of Covid-19. There were no further deaths associated with the virus today.
The total number of people who have died with coronavirus remains at 4,937 while the cumulative number of confirmed cases of the disease since the pandemic began is 254,450.
Today's cases involve 233 men and 223 women, with 81% under 45 years of age. The median age is 27-years-old.
189 of the cases are in Dublin, 52 in Cork, 49 in Donegal, 39 in Kildare, 17 in Galway, with the remaining cases spread across 20 other counties.
Kildare remains the county with the highest 14-day incidence rate per 100,000 at 253.9 followed by Donegal at 248.8 and Dublin at 199.5.
That is not because the disease incidence in Kildare has risen, but because the infection rate in Donegal has fallen nearly six times faster than Kildare over the past week.
Earlier, the Minister for Health praised the strong response to Covid-19 from local communities in Co Donegal.
Stephen Donnelly said the county no longer has the highest incidence of the disease in the country and it is continuing to fall.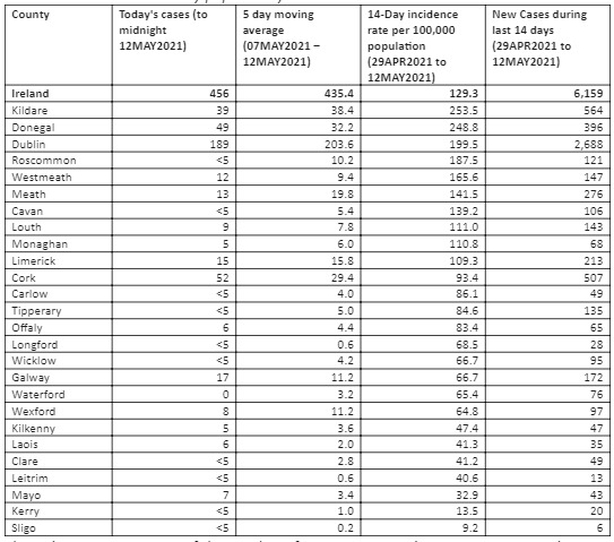 The Chief Medical Officer, Dr Tony Holohan said: "Our key objective remains to follow the public health advice in our daily activities as we continue to chart our way through this pandemic.
"I would encourage people who have been vaccinated, to safely resume your lives, mindful of the guidelines. For those awaiting vaccination, the many choices we make to stick with the public health advice will keep ourselves and our loved ones safe."
As of Tuesday 11 May, 1,922,913 doses of Covid-19 vaccine had been administered in Ireland. 1,408,105 people have received their first dose, with 514,808 people receiving their second dose.
In Northern Ireland, there has been one further death. The Department of Health there has also been notified of 99 new positive cases of the virus in the last 24 hours.
This morning, there were 46 inpatients in hospitals in Northern Ireland who were Covid positive, three of whom were in intensive care.
We need your consent to load this rte-player contentWe use rte-player to manage extra content that can set cookies on your device and collect data about your activity. Please review their details and accept them to load the content.Manage Preferences
---
---
Indoor dining considered for summer
Meanwhile, Tánaiste Leo Varadkar has said the Government is aiming for a resumption of indoor dining in July, but added that a lot can happen between now and then.
Responding to questions in the Dáil about hotels being allowed to serve indoors from 2 June, Mr Varadkar said he knows that this is annoying for restaurant owners.
However, he said that he expected this disparity would only be in place for a few weeks.
Mr Varadkar also said there will be a need for "more outdoor guards and a greater visible presence" over the summer.
This should be possible as garda numbers are "at record levels", he added.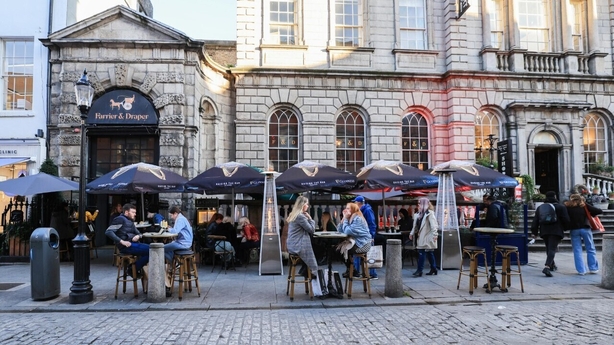 He was responding to Sinn Féin's Louise O'Reilly, who said more facilities will be needed over the summer when Covid-19 restrictions are eased further.
Ms O'Reilly called for the publication of a plan for summer outdoors, and for greater funding for services.
The Tánaiste also said there is a possibility of all adults being able to apply for a Covid-19 vaccine before the end of June.
This raises the possibility of everyone who wanted a vaccine getting one by July, he said.
He added that the Government target remains that 82% of adults would have been fully vaccinated or have got a single dose by the end of June.
He also said he expected a decision from NIAC on the use of the Johnson & Johnson vaccine in the coming days, and certainly before Tuesday.
It comes around 12 days after Chief Medical Officer Dr Tony Holohan said "a large number of people" in Donegal were not complying with the public health guidelines.
Professor Philip Nolan, who is the Chair of the NPHET Epidemiological Modelling Advisory Group, said that the increase in disease incidence among school-going children since schools reopened after Easter is turning out to be transient and trending back towards the population average.
There were 61 Covid-19 outbreaks in schools last week, which was more than twice the previous week.
However, the size of the outbreaks were generally smaller and the overall number of cases involved was lower than the week before.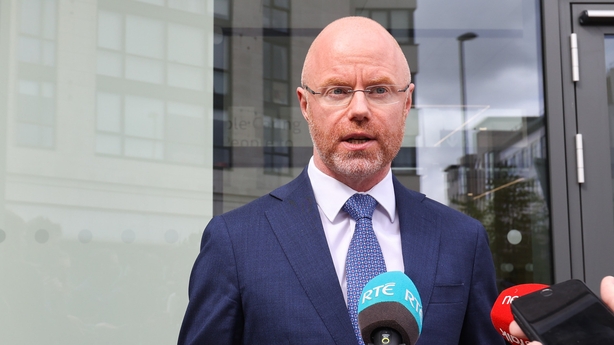 Elsewhere, Stephen Donnelly said the latest analysis shows that anyone who wants a Covid-19 vaccine would be fully vaccinated by September.
Speaking on Newstalk radio, he also said Tánaiste Leo Varadkar's remark that anyone who wants a vaccine can be offered one by June is an "ambitious statement" and hopes it is one the Government can deliver on.
"Certainly at the moment, we are on track if the deliveries continue to arrive in. We are on track for about every four in five adults to be offered one".
He said there will be a recommendation soon from the National Immunisation Advisory Committee (NIAC) on the data relating to AstraZeneca and Johnson & Johnson and whether it will be available to a wider cohort of people.
He said NIAC is consulting international colleagues and "poring over the data".
Mr Donnelly also clarified when people will be deemed vaccinated. "What NIAC have concluded is that if you get a Johnson & Johnson dose you would be deemed fully vaccinated two weeks after that dose.
"With AstraZeneca after your first dose they would view you to be fully vaccinated four weeks after your first dose, with Pfizer and Moderna it is one week and two weeks respectively after the second dose.
"So essentially what that all means is that somewhere between two weeks and six weeks of your first dose of any of these you would be deemed to be fully vaccinated", he said.
Minister Donnelly also said he is "very hopeful" about international travel this summer and reiterated that Ireland is fully signed up to it with the Digital Green Certificate, which he described as an exciting initiative.
"You will have a QR code on your phone and it can be verified anywhere in the EU, assuming all the states sign up."
He said the European Commission has also contacted North America and Canada to try to create an expanded green zone.
Additional reporting George Lee