As part of the easing of Covid-19 restrictions, prospective house buyers are now allowed to view properties in person again.
In the middle of January viewings were moved online due to Covid-19 restrictions, and physical viewings were only permitted in cases where there was a bid on a home and a contract for sale was being drawn up.
Today was a busy day for estate agents, as they once again opened-up to house hunters after four months.
There was also a positive response from the first people through the door at one of estate agent DNG's viewings in Dundrum in Dublin.
Looking to trade up, Darragh and Mirella Rogan had been confined to virtual viewings since the beginning of the year but for them they don't compare to the physical touch.
Mirella says that "even to see the space around the house, it's so much better to be able to go around and knock on the walls a bit".
Darragh adds that "instead of just clicking endlessly through an app to try and see photos and try and visualise your life, you kind of have to feel a place to see if you want to live in it and it's great to be able to physically see a potential home".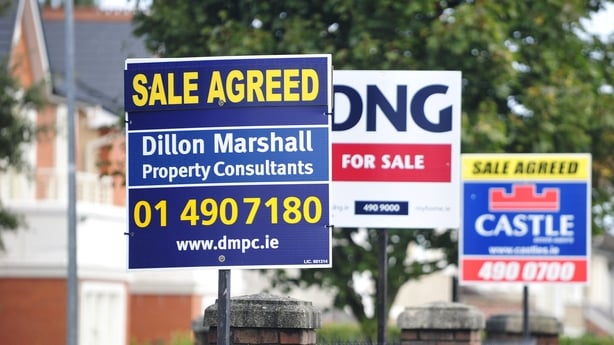 He also points out that for him "it's the real tangible things" that are important, such as the environment and "whether or not it is near a busy road for example, and if it would be safe for children".
What is also more tangible through in-person viewings seems to be the state of the housing market.
Darragh says that although he and Mirella "were the first viewers through the door at this house, we understand there's already an offer on it and that just goes to show the competitive nature out there at the moment and the housing stock that's there".
William Bradshaw is a Senior Negotiator with DNG and he says "demand has been huge" for in-person viewings.
"We've lists of people looking to view property all over Dublin and further afield.
"I think now that more people perhaps can get involved in the process of buying, certainly I think we'll probably see an impact on prices," he adds.
Prior to this week, physical house viewings were only permitted where there was a bid on a home, which has led to concern over so-called artificial bidding wars.
Assistant Professor of Social Policy at Maynooth University Rory Hearne believes "the inability of people to go see property has meant a reluctancy to buy so that again adds to the demand that's there now.
"We also see that issue of people putting in bids on properties they haven't seen, they might then turn around and say they don't want the property.
"And we have that issue of these bidding wars being artificially created in that sense."
Estate agents say there is a sizeable cohort ready to buy but there is a big question mark over the impact the pandemic has had on construction and whether or not there'll be enough supply to meet that demand.