Partners of pregnant women should be allowed attend the 20-week scan and be present at the birth of the baby, the HSE's Chief Clinical Officer has said.
Dr Colm Henry said hospitals, neo-natal and maternity units are now much safer places than they were in January, at the height of the third wave of the pandemic.
He said the HSE have written to all hospitals reminding them of this policy.
The only reason the policy would not be implemented would be due to a local risk-assessment, he added.
Last week Taoiseach Micheál Martin told the Dáil that restrictions on partners accompanying women have "proven to be a very difficult issue for many people, and I acknowledge that".
Meanwhile the Chief Executive of the HSE said they are at a hopeful point and everyone has a sense of planning ahead with "greater hope".
Paul Reid said this has all been made possible by the support of the public in following health guidelines.
Speaking at a weekly press briefing by the HSE, he said the public can congratulate themselves, individually and collectively.
However, he cautioned everyone to keep doing what they are doing, and said it is easy to slip back into old habits.
"But we know that we have to stick with the new ways we have for 2021," he said.
"Hopefully some day we can get the combination of all that was good about 2019...with all that we need to do now and embrace from the new public health measures for 2021."
Mr Reid said the first quarter has been "challenging" for the vaccination roll-out, but added that it feels as though they have the wind behind them now.
He said significant numbers of staff have been recruited and are on-board in vaccination centres, with more to come.
Dr Henry said the 14-day incidence is now 115, which is "well lower" than its peak of 1,492 in January.
He said the five-day moving average is stable, but not falling as much as they would like.
"But the harm it is causing is considerably less than it did because of the vaccination of the most vulnerable and older groups," he said.
---
Read more: Latest coronavirus stories
---
Dr Henry said Ireland's 14-day incidence position is in the lower five in Europe.
He said there has not been an outbreak in a nursing home in three weeks and there has been a collapse in cases of hospital-acquired cases.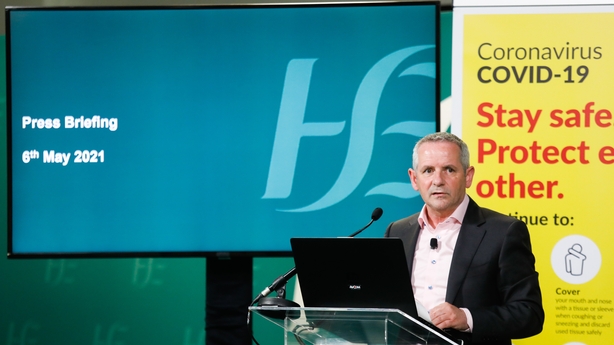 Paul Reid said hospitalisations are down to 131 this morning, down 19% on this day last week. The number of people in ICU is 31, down almost 20% on last week.
He said hospital admissions, cases in ICU, admissions to ICU, numbers ventilated, and deaths are all down.
Mr Reid that there have been 212 cases of Covid-19 in those aged 75 or over in the last four weeks, compared to 6,793 in the first four weeks of January.
Also in the past four weeks, he said there were 19 Covid-19 related deaths in those aged 65 or over, compared to 1,677 in the first four weeks of 2021.
He said the proportion of healthcare worker cases has decreased from a high in phase 3 of 16.5% to just over 2.1% in week 17.
Mr Reid said that as of yesterday evening, almost 1.7 million vaccines had been administered in total - 1.23 million first doses, which is 32.6% of the adult population.
He said the total number of second doses administered was 466,000, which is 12.3% of the adult population.
The largest single day was last Friday, with over 45,000 doses given, he said.
He said that as of today, 436,000 people have registered on the portal, with about 27,000 or 28,000 thousand every day.
Paul Reid said there is a "really high level of uptake" on the online portal system.
He said this week's forecast to complete between 220,000 and 240,000 vaccines is on track.
"We've now reached over 221,000 of the very high risk group", he said.
Paul Reid said the average detection rate for the virus over the past week was 2.7%
He said the situation in Donegal was being continuously monitored.
More than 58,500 people have availed of walk in test centres across the country with a positivity rate in the centres averaged at 3.4%.
The highest rate was in Castlerea in Roscommon at 7%, followed by 4.5% in Letterkenny in Donegal.
Mr Reid said the highest positivity rate is in the under-30 age group.
He said 80 cases of Covid-19 had been detected in people in hotel quarantine last week.