There has been "no sign" of coronavirus infection among 5,000 unvaccinated people who took part in an indoor trial concert last month in Barcelona seeking pandemic-safe ways to celebrate mass events, organisers have said.
The participants underwent PCR tests two weeks after the 27 March event and "there is no sign that suggests transmission took place during the event," Josep Maria Llibre, a specialist in infectious diseases from the Germans Trias i Pujol hospital told a news conference.
Organised by the hospital and a group of Spanish music promoters, the concert in the Palau de Sant Jordi was billed as Europe's biggest indoor rock concert since the start of the pandemic.
It featured one of Spain's most popular bands, indie rockers Love of Lesbian.
Participants wore FPP2 surgical masks at the concert but there was no assigned seating or mandatory social distancing.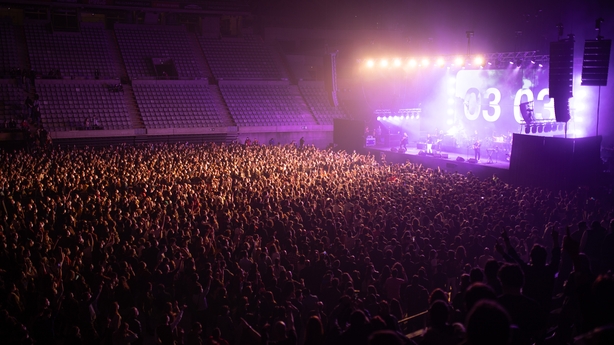 Ahead of the gig everyone underwent mass screening and antigen tests. They were tested again 15 days later and only six people were found to have Covid-19.
"We are certain that in four of these six cases, transmission did not take place during the concert," Dr Llibre said.
"With optimised ventilation, antigen tests and the wearing of face masks, we can guarantee a safe space."
We need your consent to load this rte-player contentWe use rte-player to manage extra content that can set cookies on your device and collect data about your activity. Please review their details and accept them to load the content.Manage Preferences
---
---
Boris Revollo, the virologist involved in the design of the health protocols at the concert, said he could not "categorically" rule out that the other two people were infected during the concert but there was a "very high probability" that they had not.
"The measures which we implemented were very safe," he added.
Another similar test concert was held in Amsterdam in March involving 1,300 people.
Fiji fears virus 'tsunami' after outbreak
A Covid-19 outbreak that forced Fiji's capital into lockdown after the island nation avoided transmission for a year was confirmed as the variant first detected in India, with health officials saying they feared a "tsunami" of cases.
The Pacific country had largely dodged community transmission before a cluster emerged this month centred on a quarantine facility in Nadi, the city that is home to Fiji's international airport.
The permanent secretary for health and medical services, James Fong, said six new cases had emerged in quarantine facilities today and events in India showed the threat posed by the strain could not be underestimated.
"We cannot let that nightmare happen in Fiji," he said in a televised address.
"We still have time to stop it happening but a single misstep will bring about the same Covid tsunami that our friends in India, Brazil, South Africa, the United Kingdom and the United States are enduring."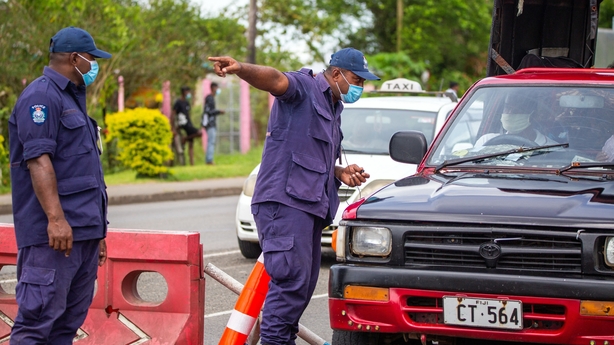 Fiji has largely contained the virus through strict isolation measures and border controls, recording 109 cases and just two deaths in a population of 930,000.
There are currently 42 active cases, 18 of them detected at the border and 24 locally transmitted.
The cluster began when a soldier contracted the virus at a quarantine facility and transmitted it to his wife, who then exposed up to 500 people at a funeral.
Mr Fong said there was evidence that soldiers who had returned from overseas deployments had broken quarantine rules by mixing with each other when they should have been in isolation.
"This is unacceptable," he said, adding that the military was investigating what had happened.
The capital Suva is in lockdown, along with Nadi and Lautoka, Fiji's second largest city.
Authorities have banned inter-island travel, while national carrier Fiji Airways has suspended all international and domestic passenger flights.
The emergence of community transmission is a blow for Fiji's hopes of opening quarantine-free travel bubbles with Australia and New Zealand, both major sources of international tourists before the pandemic.
Japan's Olympic host towns pull out over pandemic

Hundreds of Japanese towns and cities have been forced to rethink plans to host Olympic teams because the coronavirus will prevent public appearances and require costly safety measures.
The western town of Okuizumo spent more than $5m preparing to welcome India's hockey team for a pre-Games training camp, only to scrap the visit because of Covid-19.
After sinking money into upgrading sports facilities, Okuizomo balked when it became clear it would have to provide bubble-like biosecurity measures with regular virus tests and medical care.
"We wanted to have one of the world's top tier teams visit our town and show their skills to local children," town official Katsumi Nagase told AFP.
"But that seems impossible now."
More than 500 municipalities signed up to host athletes and officials in a scheme aimed at broadening the Olympics' benefits beyond Tokyo.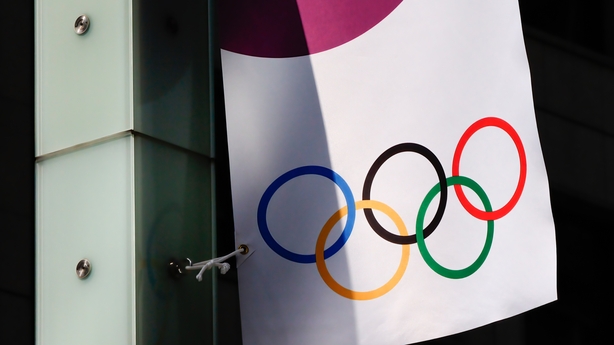 Some, like Okuizumo, have already scrapped plans to host overseas athletes, while others are devising careful programmes they hope will keep everyone safe.
Kurihara city in northern Miyagi prefecture was planning to host South Africa's hockey team, but decided the expense was no longer worth it given the limitations imposed by virus measures.
In some cases, Olympic teams have cancelled, worried about the risk of infection before the Games.
Australia's swimming team ditched its plan to train in Niigata's Nagaoka city, its mayor told media in March.
And Canada's table tennis team will no longer go to Nagano's Okaya city, which instead plans to put posters of athletes around town, said Tomoko Hirose of the city's planning division.
Not all host towns have given up on their plans.
Tsuruoka city in northern Yamagata prefecture will host several dozen Olympic and Paralympic athletes and officials from Moldova and Germany.
In western Tottori, Yonago city will host several dozen people from Jamaica's swimming, gymnastics, and Paralympic boat teams.
France's Macron expected to announce easing of restrictions - minister

French President Emmanuel Macron will probably make an announcement on plans to relax Covid-19 restrictions in the next few days, employment minister Elisabeth Borne told BFM TV.
France started its third national lockdown at the end of March after a spike in Covid-19 deaths and case numbers.
Mr Macron is hoping the effects of that lockdown, along with an accelerated vaccination campaign, will improve France's Covid-19 figures, which would then allow certain businesses and leisure activities - such as outdoors dining - to reopen in mid May.
French schools reopened yesterday after a three-week closure.
Mr Macron has said that while open-air bar and restaurant terraces may reopen in mid-May, indoor venues will not re-open before June, and only in regions where the Covid-19 figures have dropped sufficiently to allow this.