The first emergency medical supplies trickled into India as part of a global campaign to stem a catastrophic wave in the latest pandemic hotspot, with the United States also pledging to export millions of AstraZeneca vaccines.
The explosion in infections in India - 350,000 new cases were recorded there today alone - has driven a surge in global cases to 147.7 million and the virus has now killed more than 3.1 million people worldwide.
In New Delhi, AFP images showed smoke billowing from dozens of pyres lit inside a parking lot that has been turned into a makeshift crematorium.
"People are just dying, dying and dying," said Jitender Singh Shanty, who is coordinating the cremation of around 100 bodies a day at the site in the east of the city.
"If we get more bodies then we will cremate on the road. There is no more space here."
Despite India's status as the "pharmacy of the world", the biggest producer of generic drugs has been unable to meet the demand for antiviral medication such as remdesivir.
Many doctors say remdesivir is not essential for the treatment of Covid-19, but hospitals have been prescribing it anyway.
"This government has failed us so much that those who can normally survive also die," said one exhausted man, Vinod Kumar, as he waited in line for medication.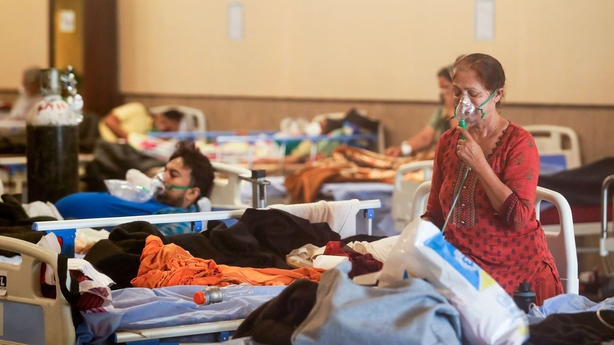 "Please note that a huge fall in daily cases ... is largely due to a heavy fall in testing," Rijo M John, a professor and health economist at the Indian Institute of Management in the southern state of Kerala, said on Twitter.
"This should not be taken as an indication of falling cases, rather a matter of missing out on too many positive cases!"
The United States, France, Germany, Canada, the EU and the World Health Organization have all promised to rush supplies to India.

Ireland is sending 700 oxygen concentrators to India as part of an emergency donation.
Crates of ventilators and oxygen concentrators from the UK were unloaded at a Delhi airport early this morning, the first emergency medical supplies to arrive in the country.
---
---
"International cooperation at work," foreign ministry spokesman Arindam Bagchi tweeted alongside photos of the crates.
International cooperation at work! Appreciate the shipment of vital medical supplies from 🇬🇧 including 100 ventilators & 95 oxygen concentrators that arrived early this morning. pic.twitter.com/MBZFwSn4cH

— Arindam Bagchi (@MEAIndia) April 27, 2021
US President Joe Biden announced that the United States would send up to 60 million doses of the AstraZeneca Covid-19 vaccine abroad.
White House spokeswoman Jen Psaki said the recipient countries had not yet been decided and that the administration was still formulating its distribution plan.
But India appeared to be a leading contender after Mr Biden spoke with his counterpart Prime Minister Narendra Modi - whose government is under fire for allowing mass gatherings such as religious festivals and political rallies in recent weeks.
"India was there for us, and we will be there for them," Mr Biden tweeted after the call with Mr Modi, referencing India's support for the United States when it was enduring the worst of its Covid crisis.
WHO chief Tedros Adhanom Ghebreyesus described the situation in India as "beyond heartbreaking".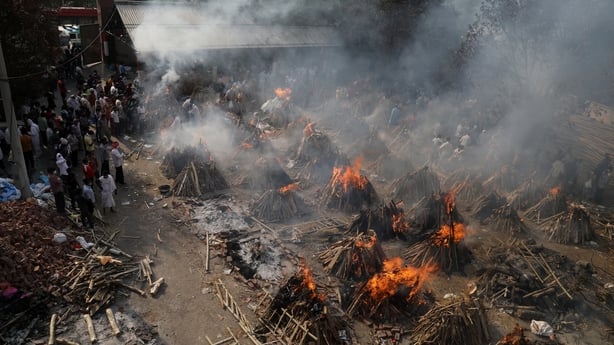 "WHO is doing everything we can, providing critical equipment and supplies," Dr Tedros said.
France also said it would send eight oxygen production units, as well as oxygen containers and respirators, to India.
However, many nations have also sought to close borders to travellers from India, fearful of a variant that appears to be one of the drivers of the surge.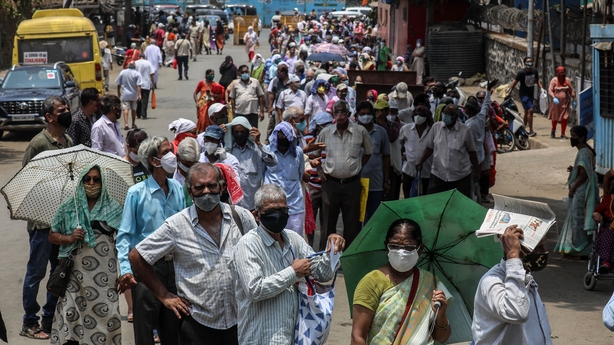 Australia became the latest nation to cut all passenger air travel with India.
Prime Minister Scott Morrison said the suspension would remain in place until at least 15 May due to "clearly present" risks of travel from India, leaving thousands of Australians stranded.
Among the Australians in India are a host of high-profile cricketers playing in the lucrative Indian Premier League.
Fury as Delhi luxury hotel booked as Covid hospital for court staff
Meanwhile, authorities in Delhi ordered a luxury hotel to be converted into a Covid-19 health facility for the exclusive use of high court judges and their families, drawing outrage in a city that has no hospital beds or life-saving oxygen for hundreds of people.
The local government said in a public notice last night that it had received a request from the Delhi High Court because of the rapid rise in coronavirus infections and had reserved 100 rooms at the Ashoka Hotel for the higher judiciary.
The Delhi High court denied it had sought such treatment, and said it would quash the order unless the government modifies it.
"When did we ask for a 100-bed facility at a five-star hotel? We had only said if a judicial officer or a judge or their family is infected, they should get hospital admission," the high court said.
The notice from the Delhi government had said a top city hospital would run the facility.
"It's unthinkable that we as an institution will want any preferential treatment," the Delhi High Court said.
The court's comments came on the heels of criticism by lawyers and citizens.