Two healthcare workers have spoken out after they had to leave the jobs they had kept during the pandemic at nursing homes due to issues over temporary accommodation.
They were both recently informed they could no longer avail of a Health Service Executive temporary accommodation scheme and were then placed in Direct Provision centres between 90-200km from their place of work.
This is despite the fact that the HSE confirmed to RTÉ News that the accommodation scheme is still operating.
"It was so painful... but I had no choice." That's how Maria (not her real name) sums up leaving her job in a nursing home in Dublin, where she had worked for over a year.
"You feel like you don't want to leave them, you still want to help them, you get used to everyone, like the workers, your managers, and the people you are looking after", she told RTÉ News.
Before the pandemic Maria, who is also an asylum-seeker, was living in a Direct Provision centre in Dublin.
However, she then spent 10 months living in temporary accommodation, provided as part of a HSE scheme for healthcare workers.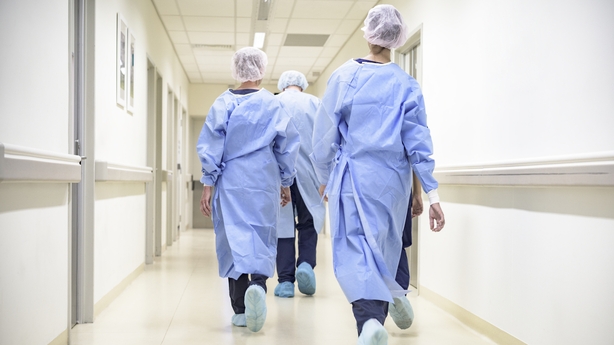 Under the scheme healthcare workers living in Direct Provision are not only eligible to apply, but its guidance document sets out how their participation should be "encouraged" due to "risks associated" with living in a congregated setting.
Maria says that in February she was told by her manager that she could no longer avail of the scheme.
"My manager tried to write to the HSE, but they were like: "no we cannot extend it because you don't have an outbreak at the nursing home", she said.
As a result she has returned to Direct Provision accommodation, and the place allocated to her was 200km from where she lived and worked, forcing her to leave her job.
Her case is not an isolated incident.
Jessica (not her real name) told RTÉ News that she had a similar experience. She had spent a year and four months working in a nursing home in Dublin.
She too moved from living in Direct Provision to staying in temporary accommodation provided by the HSE.
Last month she was told that she could no longer do so.
"My employer told me that you can't stay in the HSE accommodation anymore because they said that we don't have any case [of Covid-19] in our nursing home", she said.
We need your consent to load this rte-player contentWe use rte-player to manage extra content that can set cookies on your device and collect data about your activity. Please review their details and accept them to load the content.Manage Preferences

RTÉ News has also seen emails from the HSE and a nursing home manager discussing Covid-19 cases within nursing homes when dealing with applications to accommodate healthcare workers under the scheme.
In a statement to RTÉ News the HSE said "the temporary accommodation scheme for staff has been very successful and it is not being discontinued".
It went on to say that "the eligibility criteria as laid out in the national guidance document still apply".
Nowhere in that document does it say that eligibility depends on there being Covid-19 infections in a workplace.
This month Jessica was moved to a Direct Provision centre 90km from her workplace.
At first she tried to commute, but said she found it impossible, and had to quit her job.
"So I have to take two buses and a tram going there ... it takes roughly about three-and-a-half hours for me to be at work", she explained.
"It means if I am working a day shift I have to leave at around 4.30 in the morning".
Irish Solidarity People Before Profit TD Bríd Smith will raise her concerns about the scheme and the impact it is having on healthcare workers in the Dáil tomorrow.
"The workers can't access the scheme and yet the HSE is saying it's there, so, many healthcare workers are being forced back into direct provision often very very far from where they work," Ms Smith said.
"So, we need clarity and there are two ministers who are directly responsible, on the health side obviously Stephen Donnelly and on the Direct Provision side Roderic O'Gorman and between them they need to get rid of this roadblock and give us clarity and make sure that those workers are safe and are able to work", she said.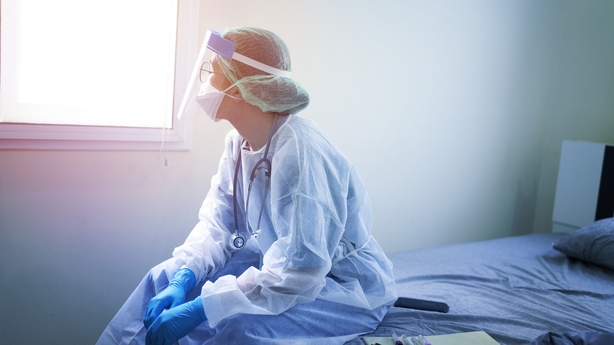 The scheme is administered regionally by the HSE's Community Healthcare Organisations (CHOs).
The healthcare workers we spoke to worked in CHO Dublin North City and County (CHO DNCC) and CHO East.
Both issued statements to RTÉ News in which they said that they were "not aware of any person who has made an application, and meets the eligibility criteria, being refused a place in the HSE Temporary Accommodation Scheme".
CHO DNCC went on to say that "where someone meets eligibility and makes an application, they should be given temporary accommodation" and "if a healthcare worker ... feels that their application has not been assessed fairly", they should contact CHO DNCC directly.
CHO East said that it's "chief Officer will continue to engage with local service managers in relation to the operation of the Accommodation Scheme.
And "the services remain open to contact by any employee of a care facility who considers that the decision reached in relation to their access to the Temporary Accommodation Scheme was not in line with the criteria of the scheme itself."
The Irish Refugee Council's Employment Officer Greta Keegan has been supporting healthcare workers who have encountered difficulties accessing the scheme
"Over the last few months, I've worked with over 36 who have had ongoing issues. That could be around mediation with their employers or the community health organisation, to clarify that they do have a need, an ongoing need", Ms Keegan said.
Maria has since started a new job at another nursing home. While she is vaccinated she remains concerned about the risks of sharing living spaces in the Direct Provision centre with people who are not.
"I get scared, do I have to leave work, because you don't want to be the one bringing in a virus to people," Maria said.
Jessica, who is currently looking for another job, shares Maria's concerns.
"Myself, I can follow all the procedures around infection control ... but others in the Direct Provision who are not in healthcare, they don't know, some people have coughs, it's really difficult."
Associate Professor in the Department of Clinical Medicine at Trinity College Dublin, and Consultant in Infectious Diseases, Dr Clíona Ní Cheallaigh is concerned that healthcare workers, though vaccinated, are returning to live in Direct Provision centres where they share bedrooms and other living spaces.
"Healthcare workers living in Direct Provision, we've already found that that's not conducive to infection control in a pandemic so no, until all parties are vaccinated, its not a safe thing to do," Dr Ní Cheallaigh said.
The Department of Children, Equality, Disability, Integration and Youth is now in charge of Direct Provision.
In a statement the Department said that Direct Provision residents "employed in a variety of healthcare and residential care settings were given the option to choose to seek alternative temporary accommodation during the Covid-19 response".
It said that while a place is retained for those who leave Direct Provision during the pandemic "it is not possible in every case for a person to return to their previous accommodation".
This was due to its "continuing the policy of a reduced occupancy in sleeping spaces for unrelated people", it said.
It said the International Protection Accommodation Services (IPAS) "will endeavour to ensure that the alternative accommodation is close to the previous accommodation, but this is not always possible" and "each request" is examined "on an individual basis".
In relation to residents being placed close to their place of work it said that "due to the wide range of geographical locations in which residents apply for and find work, IPAS cannot guarantee that a resident can been transferred to a centre closer to their eventual place of work".
---