The Department of Health has been notified of a further 11 Covid-19 related deaths and an additional 390 cases.
Four of the deaths announced today occurred in April, two in March, four in February and one in January.
The median age of those who died was 83 and the age range was 50-93 years.
There has been a total of 4,847 Covid-19 related deaths and 244,297 cases of the virus here.
Of the cases notified, 67% were under the age of 45 and the median age was 34.
The latest figures show that there were 179 people with Covid-19 in hospital, with 18 additional hospitalisations in the past 24 hours.
The number of people in ICU is 48, down two on yesterday.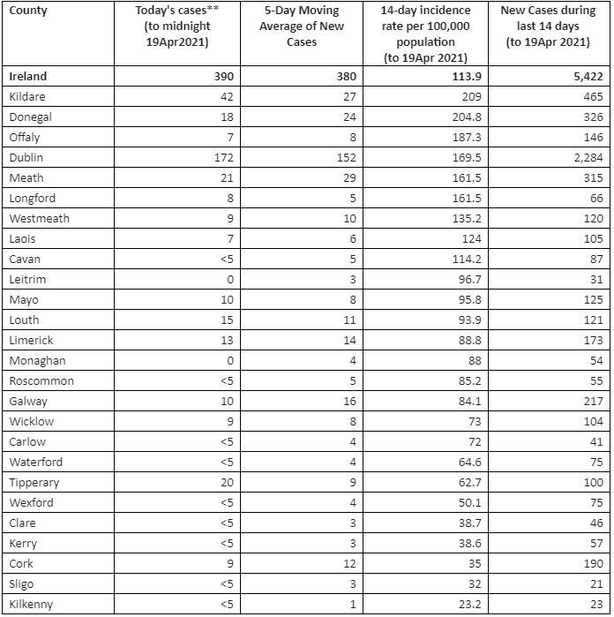 So far, 1,205,252 vaccines had been administered up to 18 April.
Over 852,000 people, representing 21.8% of those aged 16 and over, have now received their first dose of the vaccine.
In a statement, the Government said the "administration of the vaccine is well advanced in a number of groups, including residents (aged over 65) and staff of long-term residential care facilities, frontline healthcare workers and those aged 70 and over".
It said the roll-out was continuing to progress through those at very high-risk from Covid-19.
The Government also confirmed that the easing of restrictions will continue from 26 April.

From Monday, outdoor sports facilities such as pitches, golf and tennis courts can reopen. Clubhouses and indoor facilities must remain closed.

Outdoor visitor attractions can reopen with capacity limits in place.

Attendance at funerals will increase to 25, but the Government has said gatherings should not take place before or after funeral services.
HSE Chief Executive Paul Reid said there is now a "far lower number of people in total in hospital than we did in ICU alone in January".
There are now 22 hospitals caring for fewer than ten cases each of the disease.
The overall trend in daily case numbers is also reducing, the five-day average of cases last night was put at 364, down from 404 the same day last week.
In Northern Ireland, one further death related to Covid-19 has been recorded during past 24 hours, taking the official death toll to 2,136. There were 124 new cases reported.
There are 71 patients with Covid-19 in hospital, with nine in ICU, six of whom are on ventilators.