The Dutch government said today it was relaxing tough coronavirus restrictions, ending a controversial curfew and allowing cafes to serve outdoors from 28 April.
The introduction of the night curfew in January, the first in the Netherlands since World War II, sparked the country's worst riots for decades.
"We are of course glad that this is possible again because society yearns for more freedom," Prime Minister Mark Rutte told a press conference.
He added that it was a "step that is very careful and cautious", as infections are still rising week on week as the country tries to step up its vaccination programme.
Cafes will be allowed to serve people on outdoor terraces between noon until 6pm, with a maximum of 50 people, said Mr Rutte.
People will also be allowed to have two guests at home per day, instead of the current limit of one.
Meanwhile, shops will be allowed to admit customers without appointments, the government said.
Mr Rutte, whose party won the most seats in elections in March on the back of his handling of the pandemic, insisted it was "no gamble" to ease Covid measures.
The Netherlands, with around 17 million inhabitants, has recorded 1.3 million Covid-19 cases and 16,000 deaths since the start of the pandemic.
After first opting for an "intelligent lockdown" that was far more lax than its European neighbours, the Dutch brought in tough restrictions in October as cases soared.
Days of riots broke out in several cities including Amsterdam and Rotterdam after the introduction of the curfew, which currently runs from 10pm to 4.30am.
---
---
Record daily case numbers overwhelming hospitals in India
Meanwhile India, home to 1.3 billion people, is battling a worrying surge, with record daily case numbers overwhelming already stretched hospitals and medical supplies.
Its capital New Delhi was locked down yesterday for a week, and the government said all adults would be eligible for a vaccine from May as it tries to get a grip on the spike.
Similar measures have been taken in other Indian states, adding to the struggles of people already reeling from the economic pressure of the pandemic.
The looming lockdown in Delhi forced tens of thousands of migrant workers to try to flee, fuelling fears they could spread the virus to their rural hometowns.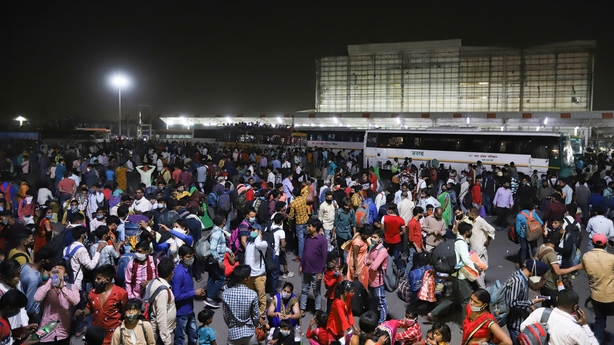 Experts have warned that religious festivals, including the Kumbh Mela attended by millions of pilgrims, and packed state election rallies in India had become "super-spreader" events - and some have said mass vaccinations are the only long-term solution.
There are concerns, however, that vaccine inequality between wealthy and poor nations will further complicate and prolong the pandemic.
Mass vaccinations are considered key for resuming regular life and economic activity, especially travel.
But the World Health Organization's emergency committee said it was against international passengers being required to have proof of vaccination - a proposal being mulled by numerous countries.
The committee said such requirements would "deepen inequities and promote differential freedom of movement" because of the uneven global vaccine rollout.
But the threat of the virus being spread by international travellers was brought into sharp focus in Hong Kong, where at least 49 passengers on a single flight from India tested positive.
Israel registers eight cases of variant first identified in India
Meanwhile, Israel has registered eight cases of a coronavirus variant first identified in India and believes that the Pfizer/BioNTech vaccine is at least partially effective against it, an Israeli health official said.
An initial seven cases of the Indian variant were detected in Israel last week among people arriving from abroad and who have since undergone preliminary testing, the Health Ministry said.
"The impression is that the Pfizer vaccine has efficacy against it, albeit a reduced efficacy," the ministry's director-general, Hezi Levy, told Kan public radio, saying the number of cases of the variant in Israel now stood at eight.
Israel, whose population is 9.3 million, has fully vaccinated around 81% of citizens or residents over the age of 16. Covid-19 infections and hospitalisations are down sharply.
Egypt to purchase 20 million doses of Sinopharm vaccine
Egypt has agreed to purchase 20 million doses of the Covid-19 vaccine produced by China's Sinopharm and expects to receive a batch of 500,000 shots this month, its health ministry said today.
The agreement boosts vaccination efforts in Egypt, which has a population of 100 million and has so far received a total of just over 1.5 million doses of Sinopharm and of the AstraZeneca shot.
Earlier this month, Egypt announced it was preparing to produce up to 80 million doses of the vaccine produced by China's Sinovac.
Russia reports 8,164 new Covid-19 cases
Meanwhile, Russia reported 8,164 new Covid-19 cases today, including 1,996 in Moscow, taking the official national tally since the pandemic began to 4,718,854.
The government coronavirus task force said 379 people had died in the past 24 hours, pushing its total death toll to106,307.
The federal statistics agency has kept a separate count and has reported a much higher toll of more than 225,000 from April2020 to February.