The HSE said it is not in a position to answer whether the target of 80% of adults receiving their first Covid vaccine by the end of June can be reached.
Damien McCallion, who oversees the vaccine roll-out, said they are continuing to work towards the target "but there are very significant supply challenges".
A HSE spokesperson confirmed to RTÉ that the challenges related to a shortfall in the delivery of AstraZeneca vaccines.
AstraZeneca has cut its scheduled delivery, due this Saturday, from 45,000 to 9,000.
A scheduled delivery of 165,000 doses on 30 April has been delayed until 3 May.
Speaking at a meeting of the Oireachtas Health Committee this afternoon, Mr McCallion said 800,000 vaccines will be administered in April, 1.4 million in May and 1.6 million in June.
He said these figures do not include Johnson & Johnson's Jansen vaccine which is "currently out of the equation" and there are a number of caveats related to ongoing discussions with suppliers.
The HSE is not in a position to answer whether the target of 80% of adults receiving their first Covid vaccine by the end of June can be reached, an Oireachtas committee has heard | Read more: https://t.co/fGtTnQrAwK pic.twitter.com/gEIzS8F01N

— RTÉ News (@rtenews) April 20, 2021
Meanwhile, around 300 people over 70 have not yet been vaccinated against Covid-19 because they are house-bound, according to the HSE.
Some 1,600 people in this category have already been vaccinated by the ambulance service, according to Mr McCallion.
He was responding to Fine Gael's Colm Burke, who said he knew of a 90-year-old man who has not yet received his vaccine.
The National Immunisation Advisory Committee (NIAC) will be examining the finding of the European Medicines Agency in relation to the Johnson & Johnson vaccine "over the next day or so", according to Prof Karina Butler.
She said additional information will be coming out in the coming days relating to different age cohorts.
Asked about the EMA announcement at the committee meeting, Dr Butler said: "This is breaking news and no doubt we will be looking at the detail of that over the next day or so.
"And there is additional information that will be coming out in the next week, as the EMA - at the request of the European Commission - are looking at these events and trying to refine the information that has been given to us in terms of contextualising the, perhaps more detail in terms of age related risk.
"So taking all those factors in to account we will obviously be looking at the best recommendations at that time."
---
Read more:
Vaccine dose gap could favour emergence of mutations, says Butler
EMA: Benefits of J&J Covid-19 vaccine outweigh risks
List of vaccination centres around the country
---
Seven new vaccination centres to open this week
Seven new mass vaccination centres are to open this week, bringing the total number of centres in operation to 26, out of a total of 37 centres that will eventually be opened.
In his opening statement to the health committe today, HSE Chief Clinical Officer Dr Colm Henry was due to say the remaining centres will open over the coming weeks, depending on supply and demand.
The HSE said those who received a first dose of Covid-19 vaccine out of sequence will be given the second dose.
It said that once the first dose has been administered, the Health Service Executive is "ethically obliged" to complete the vaccination with the second dose.
In a submission to the committee, the HSE said it very much regretted the incidents in which people received their first dose outside of the agreed sequence of Government allocation groupings.
It said the second dose will be given according to the manufacturer's instructions, in the absence of any contraindication.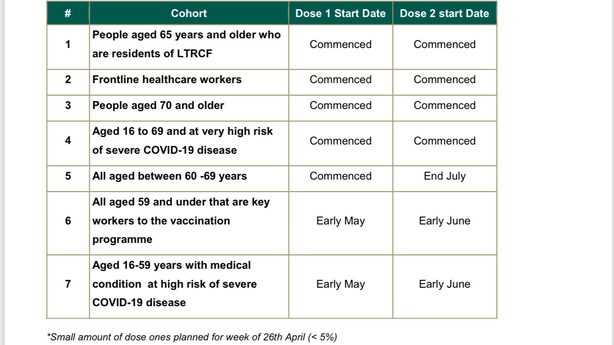 Ahead of the committee meeting, the HSE also submitted a briefing paper to TDs and senators.
It sets out the commencement date of vaccinations for groups one to seven.
Those aged between 60 and 69 will start to receive their second doses at the end of July.
Vaccinations for people aged 59 and under that are key workers to the vaccine programme will begin in early May.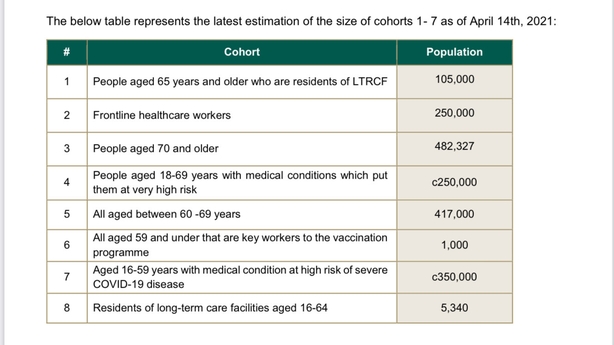 The roll-out for those aged 16 to 59 with medical conditions that put them at high risk of severe Covid-19 will also begin in early May.
Latest figures show that 853,256 people had received a first dose of Covid-19 vaccine by Sunday.
Also, 351,996 had been fully vaccinated with two doses.
The total number of doses administered is over 1.2 million.
On Sunday, the HSE data shows that 793 first doses were administered and 90 second doses.
So far, 95,000 people at very high risk, those in Category 4, have been given a dose of vaccine.
There are around 250,000 people in this category.
Dr Colm Henry also said the HSE has yet to determine how vaccines will be rolled out to island residents.
He was responding to questions from Fine Gael Senator, Sean Kyne, who said over 70s received their vaccines on the islands, following delivery by the air corps.
Senator Kyne said this system worked well and saved people having to travel to the mainland.
Dr Henry said: "We have not yet determined specific modes of administration to the off-shore islands."
Radiographers, dental hygienists, vets and healthcare students could be trained as vaccinators, the Cabinet was told today

— Mícheál Lehane (@MichealLehane) April 20, 2021
Meanwhile, the Cabinet heard today that radiographers, dental hygienists, veterinarians and healthcare students could be trained as vaccinators.
Ministers were told that up to 800 vaccinators are needed for April and May, and more than this have already been recruited.
However, further recruitment will take place at at later stage.
More support staff will also be needed at vaccination centres and an agreement has been reached with with local authorities on this.
The Department of Transport is looking to see if a higher level of service is required on routes to vaccination centres.
Later this month, a pilot programme involving 15 community pharmacies will be launched to test operational arrangements ahead of pharmacies being used in the vaccine roll-out.
Additional reporting by Mícheál Lehane