Minister for Further and Higher Education Simon Harris said he hopes that when the Government meets next week to consider the easing of restrictions, it will try to provide as much clarity as it can, not just for May, but for June and July.
Speaking on RTÉ's News at One, he said the resumption of retail, personal services such as barbers and hairdressers, as well as the rest of the construction industry will be looked at first and safe resumption of religious services will also be examined in this context.
Mr Harris said his "gut" feeling is that so far the easing of restrictions has gone well, and people have learned a lot about how to live safely alongside the virus.
He also said he is "extremely optimistic" that all students, including international students, will be back on campus this coming academic year and that between rapid testing and the vaccine programme "we can look forward to a much brighter college year".
The minister added that he has not been as optimistic in terms of where the country is at with Covid-19 in many months, but that "the vaccines are providing huge, huge protection and we don't want to fall at the final hurdle".
"Literally over the next number of weeks, and we are talking weeks, four out of five adults in Ireland are going to have had their first vaccine", he added.
---
---
Separately, Minister for Justice Helen McEntee said it would be "difficult" and "challenging" if the UK was added to the mandatory hotel quarantine list.
Speaking on RTÉ's Drivetime, Minister McEntee said the Government would consider the measure if it was recommended by the National Public Health Emergency Team (NPHET) and the Minister for Health.
She said capacity at the designated mandatory quarantine facilities would be "in itself a challenge".
She said the Common Travel Area, the flow of people and economic activity that happens between both jurisdictions and "the fact that we have an open land border on this island...that in itself I think is a challenge but if this is something that is proposed by NPHET then obviously as a government, we will have to consider it."
Minister McEntee said she thought it would be "more likely" that Ireland and the UK "align as much as possible".
Speaking in relation to news that religious leaders are seeking legal advice on new regulations concerning religious services, Minister McEntee said the regulations were introduced to "bring in line with all the regulations that currently exist".
"The regulations are clear. You can't gather in large groups indoors and community settings, but also churches, and it was simply a matter of aligning the regulations so that would include churches.
"It is not to preclude or prevent people from being able to engage in prayer, there is still an option where churches are open but large gatherings of mass are simply not permitted."
A statutory instrument was published last week after Minister for Health Stephen Donnelly signed a regulation allowing only virtual religious services.
Minister McEntee said that the Government will be meeting in the next week to plan for the months of May, June and July, and that she hopes that it can "clearly set out when gatherings for mass will be able to resume".
Earlier, Minister for Finance Paschal Donohoe said that scaling up the vaccine programme is key to the reopening of the economy and that is happening now, with 170,000 vaccines planned for this week.
Speaking on RTÉ's Today Claire Byrne, he said the Government will consider the proposals from the National Immunisation Advisory Committee (NIAC) later this week in relation to delaying second doses of the vaccines.
He said there are questions about the duration of a "vaccine dividend" and the impact on how long the vaccine programme has to be run over the coming months in deciding whether to delay second doses.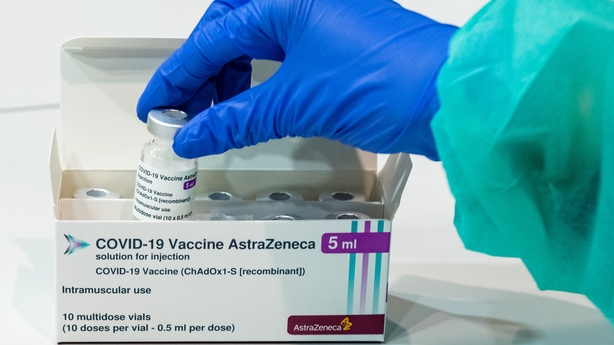 Prison officers want vaccine clarification
The General Secretary of the Prison Officers Association said that until clarification about the vaccine roll-out is given to its members they will withdraw goodwill in their work and stick to strict hours and duties.
Speaking on RTÉ's Morning Ireland, John Clinton said the association's members will not co-operate with any reopening initiatives, such as prison schools and workshops, "as no one will give us clarification or an indication about where we fall" in the vaccine programme.
He said that the POA has been seeking clarification from Minister for Justice Helen McEntee since December and wants to know if its members will be vaccinated in Category 9, which includes groups working in crowded accommodation.
However, speaking on RTÉ's Drivetime, Minister McEntee said there would be no change to the vaccination schedule to prioritise prison officers.
She said she supports the age-based approach to vaccination that was agreed by the Government.