The Department of Health has reported 18 further Covid-related deaths and 358 new cases of the disease.
Among the deaths reported today are seven that occurred in April, three from March, three from February, three that occurred in January, with one death that was reported as happening before January.
The median age of those who died was 85 years and the age range was 46-102 years.
It brings the total number of Covid-19 deaths in Ireland to 4,803. The total confirmed case number is now 241,684.
Today's cases include 163 men and 192 women, of which 73% are under 45 years of age. The median age is 31 years old.
There were 166 cases in Dublin, 39 in Donegal, 16 in Kildare, 13 in Offaly, 12 in Meath, 12 in Limerick and the remaining 100 cases are spread across 18 other counties.
As of 8am this morning, 205 Covid-19 patients were in hospital, with 48 in ICU.
There were 11 additional hospitalisations in the past 24 hours.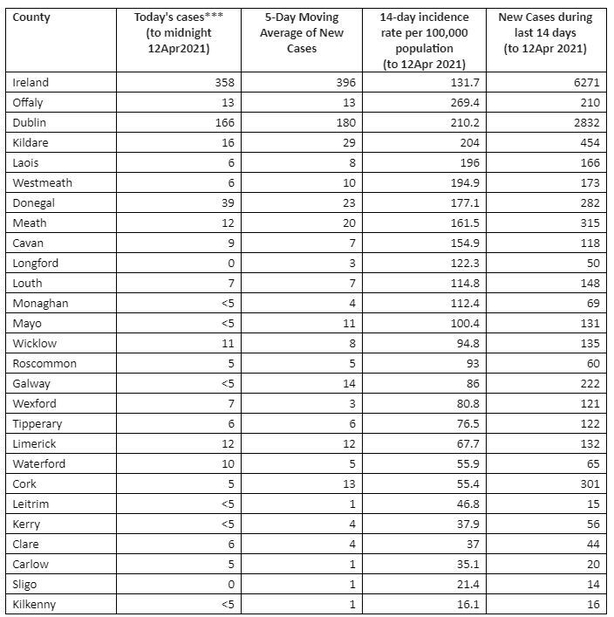 It comes as latest figures show that there were 314,216 people fully vaccinated against Covid-19 by last Sunday.
There have been 749,450 first doses administered under the national programme.
It brings the total number of doses given to over 1.06 million.
Pfizer has accounted for 780,0118 doses, more than 235,300 doses of the AstraZeneca vaccine have been administered and 48,338 of the Moderna jab.
---
---
In Northern Ireland, another 112 cases of the virus were notified by the Department of Health today.
No further deaths of people who previously tested positive for Covid-19 were recorded.
This morning, there were 77 patients with the virus in hospital, of whom seven were in intensive care.
Meanwhile, ISMI Chief Executive Neil McDonnell called on the Government to "get on with it" and introduce State-endorsed antigen testing in workplaces, such as essential retail, grocery and warehouse distribution.
Mr McDonnell said businesses were really disappointed that click-and-collect services did not resume this week, as there are whole sections of the retail trade that have been closed for months.
Speaking on RTÉ's Today with Claire Byrne, he said the country is "far enough into this" to be able to introduce measures to mitigate risks.
He added that figures pre-Christmas did not support the notion that there was any material rate of viral transmission in non-essential settings.