The final phase of schools reopening comes into effect tomorrow with the last cohort of second level students back in the classroom.
The return to school is being broadly welcomed by both teachers and pupils, but there is nervousness and uncertainty aswell.
The Reddan family from Moyross in Limerick are preparing for their return to classes at Thomand Community College.
Morgan, Simone and Katelynn are 16-year-old triplets who missed out on sitting their Junior Cert exams due to the pandemic. Their brothers Blake and Antone, aged 13 and 14, are second and third year students.
All five are being raised by their grandmother, Helena Reddan, who says that the lockdown has not been easy on any of them.
"It's been chaotic, totally wild is the only way to describe it," she said.
"I've had tears, the crying, the breakdowns. They didn't want to do this and and wanted to be out of here. But there's no getting out. It's not normal.
"They do not have a normal life right now and they don't understand. In as much as you explain to a bunch of kids that this is Covid, that you're under restrictions, it's still the same....They ask 'but why, why do we have to do this?'"
Ms Reddan says she has some genuine concerns about her grandchildren returning to school, but believes it is for the best because they must get back to their routine and a normal way of life.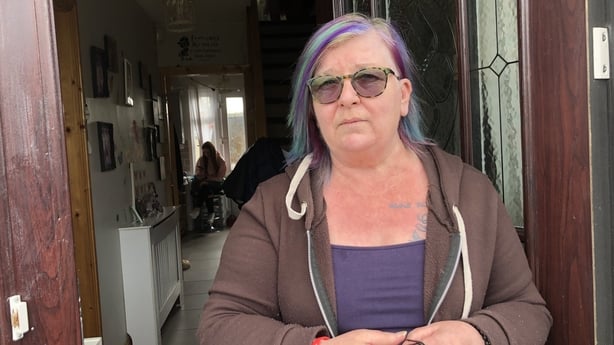 "I'm scared about them returning to school, but it can't come quick enough because these kids need their normal. Normal is getting up at 8 o'clock, going out the door to be in school from 9am to 3.40pm. That's their day and then it's home.
"We always had an evening discussion about what their day was like but now we don't have that."
Ms Reddan says she is not a teacher and struggles at times but does her best.
"I'm always looking up things and printing stuff for them. I think I've learnt more this year than the kids but they have taught me so much aswell."
The family home is cramped and Ms Reddan has moved her bedroom into the sitting room downstairs to free up space for remote learning.
Antone praised his grandmother for looking after them so well.
He said: "There's seven of us living in this house in Moyross, it's very crowded. My nana had to move down into the front room to give us room upstairs. This is where we all come to watch the telly.
"At least when we're in a classroom we get to move around and see people. When we're at home we're sitting around on screens all day."
All the family agree that face-to-face teaching in the classroom wins hands down over online study at home.
The triplets miss their friends and teachers and think they spend too many hours learning on a screen. The fact that they are working in such close proximity is also distracting, which is something that their grandmother agrees.
"We roar at kids telling them they're spending too much time on screens and yet they are often online from 9am to 3pm. That's six hours a day on a screen. It's driving them crazy because if they have an issue, nine times out of ten they'll close the laptops and walk away."
Ms Reddan keeps a tight rein on her grandchildren. She sees the problems in Moyross firsthand.
She also says that her own mental health is on a very thin line at the moment.
"I'm trying to keep the five kids together. I'm trying to hold myself up, I'd never break down in front of the kids, I might lock myself in a room and have a good cry or a scream, but never in front of the kids," she said.
Norma O'Brien is Principal of Thomand Community College. She said a lot of time and effort has gone into making the school safe in preparation for the return of 549 pupils.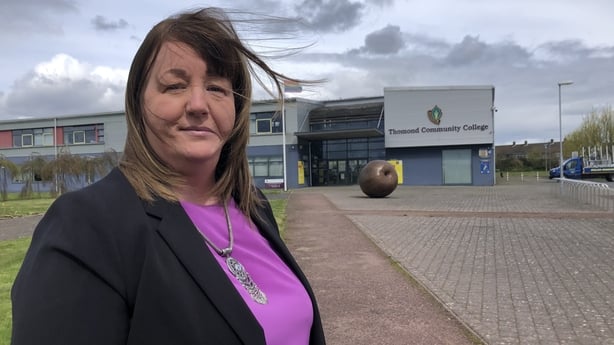 She said: "The school is divided into zones and pods. Breaks and lunches are staggered, we've sanitising stations and reduced movement so we'll strive to ensure that continues when students return tomorrow.
"For the moment for next week our priority is connection and getting students to reconnect. My wellbeing team has sessions for students to get back into normal school routine and by next Thursday it will be like they were never away.
"School provides stability for all students but in particular for a Deis school which provides routine and stability and another set of adults for young people to connect with and that is hugely important."
She said the first years and Leaving Cert students were of particular concern to her, but measures had been put in place for the sixth year students and the choices that they have in relation to accredited grades and state exams.
"First years are a group we would have concerns about because they have been out of school for quite a considerable period in the last 13 months, even though most have been engaging online. But they have missed rites of passage at the end of primary school and beginning second level," Ms Power said.
"It wasn't the normal way of doing things. We have been putting some extra time and measures in place to make sure that we get our first years back into school and reconnected at all levels both academically and socially," she said.
For Ms Reddan and her grandchildren, tomorrow is a day they have been looking forward to for months.
"These children have been asking me from the first lockdown. I just want to go back to school. I just want to see the teachers, I just want to meet our friends. I just want normal."