Norway's capital will close all middle and high schools and limit visitors in private homes to two people until early April to fight the spread of coronavirus, the Governing Mayor of Oslo said today.
In a separate press conference, Norwegian Health Minister Bent Hoeie announced that the government is introducing stricter measures for 52 municipalities surrounding the capital region.
This includes the closure of non-essential shops and in-restaurant dining, although primary schools will remain open.
The Norwegian government said last week that tougher national restrictions could be imposed unless local authorities managed to curb the Covid-19 outbreak.
The Nordic country has maintained one of Europe's lowest rates of infection but now faces a third wave of the disease.
The nation of 5.4 million has inoculated almost 448,000 people with a first dose of a Covid-19 vaccine, and more than 256,000 had also received a second dose.
---
---
Coronavirus restrictions were reimposed across much of Italy today, while Ireland and the Netherlands became the latest countries to suspend AstraZeneca's Covid-19 shots over blood clot fears despite the firm and the WHO insisting there is no risk.
More than 350 million vaccine doses have been administered globally so far, and the AstraZeneca shot - among the cheapest available - is crucial to roll-outs in poorer parts of the world.
Despite immunisation programmes gathering pace, surges in infections remain a threat and Italian authorities reimposed restrictions on three-quarters of the country until 6 April to suppress an outbreak fuelled by the variant first detected in Britain.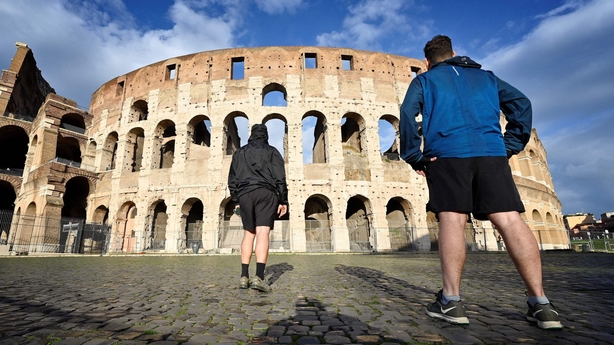 Health Minister Roberto Speranza said the government hoped these strict measures and ongoing vaccinations would allow a relaxation of curbs later.
"Each dose of vaccine injected is a step in the direction of the way out of the crisis," he added.
Schools, restaurants, shops and museums will close, including in Rome and Milan, with residents told to stay home except for work, health or other essential reasons.
And while France was hoping to avoid another national lockdown, it was facing a hospital crisis with intensive care beds in the Paris region running out.
The coronavirus has killed more than 2.6 million people around the world, with much of humanity going through varying levels of Covid-19 restrictions.
People have been growing weary of the economically painful curbs, however.
The Netherlands - under tight restrictions including an overnight curfew - begins three days of voting in one of the first major tests of a European government's coronavirus policies, with Prime Minister Mark Rutte expected to win another term in office.
The United States, meanwhile, has ramped up its vaccination programme after a stumbling start, with more than 107 million doses administered in the world's worst-hit nation.
Its top pandemic advisor Dr Anthony Fauci said authorities were considering cutting social distancing rules to one metre, from the widely accepted two metre global guideline.
Experts at the US Centers for Disease Control were examining a study that found "no substantial difference" in cases at schools observing two metre and one metre separations, Dr Fauci told CNN.
Distancing requirements are a core issue in discussions around the world on reopening schools, with many claiming the two metre requirement makes it difficult to resume classes without adding portable classrooms or shortening the school day.
Many teachers' unions have also insisted on two metre distancing.
Remote learning through the internet has been one option, but it has proved difficult to implement in less wealthy nations where many families do not have internet access or devices such as computers, smartphones and tablets.
Vaccine row leads Austria health official to resign
The official in charge of Austria's purchases of coronavirus vaccines has resigned, the health minister said, days after Chancellor Sebastian Kurz raised concerns about vaccine distribution within the European Union.
"Clemens Auer asked me yesterday to relieve him of his functions as vaccine co-ordinator," Health Minister Rudolf Anschober said in a statement.
The announcement comes three days after Mr Kurz said there had been a lack of transparency surrounding deals between some EU states and vaccine manufacturers.
However, today's statement pointed to problems with the way Austria itself had handled the vaccine procurement process within the framework established by the EU.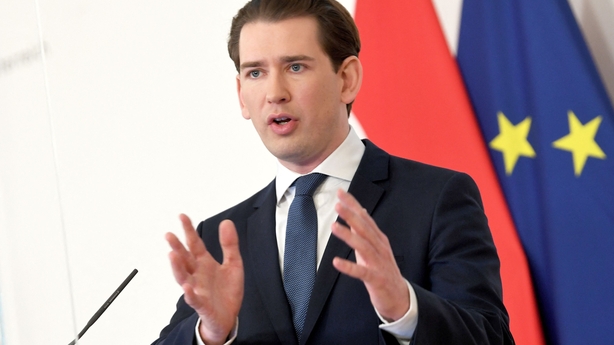 Mr Anschober said Mr Auer had "in one concrete case not forwarded information on to me.
"This was the fact that it was possible to order extra doses from a reserve pot made up of doses not used by other member states," Mr Anschober said.
After Mr Kurz's intervention on Friday, Austria was joined by the Czech Republic, Slovenia, Bulgaria and Latvia in demanding talks among EU leaders to address what they called the "huge" disparities in vaccine distribution.
The European Commission responded by saying in a statement that it agreed "that the most equitable solution for the allocation of doses of vaccines is on the basis of a pro rata of population of each member state".
However, it went on to point out that EU member states had themselves decided to retain the possibility of "a different distribution of doses, taking into account the epidemiological situation and the vaccination needs of each country".
"Under this system, if a member state decides not to take up its pro rata allocation, the doses are redistributed among the other interested member states," it said.
Mr Kurz's People's Party (OeVP) then demanded Mr Auer's resignation for not having made use of this mechanism.
The row has led to tension between the OeVP and its junior coalition partners the Green party, to which Mr Anschober belongs.