The Department of Health has been notified of nine further coronavirus-related deaths and 522 new cases.
In a statement, the National Public Health Emergency Team said that four of the deaths occurred this month, three in February and one in January.
The average age of those who died was 82 years old, and the age range was from 69 to 94 years.
It brings the number of coronavirus-related deaths to 4,405 and the total number of cases now stands at 222,169.
Deputy Chief Medical Officer Dr Ronan Glynn has said there has been a sustained reduction in the number of cases of Covid-19 and Ireland was continuing to make "real progress".
Dr Glynn said all the indicators of the disease were moving in the right direction, including the number of cases, incidence and positivity rates, the 5-day moving average and GP referrals.
He said this was due to the vast majority of the population sticking with the public health measures.
He said he knew it was "really difficult" but these efforts were making a difference.
Dr Glynn said hospitalisations and the number of people needing critical care were also beginning to fall.
Dr Glynn said health officials were beginning to see the really positive effects of the vaccines with very obvious and sustained reductions in the number cases among health care workers as well as the number of cases and deaths in nursing homes.
He described all these signs as "a positive story" and said that as vaccination ramps up over the coming weeks and months, Ireland would have one more very strong tool to allow people to move through "this part of the pandemic" and into a much brighter place.
He appealed to people to stick with the public health measures over the coming weeks in particular and said "together we'll get there".
We are beginning to see the positive effects of vaccination, we are moving towards a much brighter place. Together we'll get there.#COVID19 #holdfirm pic.twitter.com/bWymAWmhjH

— Dr Ronan Glynn (@ronan_glynn) March 5, 2021
NPHET said that of the new cases, 275 are men and 243 are women., with 67% under the age of 45 and the average age is 33.
Most of the new cases are in Dublin with 280, 28 are in both Meath and Kildare, 26 in Cork, 19 in Donegal and the remaining 141 cases are spread across 19 other counties.
The 14-day incidence rate of the virus per 100,000 population now stands at 185.1. It was 369.0 four weeks ago on Friday 5 February.
The counties with the highest incidence rate are Longford (393.9), Offaly (383.5) and Westmeath (272.6). The counties with the lowest rate are Cork (59.5), Kerry (59.6) and Wexford (68.8).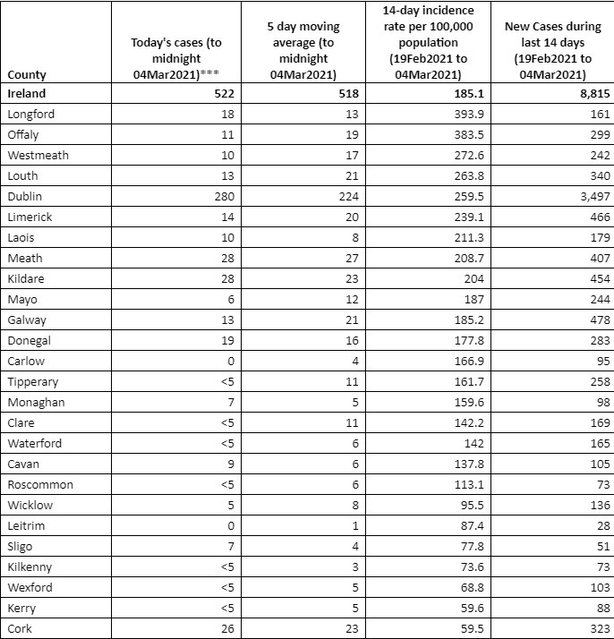 There are 426 Covid-19 patients in hospital, 102 of whom are being treated in intensive care. NPHET said that there had been 34 additional hospitalisations in the last 24 hours.
As of last Tuesday, 2 March, 316,056 people received their first dose of Covid-19, while 144,581 people received their second dose.
Meanwhile, the Taoiseach has said that the March targets in relation to Covid-19 vaccination are "very challenging" and that scheduling the supply of Astra Zeneca vaccines to Ireland was challenging.
Speaking in Galway, Micheál Martin said that the timing of the arrival of vaccinations in Ireland is important to overall vaccination targets.
The Government set a target of 84,166 Covid vaccines to be administered next week.
As part of a daily briefing to ministers on the vaccine roll-out from the Department of Health, Cabinet members were told this morning that this will include:
- 11,500 for those in long-term residential care, including 500 first doses
- 25,666 frontline health workers
- 37,000 people aged over 70 (with the 80-84 cohort next)
- 10,000 with underlying health conditions.
HSE Chief Clinical Officer Colm Henry has said that almost half a million vaccines have been administered in Ireland to date, with 82,000 vaccines administered this week instead of the planned 100,000.
Meanwhile, gardaí have to date issued around 12,000 fines across a range of Covid-19 breaches.
There were 9,021 fines of €100 given for non-essential travel, while 445 fines of €500 were issued for non-essential journeys to airports and ports.
Fines were also issued for house parties, with 370 €500 fines for organising a house party and 1,416 €150 penalties for attending a house party.
Gardaí said that there were 218 fines of €80 for not wearing a face covering, while 103 fines of €100 were given for non-essential travel by people not ordinarily resident in the State.
---
---
Additional reporting Orla O'Donnell