Covid-19 case numbers today fell to their lowest level since mid-December, while the number of patients in hospital dropped below 500 for the first time this year.
The Department of Health was notified of 14 further coronavirus-related deaths and 359 new cases.
In a statement, the National Public Health Emergency Team said that three of the deaths occurred in March, ten were in February and one in November.
It brings the total number of virus-related deaths to 4,333, while the the number of confirmed cases now stands at 220,630.
Of the cases notified today, 157 are males and 193 are females, with 66% under the age of 45, while the average age is 34.
NPHET said that 159 of the cases are in Dublin, 25 in Westmeath, 21 in Louth, 21 in Galway, 19 in Meath and the remaining 114 cases are spread across 19 other counties.
The number of Covid-19 patients in hospital is now 498, with 116 being treated in intensive care.
NPHET said that as of 27 February, 435,895 doses of the vaccine have been administered in Ireland. Of those, 294,550 people have received their first dose, while 141,345 have received their second dose.
The 14-day incidence rate of the virus per 100,000 population is now 201.2.
The counties with the highest rate of infection are Offaly (401.5), Longford (396.3) and Westmeath (274.9). The lowest rate of infection are in counties Kerry (54.2), Cork (66.3) and Kilkenny (77.6).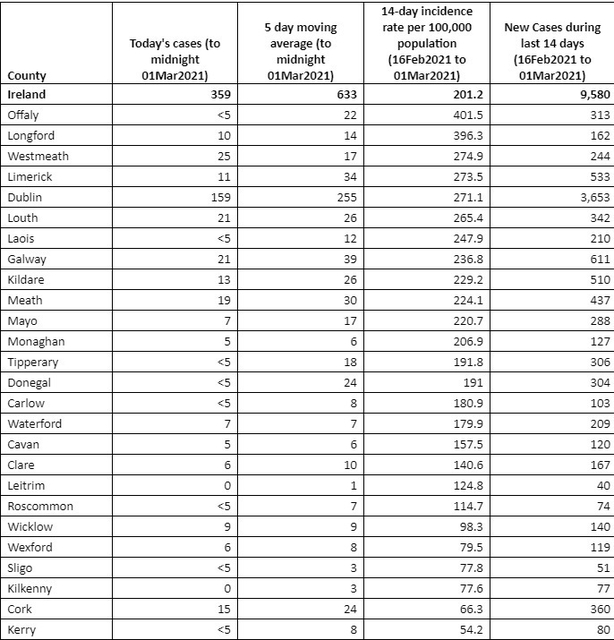 The Deputy Chief Medical Officer has said today's figures represents the lowest number of cases reported on a single day since mid-December.
Dr Ronan Glynn said: "While the low number of cases reported today may be attributable to a weekend effect, it is nevertheless very welcome and represents the lowest number of cases reported on a single day since mid-December.
"While we continue to make good progress in Ireland, globally in the past week, the number of cases of Covid-19 has increased for the first time in seven weeks. We must not allow this virus the opportunity to do the same here.
"Please hold firm to the public health advice and together we can continue to protect and build on the progress we have made over the last two months."
On 1 January, there were 508 Covid-19 patients in hospitals and the number rose during January to a peak of 2,020 cases on 18 January, the highest number seen in hospitals during any of the three waves in Ireland.
The peak of hospital cases during the first wave was 881 patients on 18 April last year. The peak of hospital cases during the second wave was lower, at 354 on 24 October.
The number of patients with the disease in Intensive Care Units is also reducing slowly.
In late January, the peak of ICU cases during the pandemic was recorded at 221 patients.
Overall, daily Covid case numbers and hospital cases are falling.
We need your consent to load this rte-player contentWe use rte-player to manage extra content that can set cookies on your device and collect data about your activity. Please review their details and accept them to load the content.Manage Preferences
---
---
It comes as the CEO of the HSE has said he expects the use of some 40 mass vaccination centres will be stepped up as we head into April, when he expects a vaccine supply of 250,000 a week.
Speaking on RTÉ's Drivetime, Paul Reid said in these centres, some of which are up and running already, 5,000 people will be vaccinated a day, while the smaller ones will see 3,000 people vaccinated a day.
He said the Taoiseach's announcement that 82% of adults will have received their first dose of the vaccine by the end of June, would have been based on the supplies of 1.2 million vaccines in Quarter 1 and 3.8 million in Quarter 2.
He said in Quarter 2, he would hope and expect that we can see an improvement in deliveries of vaccine from Pfizer or AstraZeneca.
He said they are always going to see some swings and roundabouts between suppliers of the vaccines, but "certainly in the Johnson one, it's not as significant at the supply levels for us".
He said they are continuing a recruitment campaign for vaccinators and "it's going really well" and that about 7,500 people have been trained, with many of them will be working in the vaccination centres.
He said while the vast majority of 85-year-olds will be vaccinated by the end of the week, they are also making progress on the next population grouping, which is the 80-84 age group.
He said they have put in supports for GPs, including a call centre and a dedicated email to place orders for the vaccine.
Meanwhile, the Chief Clinical Officer of the HSE has said that lockdown has caused real harm to children, especially young children and those with special needs.
Dr Colm Henry said that these children's education and development were affected by the lockdown, and he welcomed the reopening of schools.
Speaking on TG4's 7Lá programme, he said that it was a relief to parents that these children were back at school again, and that it was also a relief to the HSE.
Dr Henry said that a close eye would be kept on the case numbers, especially amongst teachers and pupils and but he hoped that we would see education continuing like it did from September to Christmas.
In response to a question on including teachers and gardaí in the vaccine rollout, Dr Henry said that if vaccines became available for everyone that they would begin with gardaí and teachers.
He hoped that 500,000 doses of the vaccine would be administered before the end of the week. It is a cause for optimism, he said, that the vaccines are being given to people as soon as they become available.
No Patrick's Day trips for ministers
Ministers will be staying home for St Patricks Day this year, due to the impact of Covid-19.
It is understood a series of virtual events will replace the usual ministerial visits in cities around the world.
Last month, it was confirmed that the traditional St Patrick's Day meeting between US President Joe Biden and Taoiseach Micheál Martin would take place virtually.
In 2020, the Cabinet approved a list of limited visits for ministers to key European and North American cities, only for most to be later cancelled.
Meanwhile, the provision of mandatory hotel quarantine was discussed at Cabinet today. It is expected the legislation will be brought to the President early next week.
If signed, the system of mandatory hotel quarantine will come into force, a spokesman said, "as soon as possible".
Government officials are continuing to hold discussions with potential providers about their facilities. A tendering process will apply.
Elsewhere, Northern Ireland's power-sharing Executive has published its plan to emerge from the Covid-19 lockdown.
More than one third of its adult population has now received a first dose of the coronavirus vaccine.
Additional reporting Paul Cunningham