There have been six further coronavirus-related deaths and 612 new cases of the disease confirmed to the Department of Health.
All of these deaths occurred in February.
The median age of those who died was 63 years and the age range was 41-86 years.
There have been 4,319 Covid-19 related deaths in Ireland to date, while the cumulative total number of infections is 219,592.
The number of people in ICU with Covid-19 is 133, down two from yesterday. There are 554 patients with the disease in hospital with 19 additional hospitalisations in the past 24 hours.
Of the cases notified today 300 are men and 311 are women with 72% under 45 years of age.
There were 289 cases reported in Dublin, 45 in Limerick, 34 in Longford, 33 in Galway, 26 in Kildare and the remaining 185 cases are spread across 19 other counties.
The 14-day incidence rate of coronavirus per 100,000 population is 212.2.
Counties with the highest infection rates include Offaly (395.1), Longford (369.4) and Dublin (288.9). Counties with the lowest rates include Kerry (51.5), Cork (66.7) and Kilkenny (81.6).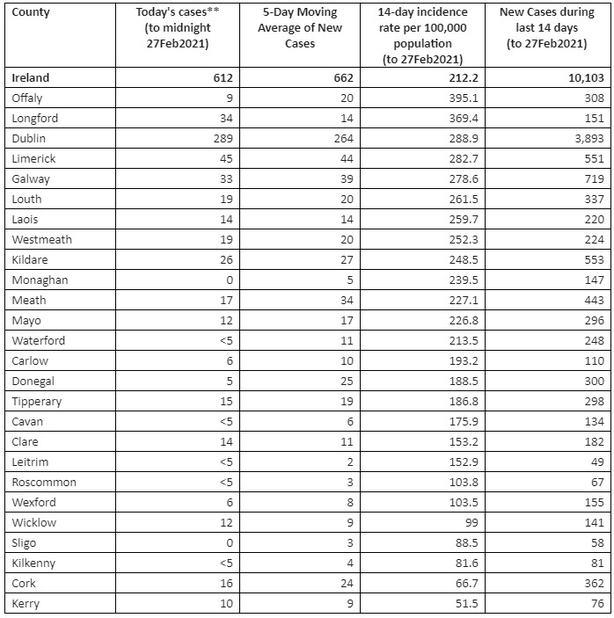 As of Thursday 25 February, 409,529 doses of Covid vaccines have been administered in Ireland. 271,594 people have received their first dose and 137,935 people have received their second dose.
In a statement, Deputy Chief Medical Officer Dr Ronan Glynn said: "We have seen week on week reductions in case numbers over the past six weeks and we are on track to have an incidence which is amongst the lowest in Europe."
He said the number of people in hospital has fallen by 38% over the past two weeks.
Dr Glynn said: "We have three highly effective vaccines with more on the way, supply is ramping up and we are on course to have given about 80% of adults at least one dose by the end of June.
"Vaccines are already having a very positive impact here with cases falling dramatically among healthcare workers and in our nursing homes.
"Evidence is mounting quickly that these vaccines, as well as stopping people getting sick, also help to stop people passing the virus onto others.
"While new variants have brought uncertainty, the existing vaccines perform well against them and work is already underway to develop booster versions should they be required."
However, Dr Glynn added: "We still have a way to go. Our case numbers are still far too high and we must continue to do all we can to suppress this disease over the coming weeks.
"But if we can do this successfully through March, our focus will begin to turn to what we can do, rather than what we cannot.
"Yes, we need to be cautious and yes, there will be challenges over the coming months. But together, through science and solidarity, we will get through this and this pandemic will end."
Tomorrow will see the return of some primary school children to the classroom for the first time this year.
Schools are preparing to welcome back pupils from junior infants to second class.
Leaving Certificate students in secondary schools will also be back as part of the phased reopening of schools.
Dr Glynn last week issued a letter appealing to parents and guardians not to see the return of children to school as a signal that social mixing is acceptable.
He asked that parents and guardians avoid "congregating at school gates" and appealed for them not to organise play dates or after-school activities that involve household mixing.
Meanwhile, a charity supporting people with autism has accused the Government of putting the interests of trade unions ahead of children with special needs.
Adam Harris, the founder of As I am, said that around 20,000 students with additional needs in mainstream schools between third class at primary level and fifth year at secondary level would be left behind with the phased reopening of schools from tomorrow.
The Department of Education said that work will continue to ensure that all students with special educational needs in mainstream school can return to the classroom.
Asked about what life might look like once the vaccine programme has been completed, the HSE's Chief Clinical Officer Dr Colm Henry said the handshake may be a thing of the past.
Speaking on RTÉ's This Week, Dr Henry said: "I don't expect any of us believe life will go back exactly to where it was.
"Whatever about the handshake, which may be beyond resuscitation as a social exercise, I think hugging will certainly come back.
"But I think at this stage there is much more hope than despair looking at the real-world evidence of the vaccine.
"As it is rolled out in Israel, Scotland, England and other countries, we're seeing huge drops in hospitalisations, serious illness and death in the most vulnerable groups."
Elsewhere, Northern Ireland's Department of Health reported 136 new cases of Covid-19 and a further three deaths.
It was the lowest number of new cases on a single day in Northern Ireland since 22 September.
It came as the UK announced that it had given more than 20 million people at least one dose of a coronavirus vaccine.
---
Read latest coronavirus stories
Schools prepare to welcome students back
Autism charity says some children being left behind
First dose of vaccine administered to 20m in the UK
Life after vaccines: When will it return to normal?
---