A Government spokesperson has said the Taoiseach will continue to argue for greater solidarity on vaccines when he meets virtually with European leaders tomorrow.
But an open letter to Mícheal Martin from organisations including Oxfam Ireland, Concern, Trócaire and the Irish Nurses and Midwives Organisation is calling on him to go further and to support a campaign for vaccine technology to be shared.
The campaign is calling for an emergency waiver of intellectual property rights at the World Trade Organisation, arguing this would give poorer countries quicker access to vaccines, other medicines and equipment needed to fight Covid-19.
The charities cite research which suggests many people in low and middle-income countries would not get access to vaccines until at least 2022, and most of the world's poorest countries will have to wait until 2024 for mass immunisation.
The Taoiseach has stressed the importance of a Global Vaccination Strategy and the government statement points out that Ireland has been a donor to the Global Alliance on Vaccines (GAVI), which hosts the COVAX facility, since 2002, and strongly supports its mission and its focus on the world's poorest and most fragile countries.
Ireland has increased its contribution to help ensure fair access to vaccines.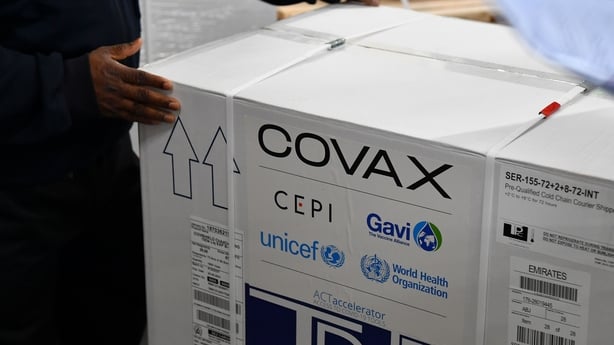 The charities argue that "while Irish participation in programs like COVAX is important, unless production is quickly ramped up around the world to meet global demand, there simply will not be enough supply for COVAX to provide countries in need."
Drug companies are opposing the waiver campaign.
The Irish Pharmaceutical Healthcare Association, which represents drug manufacturers here, has said "we have vaccines and treatments to tackle Covid-19 because intellectual property (IP) protection catalyses biopharmaceutical innovation."
It has said that without intellectual property rights "the options to stop the spread of Covid-19, or to treat it, would not exist. The research infrastructure that allows biopharmaceutical companies to act fast is not built from scratch."
Others point to the billions invested in Covid-19 vaccine research by governments and say it is taxpayers who have borne a substantial part of the cost.
South Africa and India are leading the more than 100 countries looking for the WTO waiver, but it is being opposed by wealthier countries including the EU, Switzerland and the United States, all WTO members with significant pharmaceutical industries.
The signatories of the open letter to the Taoiseach want him to tell the EU that Ireland no longer supports that position, before the next WTO General Council meeting which is due to start on Monday.
They argue the sooner the world's population is vaccinated, the sooner EU citizens are safe.