The HSE has published its Service Plan for 2021, which will see an increase of €3.5 billion in funding allocated for the health service compared to last year.
During an online briefing, HSE Chief Executive Paul Reid said the allocation represents a 21% increase in funding.
The HSE's total operating budget for the year will be €20.6bn overall.
"This significant investment represents the trust that the Government and the public have placed in us after a year in which our staff have gone above and beyond to do all they can to keep people safe and healthy," Mr Reid said.
He added: "The last 12 months have brought very rapid changes in how we provide healthcare, and we intend to use the best of the changes coupled with the new investment to sustainably transform how we deliver healthcare in Ireland."
Mr Reid said there has been an unprecedented amount of reform in the system in recent years, and that this service plan aims to build on that.
He said a lot of the changes brought in response to Covid-19, such as pushing out resources to support GPs, are in line with reforms set out in SláinteCare.
Today we launched the 2021 National Service Plan for the HSE. It sets out an extra €3.5bn of funding. We'll continue to protect the public & our patients from #Covid19. We'll also build on the reforms put in place and strengthen how we work with other health providers. @HSELive

— Paul Reid (@paulreiddublin) February 24, 2021
Mr Reid said the HSE has recruited 7,500 people in the last year, and that there has been a net increase of 208 consultants and 1,800 nurses and midwives.
Of the extra €3.5 billion going into the service this year, €1.8bn will be for non-Covid services, with the other €1.7bn going toward Covid-related services.
Over €455 million is being put toward testing and tracing.
Mr Reid said it is expected that additional funding will be needed for vaccination, but that will not be an issue, as any money needed for vaccination will be made available by Government.
---
Read more:
Latest coronavirus stories
---
HSE Chief Strategy Officer Dean Sullivan said the funding will include the Covid Action plan, which will maintain and enhance daily Covid-19 testing capacity to 25,000 per day.
In relation to health and wellbeing, Mr Sullivan said there will be supports for people with chronic disease to self-manage as part of the prevention agenda.
There will also be support for people to give up smoking, to promote activity and exercise, and funding for alcohol-related services.
Mr Sullivan said in 2021 the HSE will establish 96 Community Health Networks, as well as providing 5m extra home help hours, and an additional 1,250 rehabilitation and transitional care beds.
He said there will be 102 residential disability beds, and 40,000 extra hours of personal assistant supports.
On mental health supports, Mr Sullivan said there will be a 10% increase for CAMHS, and there will be a roll-out of additional services including four crisis teams, four crisis cafés and an additional respite house.
Mr Reid said the HSE is seeking to recruit an extra 250 Public Health doctors but is finding it challenging and is looking internationally to find people.
He said that before the pandemic there were 250 public health doctors in the HSE and that increased to more than 500 last summer and is currently around 440.
He said the HSE has advertised for 255 public health doctors and has received 1,000 applications, of which around 480 have been interviewed.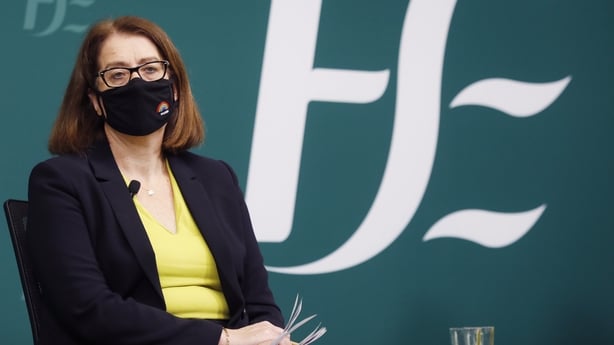 HSE Chief Operations Officer Anne O'Connor said the immediate priority is to get non-Covid services back to the point where waiting lists are no longer growing, and after that to try and start reducing them.
Speaking during a briefing on the HSE Plan, she said the health service is still very much in a phase where resources have to be concentrated on Covid-19, and the aim is to move out of that so normal services can resume.
She said after the first wave last year, the HSE got to a point during the summer "where we were holding our own on waiting lists" and that the immediate aim was to get back to that
Mr Reid said the Covid vaccination programme will continue into the second half of this year with a significant number of vaccines administered in the third quarter and the programme tailing off come October.
He said the expectation is to give out 1.24 million doses in the first quarter to the end of March with a further 3.88 million done in quarter two.
Asked if there were any expectations or plans to give out new vaccines to deal with Covid variants later in the year, he said the data available indicates that vaccines on the market now are effective against the known variants so it is too early yet for plans to re-vaccinate people.
He did add however that if there needed to be an ongoing vaccination campaign into next year "then that is what we will be doing"
The HSE has budgeted €200m for the vaccination programme, but has said this is a provisional figure and the actual cost is expected to rise to around €450m.