The Cabinet sub-committee on Covd-19 has recommended that Level 5 restrictions should remain in place until early April.
The measures will be reviewed around 5 April and then either further extended or eased.
The sub-committee received an update from Deputy Chief Medical Officer Dr Ronan Glynn and the HSE chief Paul Reid.
The Cabinet is also set to announce a phased reopening of the childcare sector in the revised Living With Covid plan, including target dates for when the stages will happen.
Minister for Health Stephen Donnelly said that Dr Glynn's letter to him about opening up urged caution and said current restrictions should be extended.
Mr Donnelly said the Government wanted to give people as much certainty as they can, but they are dealing with so much uncertainty, adding that he could not get into the details at what Cabinet is looking at.
The minister said the detail from National Immunisation Advisory Committee (NIAC) about people with underlying conditions being prioritised for the vaccine is going to Cabinet too.
He said he hopes to bring in the legislation for mandatory quarantining this Wednesday or Thursday, adding that January was "awful" and that the country does not want another surge.
Speaking as the sub-committee finished its meeting, Minister for Transport Eamon Ryan said the Government will be setting out the detail of its revised Living with Covid plan after the full Cabinet meeting.
Mr Ryan said while Ireland is still in a very precarious position, the focus is on trying to reopen schools safely and giving people some hope.
The Cabinet sub committee has ended. Here's the view of Green leader and Climate Action Minister @EamonRyan pic.twitter.com/Rxdvy9XYOv

— Paul Cunningham (@RTENewsPaulC) February 22, 2021
He added that Ireland needed to take care over the next few weeks as it was in a very difficult situation.
It was expected that a recommendation would be agreed at the meeting around the phased reopening of schools, which will then go to Cabinet for a final decision.
It is a plan that is likely to set out the stages at which things will happen, but due to the volatility of the virus it will not contain many exact dates.
Meanwhile, the Department of Health confirmed one further death related to Covid-19 and an additional 686 new cases of the disease.
It brings the overall number of deaths in Ireland since the start of the pandemic to 4,137, with an overall total of 215,743 confirmed cases.
Of today's cases, 66% are under the age of 45, with a median age of 34.
Geographically, 278 new cases were confirmed in Dublin, with 49 in Limerick, 37 in Kildare, 32 in Louth, 31 in Donegal and the remaining 259 cases are spread across all remaining counties.
As of Monday morning, there were 726 patients with the virus in hospital, of which 156 are in ICU. There were 33 people hospitalised with the virus over the past day.
The 14-day incidence rate of the virus nationally now stands at 240 per 100,000 people.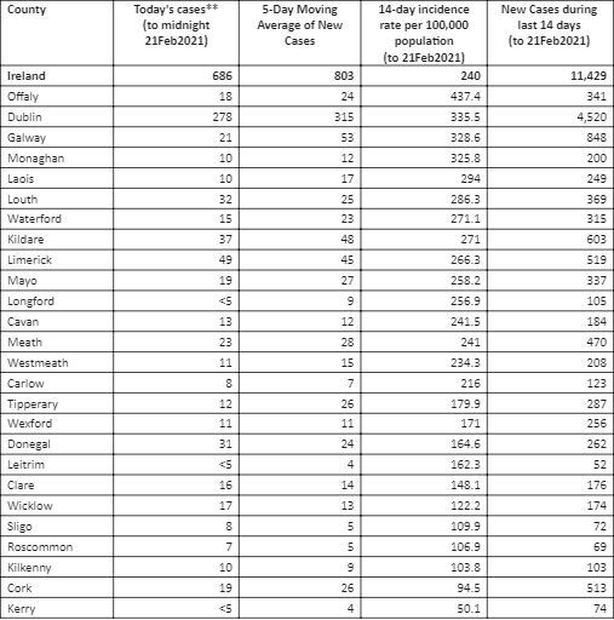 Counties with the highest incidence of the disease include Offaly, Dublin, Galway and Monaghan, while counties with the lowest incidence include Roscommon, Kilkenny, Cork and Kerry.
Dr Glynn said that high levels of compliance among the public are having a positive effect on the number of people hospitalised.
"Last week, there were 269 cases in healthcare workers and four outbreaks in our hospitals. These represent a very significant reduction compared with the 839 cases and 15 outbreaks in the week to 7 February," he said.
He added: "In time, vaccination will be our most powerful tool against Covid-19 and over the coming weeks those who are highest risk in our families and communities will get vaccinated.
"For now, each of us has a range of tried and trusted tools at our disposal - by keeping our distance, washing our hands, wearing face masks and staying at home we will continue to drive down transmission of this disease.
"Our collective efforts move us closer to the continued re-opening of our schools and the resumption of non-Covid healthcare services."
As of last Friday, 340,704 Covid-19 vaccine doses had been administered in Ireland, of which 126,320 were second doses.
---
Read more:
Latest coronavirus stories
---
Meanwhile, the deaths of four people with Covid-19 were recorded in Northern Ireland today, taking the official death toll there to 2,036, There were also 187 new cases recorded from tests on 1,077 individuals.
Figures in the North show there are 386 confirmed coronavirus patients in hospital, with 51 in ICU, 41 of whom are on ventilators.
The average seven-day infection rate per 100,000 for the North is 110.5.
The area with the highest rate remains Mid Ulster on 180.3, while the lowest remains Fermanagh & Omagh on 49.6.