With the Taoiseach signalling this week that high levels of restrictions will remain until after Easter, how do the public feel about that prospect?
Early last year, we spoke to the people of Marino in Dublin about how they were coping with what were then the relatively new restrictions. Ten months on we have been back to see how they are doing.
The seasons have changed, but Covid remains constant.
We first met the Cheevers in the sunshine of last April, when the concept of cocooning was brand new.
Back then they found it tough, and they say it hasn't got any easier.
I miss my club, the active retirement club. I'm in the choir in the church and I miss that. I miss my friends.
Dolores Cheevers says: ''I feel a bit more down this time than I did the last time we talked. Back then the weather was so much nicer and we had the summer coming in. We just love getting out ... we're not as good with the long walks as we used to be.''
Her husband Luke agrees. "This Covid, it's affected everything socaily. I miss going into town to listen to the trad music. I love the Irish Film Institute and the foreign films. I've been going to them since I was a young man and I miss them terrible," he says.
Dolores too misses not seeing her friends. "I miss my club, the active retirement club. I'm in the choir in the church and I miss that. I miss my friends."
"I'd no idea that it (covid) would have such a devastating affect. But we just have to put with it and fight it the best we can," says Luke.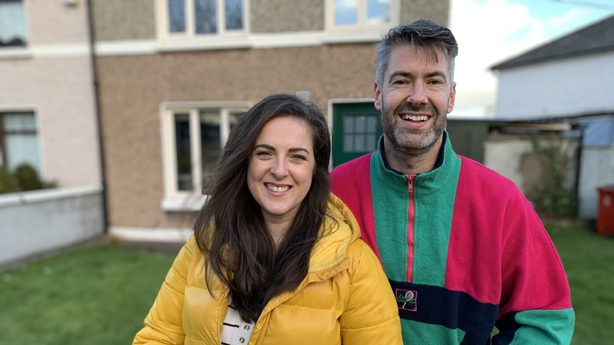 For new parents Orla Heneghan and Kevin Birmingham the march of time is clear to see. When we first spoke last April, their baby Laoise was four months old - now she is a toddler with energy to burn.
Back then the couple were disappointed that they couldn't pop around to visit the grandparents. Now they have more challenges too as the pair are both working from home.
"The last five months have been a challenge," says Kevin. "We're trying to keep everything quiet, we're closing doors and alternating meetings so it's a logistic challenge for sure."
On working from home and minding her child, Orla says: "You kind of get used to it and then every so often you realise how it's a bit like house arrest but we're definitely in a routine.
"I've found the happiest place I can find with balancing work and being a new mom and trying to keep myself sane."
"Yes, it's a bit of a challenge. There've been some fantastic highs with getting to spend so much time with Laoise but there have been some difficulties with being away from colleagues and family. So it's been both positive and negative."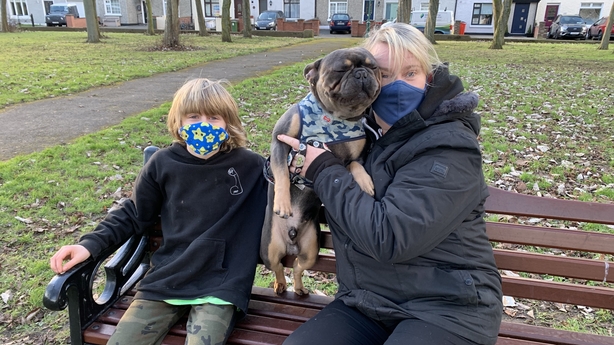 For the van Tonders last year it was school or lack thereof was the issue - and so it remains.
For Fionn, who's in fourth class, it's his friends from school he misses the most.
"I miss it because my friends are there and they have your back and they're not here right now."
For Fionn's mother, Helen, lockdown this time around is tougher.
"I'm glad I didn't know then what I know now is the truth of it. I don't know what lockdown we're in. In fact I feel we're in lockdown since the last time we met... It's been hard. Homeschooling in particular with being a single parent and working from home."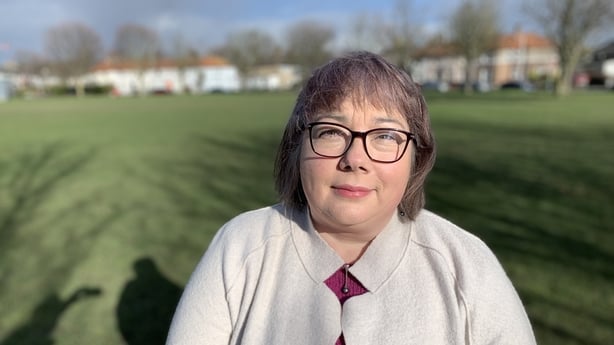 When we last met the Orla McCaffrey, a Samaritans volunteer that day last April, she was predicting a busy year - and so it proved to be. The charity received 300,000 calls, as people struggled with the Covid-19 restrictions.
"We had a busy year", she says. "In particular [calls about] isolation, loneliness. People too speaking about unemployment and their ability to cope with that. Mental health issues, missing families. The normal stuff, but just exacerbated by Covid."
And now with many more weeks of restrictions to come the people in this corner of Dublin - and elsewhere - will hope brighter days will follow soon after.
The Samaritans helpline is 116 123.