The National Public Health Emergency Team has said that despite initial concern around a possible plateauing of Covid-19 case numbers, there continues to be an overall strong decline in the rate of the virus.
It comes after the Department of Health was notified of 75 further coronavirus-related deaths and 1,318 new cases.
NPHET says that 46 of the 75 deaths occurred this month, 27 in January and two deaths were earlier.
There have been a total of 3,586 Covid-19-related deaths in Ireland, while the number of total confirmed cases now stands at 200,744.
Speaking at a press briefing at the department, Prof Philip Nolan said that unusually low case numbers were being reported on Monday and Tuesday each week. 
He said what happened was that there have been very strong weekend effects for the last four weekends, where far fewer Covid tests were being done on Saturday and Sunday, resulting in far fewer cases being reported on Monday and Tuesday. 
Prof Nolan said those people who became symptomatic in the run up to the weekend then presented themselves for tests, and there is then an inflation in case numbers as the week goes on.
"When we look at the data in detail, the best fit for all of this is that we have seen a stable level of exponential decline at -6 to -9% per day," he said. 
The briefing heard that the reproductive rate (R) number of the virus is now below one, in the region of 0.5-0.8.
On fluctuations in case numbers, Prof Philip Nolan says there appears to be a weekend effect, with case numbers slowly coming down overall, but with unusually low numbers on Mondays and Tuesdays followed by a rise towards the end of the week | https://t.co/mMZaXLuC5w pic.twitter.com/YY9bYdYLVg

— RTÉ News (@rtenews) February 4, 2021
There are 1,284 patients being treated for the virus in hospitals, with 188 in intensive care, which is down 15 on yesterday.
Of the cases notified today, 622 are men and 688 are women. The average age is 40 years old, and 58% are under the age of 45.
There are 428 new cases in Dublin, while 122 are in Cork, 93 in Galway, 78 in Kildare, 77 in Limerick and the remaining 520 cases are spread across all other counties.
There have been 111 deaths related to Covid-19 in Ireland in the month of February, Deputy CMO Dr @ronan_glynn reports, as he sets out the latest #Covid19 figures | https://t.co/mMZaXLuC5w pic.twitter.com/bUKFjPM0NV

— RTÉ News (@rtenews) February 4, 2021
The 14-day incidence per 100,000 is currently 397.1. The counties with the highest rate of infection are Monaghan (876.4), Waterford (612.9) and Louth (609.9). 
The counties with the lowest rate of infection are Roscommon (137.9), Kerry (183.5) and Kilkenny (195.5).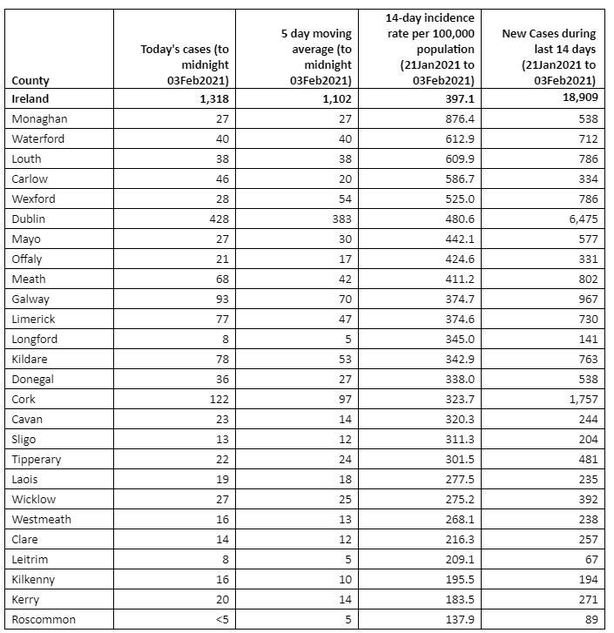 The Chief Medical Officer has said that mRNA vaccines are the right vaccines to give people over the age of 70, and that many more will be vaccinated in the coming weeks. 
Dr Tony Holohan said: "We know that the over 70s have suffered the greatest burden of mortality and serious illness from Covid-19. Ireland is now in a good position; we can now offer highly effective and safe vaccines to this cohort.
"The superior efficacy demonstrated by the mRNA vaccines authorised for use in Ireland, Pfizer BioNTech and Moderna mean that the mRNA vaccines are the right vaccine to provide the highest level of protection available to those over 70."
However, he said that even if a person is vaccinated people should continue to adhere to measures to combat the virus.
"Until we have all been vaccinated, we must act as though none of us have been vaccinated," he said.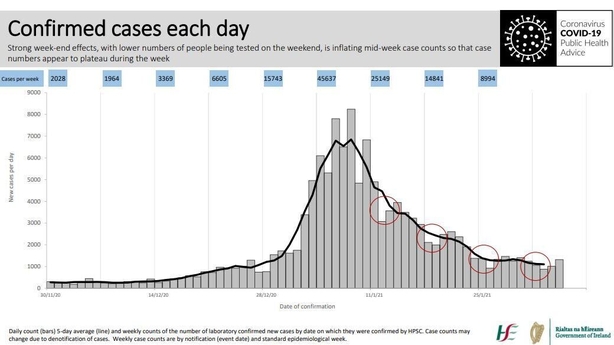 Prof Nolan said we seem to be making "steady progress" in reducing transmission and have brought transmission down to a stable and very low level.
He told the briefing that yesterday, looking back at the preceding seven days, an average of 1,188 cases was reported compared with 6,520 at the peak in January.
However, he said that fewer than ten cases a day were being reported in late June.
Prof Nolan said we have seen a very significant fall in the number of people in hospital, at just under 1,500 on average for the last seven days and 1,308 at 8am this morning.
Prof Philip Nolan says the number of close contacts per confirmed #Covid19 case is remaining low, and people are making a very strong effort to suppress the virus. The R number is up slightly, but still 'very significantly below 1' | https://t.co/mMZaXLuC5w pic.twitter.com/vBNdqziXHM

— RTÉ News (@rtenews) February 4, 2021
The number of admissions has essentially halved since early January he said, going from almost 160 admissions per day to close to 70 on average over the last week.
Prof Nolan said for the first time this week, a decrease in the number of people in ICU is being reported.
He also said that the incidence is declining rapidly across all age groups, and that there has been extraordinary progress in those aged 19 to 24.
For those age 85 and over, Prof Nolan said the incidence is very high and is coming down very slowly and sadly is associated with significant mortality. 
He said there has been a very strong adherence to the spirit of public health guidance, and that people are staying at home to a greater extent.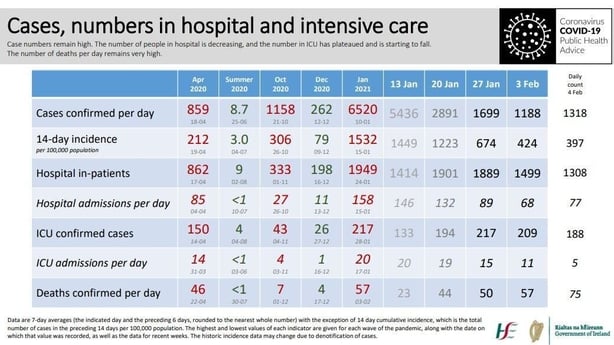 Increase in workplace outbreaks
The Deputy Chief Medical Officer said that there has been a big increase in a number of workplace outbreaks in the past four weeks compared to the end of 2020.
Dr Ronan Glynn said they are being seen across a range of settings, but that the issue is not necessarily with compliance in those workplaces.
He also said there are significant outbreaks in the Travelling community and in Direct Provision.
Dr Glynn said there are a significant number of other outbreaks not being classified because the volume of disease means these are difficult to investigate.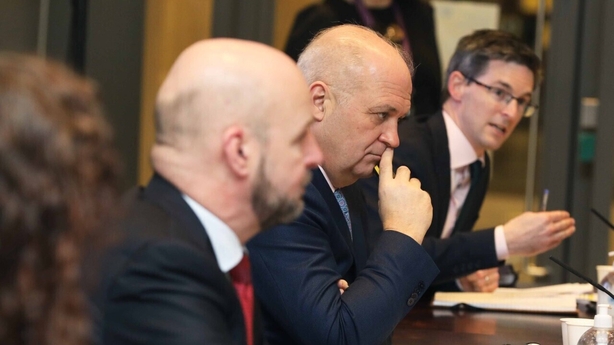 He also said data shows that one in every two people are taking three days or longer to come forward after their symptoms first appear. 
Meanwhile, almost 220,000 Covid-19 vaccines have been administered according to the Health Service Executive.
For the last week, a total of 51,200 vaccinations were completed, with 44,900 administered in acute hospitals, with 1,500 people receiving a first dose and 43,400 receiving their second shot.
Vaccines were raised during Leaders Questions in the Dáil today, with the Tánaiste saying that the decision not to use the Oxford/AstraZeneca vaccine for people aged over 70 will mean the rollout of the vaccine for that group will be slower.
Leo Varadkar said  this means the roll-out for healthcare workers and others will be faster and the same total number of vaccines will be administered.
People over the age of 70 will be given the Pfizer or Moderna mRNA vaccines where possible.
---
7 things we learned from the latest Covid-19 briefing
Read more coronavirus stories