The Tánaiste has said the country will not be moving from Level 5 to Level 3 in March and the easing of restrictions will resemble the reopening after the first wave of the virus last year. 
Leo Varadkar also said the number of daily cases would need to fall "to the low 100s", and the number of people in ICUs needs to drop to, or around, 50, before the Government would ease restrictions.
Speaking on RTÉ's News at One, he said those who are considered to be the most vulnerable would need to have received a Covid-19 vaccine before any restrictions are eased.
Mr Varadkar said the Government would listen to the advice of the National Public Health Emergency Team before considering an easing of measures.
Tánaiste Leo Varadkar says there will be a very gradual easing of Covid-19 restrictions after 5 March, similar to what happened after the first wave of the virus as opposed to a jump from Level 5 to Level 3 | https://t.co/GteJ6HCRDR pic.twitter.com/m9IoNgVWfZ

— RTÉ News (@rtenews) January 27, 2021
"We will not be moving from Level 5 to Level 3" on 5 March, he said.
"But you may see things being allowed that aren't currently allowed, like for example people meeting another household, perhaps outdoors. You may see some aspect of retail or personal services being permitted."
---
---
The Tánaiste said decisions about the Leaving certificate exams would be made in the "next few weeks". 
He said "we realise the need for an early decision" and work is being carried out with education partners on possible solutions.
"I really appreciate and understand the enormous stress that sixth years are under. We know that they will need an early decision. 
"So we're working with teachers, principals, education partners on solutions. They need a decision in the next few weeks. We can't leave them hanging," he said. 
Mr Varadkar said teachers believe that holding a traditional style exam is possible, but that three options are being explored.
In relation to the Leaving Cert, Tánaiste says three options are being considered – predictive grades; Leaving Cert in modified form; choice option. He says decision will be made in the next few weeks | https://t.co/GteJ6HCRDR pic.twitter.com/nImP1mtRzH

— RTÉ News (@rtenews) January 27, 2021
"One is predicted grades again but that is much harder to do given that this group haven't done their mocks or their summer exams. Another option obviously is to do the Leaving Cert in a modified form. And the third is the choice option." 
Government 'will not seal border' with Northern Ireland for zero Covid strategy
Earlier, Minister for Health Stephen Donnelly said the Government will not seal the border with Northern Ireland in order to pursue a "zero Covid" strategy.
Speaking on RTÉ's Today with Claire Byrne, Minister Donnelly said he is not "dismissive" of exploring this strategy, but the Stormont Executive and the UK government have ruled out any checks between Britain and Northern Ireland.
.@DonnellyStephen says around 1% of people travelling into Ireland at the moment are doing so without a negative PCR test for Covid-19 | More: https://t.co/3hPebuyxA5 pic.twitter.com/deL1DXPZ6g

— RTÉ News (@rtenews) January 27, 2021
The minister said a "two-island strategy" is being explored to clarify "if there is merit to us closely aligning the border control measures for the UK and for Ireland as possible, which deals with the challenge, which is free flow, north/south and east/west from Northern Ireland."
"I feel the frustration. We've all got family members who are over 70"@DonnellyStephen says people's frustrations are perfectly understandable, and that vaccines are coming into the country as quickly as possible, and rolled out as soon as can be | https://t.co/3hPebuyxA5 pic.twitter.com/bud5b8f5Cs

— RTÉ News (@rtenews) January 27, 2021
Mr Donnelly said "rolling lockdowns are intolerable", but appealed to people to "stick with these measures because they are working."
"People are tired. It's been a tough, tough year. People can't hug their parents, people in nursing homes can't see their loved ones, working parents are homeschooling their children. It is really tough, but it is working.
"No one was sure how Level 5 would work this time against the new variant. We saw yesterday the cases come below 1,000, and they are moving in the right direction."
He described the vaccination programme as a game-changer, but said the Government is particularly worried about variants detected in South Africa and Brazil.
He said only one outbreak out of 667 over the last three weeks has been linked to foreign travel, but the Government is working with airlines to say that its "strong preference is that entry is refused to those who do not have a negative PCR test" before they fly.
The minister said he still hopes that every adult in Ireland will be vaccinated by September, if the vaccines that are pre-ordered are approved and delivered on schedule, but stressed that this is not a promise but an aspiration that he believes is possible.
Mr Donnelly said that vaccination of over 70s will begin in the next two weeks, starting with those over 85 and this stage will be carried out by GPs.
Move to mandatory quarantine 'significant step'
The Minister for Public Expenditure and Reform said the move to introduce mandatory quarantine is a "really significant step".
Michael McGrath said the priority in extending Level 5 restrictions is to take pressure off the hospital system, but the measures will also address the level of risk associated with international travel.
Speaking on RTÉ's Morning Ireland, he said it is necessary to keep critical supply lines open and to allow movement for those needing to travel for "really essential purposes".
The minister said that to date 140 files have been referred to Director of Public Prosecutions for people who have arrived into Ireland without a negative PCR test.
Zero Covid 'only strategy' that has worked elsewhere
Tomás Ryan, Associate Professor at the school of biochemistry at Trinity College Dublin, said the Government's strategy for dealing with Covid-19 is not working.
Speaking on RTÉ's Drivetime, Prof Ryan, who is also the co-founder of the Independent Scientific Advocacy Group, said rolling lockdowns are "not suppression".
"When the fire brigade says that we have to live with our house being on fire, then you have to question if they are the right fire brigade for this job," he said.
The Government is "sitting there and waiting for vaccines" he said, adding that it is "not acceptable for the Taoiseach to hide behind NPHET" as a reason why a Zero Covid strategy has not been implemented.
"NPHET are tactical but they are not strategic," Prof Ryan said. "Nor should they be, because they are not elected. NPHET don't have the ability to recommend Zero Covid."
Prof Ryan said Zero Covid strategies are the "only type of strategy that has worked anywhere else in the world."
Gardaí 'in the dark' over new restrictions
Meanwhile, the Garda Representative Association has said increased travel restrictions will demand a clear plan to be developed, resourced and communicated to gardaí, in particular in relation to policing the border region. 
Speaking on RTÉ's Morning Ireland, GRA Assistant General Secretary Dermot O'Brien said its members are "in the dark" in relation to the implementation of the proposed new quarantine and travel restrictions. 
Mr O'Brien said there are 300 plus border crossings and to ensure all travel is kept to 5km will require all roadways to be policed, which he suggested is unrealistic. 
He said the legislation exists to support the enforcement of the 5km rule, but "we don't want to be clogging up" garda stations with people who are outside their 5km limit without a reasonable excuse.
The Association of Garda Sergeants and Inspectors said its members have had "no instructions, guidelines or consultation about the new guidelines regarding policing of quarantining".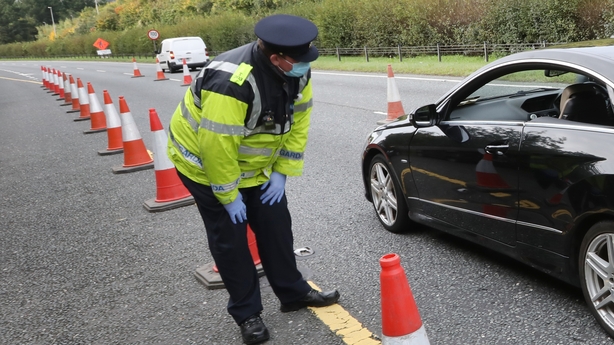 General Secretary Antoinette Cunningham said they are concerns that the legislative framework does not exist to call to people's homes and check if they are quarantining or self-isolating.
She added that plans to prioritise the vaccination of gardaí may need to be revisited under the key workers stage of vaccination.
Speaking on RTÉ's Today with Claire Byrne, Ms Cunningham said gardaí would "never seek priority over the most vulnerable and healthcare workers, but that if gardaí are asked to expose themselves to infection they may demand higher vaccine prioritisation under Group 6".