There have been 52 more Covid-related deaths and 2,371 new cases of the disease notified to the Department of Health.
The total number of people who have died with coronavirus here is now 2,870, the cumulative total number of infections is 184,279.
The median age of those who died is 82 years and the age range spans 39 to 99 years.
The number of patients with coronavirus in ICU units is 219, up five since yesterday.
As of 2pm today, there were 1,931 Covid-19 patients in hospital, with 78 additional hospitalisations in the past 24 hours.
The 14-day national incidence rate per 100,000 population has reduced by around a third in the past week.
Up to midnight on 14 January, it was 1,534. The latest figures up to 21 January show that rate is now 1,017.
The seven-day incidence is 372.6 and the five-day moving average stands at 2,315 - this compares to 644.7 and 3,804 respectively last week.
Counties with the highest rates of infection are Monaghan (1,974.4), Waterford (1,567.4) and Louth (1,540.1). The counties with the lowest rates are Leitrim (321.4), Longford (452.6) and Westmeath (478.8).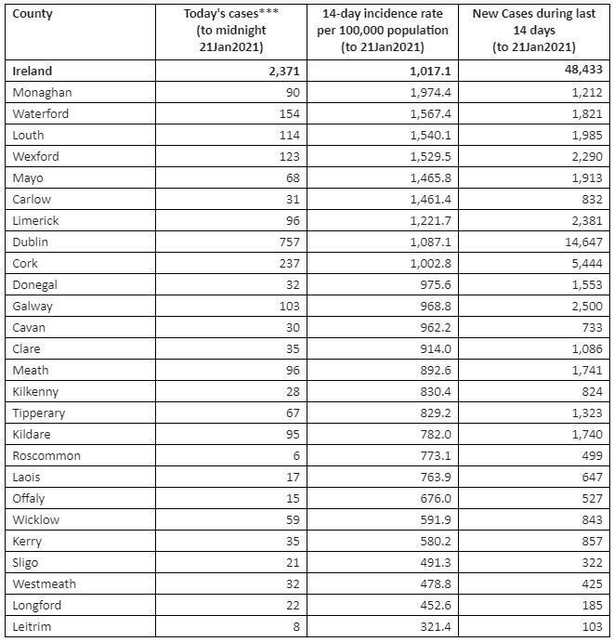 Chief Medical Officer Dr Tony Holohan said: "We know that the ongoing restrictions are very challenging but, through the hard work and sacrifice of the vast majority of people, we are starting to see the first signs of a lower prevalence of the disease in the population.
"Strictly adhering to the public health measures is the key to making real progress in terms of flattening the curve and lowering the current trends in our hospitals and ICUs.
"The 'Covid-19 find-test-trace-isolate' process is vital to our efforts. Our data is telling us that for a third of people, it's four days or more from the time they first experience symptoms of Covid-19 to the time they get tested.
"We all need to contact our GP as soon as symptoms occur, so we can trace our contacts and prevent further infections."
"This weekend, we need everyone to stay the course with hand washing, covering coughs, wearing face coverings and keeping a 2m distance," added Dr Holohan.
"In order to take care of each other, we need all to stay at home, except for essential reasons, to minimise the spread of Covid-19 to ourselves and our loved ones."
Of the cases notified today, 1,129 are men and 1,194 are women with 57% being under 45 years of age.
There were 757 cases in Dublin, 237 in Cork, 154 in Waterford, 123 in Wexford, 114 in Louth, and the remaining 986 cases are spread across all other counties.
---
---
Meanwhile, Taoiseach Micheál Martin said there will be no easing of Level 5 restrictions at the end of this month and he suggested the current measures will be in place for at least another four weeks.
Also today, British Prime Minister Boris Johnson warned there is some evidence that the new variant of coronavirus first identified in England may be linked to a higher death rate.
Earlier, it emerged that more than half of Covid-19 patients that need to be moved to intensive care units are aged under 65 as the hospital system remains under significant pressure.
Health Service Executive CEO Paul Reid told RTÉ's News at One, there were a total of 318 people in ICUs, leaving 26 adult ICU beds free across the country.
Two thirds of these ICU patients have coronavirus.
"The phase is advancing into an extremely perilous position for us," he said. Mr Reid said that "once we get to the 350 figure it will be more challenging to provide the same levels of care".
HSE CEO Paul Reid says 57% of Covid-19 patients in ICU are below the age of 65. "Covid doesn't discriminate, and it certainly doesn't spare young people either," he says | https://t.co/hMOHoWm1mz pic.twitter.com/VqHSqhLDiG

— RTÉ News (@rtenews) January 22, 2021
He said patients were moved from the west of the country to the east last night as part of the national surge plan.
The Saolta Hospital Group, which comprises six hospitals in the west and northwest of the country, confirmed that one patient was transferred from one of its facilities to a Dublin hospital last night.
Mr Reid said the number of hospitalisations is "holding" at around 1,950, but the HSE expects the admissions to ICU to continue to grow.
He said where any hospital has utilised all of its ICU and surge capacity, the next step is to transfer patients to a local hospital within the group, but where that is not possible patients will be transferred to a hospital not in the group.
Mr Reid said there have been 2,700 hospitalisations for Covid-19 over the past two weeks and 163 of these patients would have advanced to ICU.
He said of the patients moved to ICU, two were in the 0-18 age group; six were in the 19-34 age group; 85 were in the 35-64 group, while 70 were in the 65-plus age group.
Mr Reid said Covid-19 does not discriminate and it "certainly doesn't spare young people either".
HSE CEO Paul Reid says the number of patients in ICU is expected to continue to grow over the next short while. In relation to people with Covid being hospitalised, he said it is currently "holding" | https://t.co/icwPexoV6b pic.twitter.com/RG32LBsmIN

— RTÉ News (@rtenews) January 22, 2021
He urged people not to drop their guard as, "speaking from the HSE perspective, we are in this for the long haul".
"I think we are all realising, as healthcare workers that we are going to have to sustain what we are doing for much longer than we thought we would have to," he added.
Mr Reid said supply is the only limiting factor to the vaccination programme, but to date over 73,000 frontline healthcare workers have received the vaccine.
On testing and tracing, Mr Reid said the HSE will not test close contacts until the daily case numbers fall "well below 2,000".
"We would say to people, please, assume you're a close contact, and please assume people you meet are potential cases. That's the kind of level of diligence and vigilance we need."
Tánaiste Leo Varadkar said tonight that "we are making very good progress" in the roll-out of vaccine.
In a video posted on Twitter, he said: "As of today, 121,900 Covid vaccines have been given, mainly to frontline healthcare workers and nursing home staff and residents.
"We expect to get to 140,000 by Sunday. This will allow us next week to vaccinate 47,000 people - giving that second dose to healthcare workers and nursing homes and residents.
"That's very important because it's really two or three weeks after you have the second dose that the kind of 90% to 95% immunity kicks in."
Mr Varadkar added: "We expect this day next week that the European Medicines Agency and European Commission will approve the AstraZeneca vaccine.
"That is really important because we can get large volumes of that vaccine out to GPs and pharmacies in early to mid February, allowing us to start vaccinating the over 70s, a group we want to protect who are also high risk."
However, AstraZeneca has reportedly informed the European Commission that it will initially not be able to deliver the agreed volumes of its vaccine when it obtains regulatory approval for the bloc.
German newspaper Bild first reported the story, citing company sources.