Rio de Janeiro will not host its famous carnival this year due to a deadly surge in coronavirus cases in Brazil, the city's mayor Eduardo Paes has announced.
Rio's samba schools, which organize the celebratory parades, had hoped to hold the signature event in July after it was postponed from its usual slot in February or March.
But this depended on a national vaccination campaign being well and truly under way.
In reality, Brazil's inoculation drive only started Monday with an initial six million doses available for the country's 212 million inhabitants.
The carnival draws millions of visitors, and their tourist dollars, to the coastal city each year.
But in a tweet late last night, Mr Paes said it seemed "foolish to imagine at this point that the conditions will exist for us to hold the carnival in July" while hospitals - especially in Brazil's northern Amazonas state - scramble for beds and oxygen to treat coronavirus patients.
"In 2022, we will (all properly vaccinated) be able to celebrate life and our culture with all the intensity we deserve," the mayor said.
Brazil has been in the grips of a second wave of infections since November, with more than 1,000 daily deaths and an overall toll of more than 214,000 deaths - second only to the United States.
Cancelling the carnival will have a huge impact on Rio's economy, and Mr Paes announced state aid for people who had worked for months to prepare the enormous party.
While many countries are deep into their immunisation campaigns, including some among its South American neighbours, Brazil's drive has been slow to get off the ground.
It has been caught up in political infighting between far-right President Jair Bolsonaro - a coronavirus sceptic - and Sao Paulo state governor Joao Doria - a likely 2022 presidential candidate.
Mr Bolsonaro, who was aligned with former US president Donald Trump and his anti-China rhetoric, had sought to discredit the Chinese-developed CoronaVac vaccine, promoted by Mr Doria.
On Sunday, Brazil's drug regulator approved CoronaVac as well as the AstraZeneca-Oxford Covishield vaccine for emergency use.
CoronaVac is the only vaccine of which doses - six million - were immediately available, and on Monday, Brazilians started receiving the Chinese jab.
The campaign started with health workers, the elderly and indigenous people.
Mr Bolsonaro has been trying for more than a week to bring a batch of two million Covishield doses from India, where it is produced by the Serum Institute.
Brazil's health ministry has said the shipment should finally arrive today.
---
---
Covid deaths in Germany top 50k
Germany has recorded more than 50,000 deaths from the coronavirus since the start of the pandemic, the Robert Koch Institute disease control centre has said.
It said 859 people died from the virus in the past 24 hours, bringing the total number of fatalities to 50,642.
Germany survived the first wave of the coronavirus pandemic relatively well, but a second wave has hit it hard.
The country this week extended its current lockdown until 14 February and Chancellor Angela Merkel has not ruled out border checks to slow the spread of new, more contagious variants of the virus.
Europe's top economy closed restaurants, leisure and sporting facilities in November, then expanded the shutdown in mid-December to include schools and most shops to halt runaway growth in new coronavirus infections.
The RKI figures are based on people who died directly as a result of the illness caused by the virus and those who contracted Covid-19 but whose exact cause of death could not be confirmed.
The institute said it had registered 17,862 new cases since the previous day, bringing the total number of infections to more than 2.1 million.
New infections have soared far above the 50 per 100,000 people threshold set by the government for any relaxation of the restrictions, and currently stand at 115.3 over the past seven days.
Spanish hospitals pay price for Christmas festivities

Less than a month after Christmas, staff in the intensive care unit at Barcelona's Hospital del Mar are working non-stop.
"We're tired, we've spent a year in the same situation," admits doctor Mati Gracia.
"We knew this was going to happen after Christmas because the restrictions weren't very tight. Right now we don't know how bad it's going to get and we're just hoping the hospitals aren't overwhelmed."
For weeks, it's been difficult to find empty beds, admits Dr Gracia.
"We started the day with two free beds but a patient came in and now we're expecting a second. And once again that will mean the intensive care unit is totally full."
As feared, the easing of travel restrictions over Christmas to allow families to get together caused a huge spike in infections, with Spain counting record numbers of new cases as the pandemic's third wave has taken hold.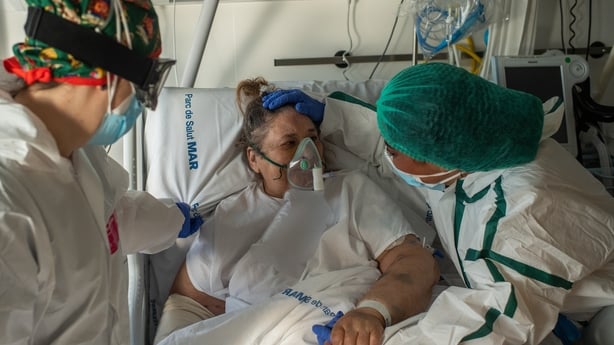 Over the past fortnight, the number of people going to hospital rose by 82% while intensive care admissions increased by 60%, prompting some regions, such as Valencia to set up field hospitals.
And the rising caseload has medics worried, with Spain registering record new infection levels since Christmas, pushing the number of cases over 2.4 million and deaths to more than 55,000.
"It's not the tsunami we experienced in March or April but it's worse than in the second wave" which in Spain began in July and continued until the late autumn, says Julio Pascual, the hospital's medical director.
"In November, the intensive care unit wasn't completely full of Covid patients but now it is. At the time, we had two floors devoted to Covid, while now we are filling a fourth," he said.
According to a study of 10,000 Spanish medics carried out by Hospital del Mar researchers, 45% suffered mental health issues following the first wave of the pandemic.
Around 28% presented signs of depression, a figure six times higher than in the general population, and 3.5 percent had considered suicide, the study showed.
For now, the vaccine campaign which began at the end of December is starting to shine a bit of light at the end of the tunnel.
"During this year, we'll get there, but there's quite a way to go in 2021," said Mr Pascual.
"There's still a long battle ahead of us."
Biden orders spate of new US Covid measures
US President Joe Biden has signed new measures, including mask-wearing and quarantining requirements to strengthen the US fight against Covid-19.
Under the new measures, travellers to the US, in addition to needing a negative Covid test result before flying, will now need to quarantine upon arrival, Mr Biden said.
His other orders included re-energising a so-far-stumbling vaccination programme and expanding requirements to wear masks on public transport.
The new president is seeking to vaccinate 100 million people in 100 days, increase the use of masks and testing, expand the public health workforce and offer more emergency relief to those struggling with the restrictions.
Yesterday, the US registered 4,045 new deaths and more than 192,000 new cases over the past 24 hours.