London and eastern England are lagging behind other regions in vaccinating those aged 80 and over, provisional data from NHS England shows.
Around two-thirds of people in the age group in northern England have now received their first dose of the Covid-19 vaccine, according to figures for the period up to 17 January.
North-east England and Yorkshire have vaccinated the highest percentage, with 67% inoculated, while just 50% of Londoners aged 80 and over have received the jab, the lowest of all NHS regions.
It comes as the Health Service Journal (HSJ) reported that the North East and Yorkshire would have its vaccine supply cut next week to ensure other regions catch up with the vaccination programme.
Official figures up to 20 January showed 4,973,248 people had received a first dose of vaccine, an increase of 363,508 from the previous day.
Based on the latest figures, an average of 401,070 people a day will need to be vaccinated to meet the target of reaching the 15 million highest priority cases by 15 February.
---
---
With the NHS vaccinating at a rate of 200 jabs a minute, Prime Minister Boris Johnson is under pressure to commit to lifting the lockdown in England as soon as the most vulnerable are protected.
Health Secretary Matt Hancock told the House of Commons that the supply of the vaccine must be fairly distributed across the country when questioned about the HSJ report.
He said: "We have got to make sure that the vaccination programme is fair right across the UK, and some parts of the country, including parts of the north-east and parts of Yorkshire, have gone really fast early on which is terrific.
"And we do have to make sure that the vaccination programme is fair everywhere so that everyone in the top four groups can receive that offer of a vaccine by the 15 February."
Meanwhile, researchers have suggested bars and restaurants should stay shut until May.
Mr Johnson acknowledged it was "too early to say" when lockdown measures could be eased.
As 1,290 further deaths were reported, experts modelling the pandemic suggested there could be a huge surge in cases if restrictions were lifted too early.
The government said that, as of 9am this morning, there had been a further 37,892 lab-confirmed cases of coronavirus in the UK, bringing the total number to 3,543,646.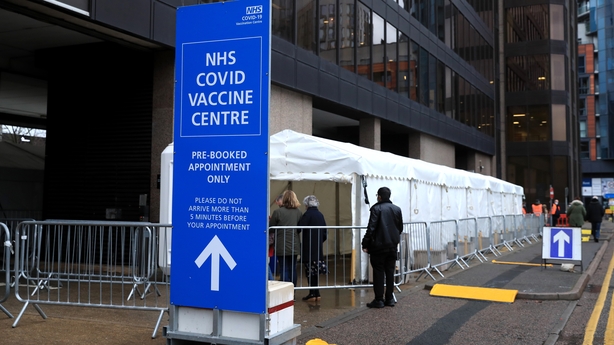 But experts warned that early March, when the 15 million priority patients will have received protection from their first jab, would be too soon to lift curbs on freedoms.
And even by the end of April, when all over-50s are expected to have been vaccinated, they said it would be dangerous for a wholesale easing of restrictions.
Downing Street also refused to commit to reopening England's schools by Easter after Education Secretary Gavin Williamson said he would "certainly hope" that would be the case.
The government's caution in announcing a timetable to ease the lockdown has caused alarm among some Tory backbenchers.
Former chief whip Mark Harper, leader of the Covid Research Group of lockdown sceptics, said: "Once the top four risk groups have been vaccinated and fully protected by 8 March, assuming the government hits the 15 February deadline, the government must start easing the restrictions.
"Vaccinations will of course bring immunity from Covid, but they must bring immunity from lockdowns and restrictions too."
Mark Woolhouse, professor of infectious disease epidemiology at the University of Edinburgh said: "A gradual relaxing of restrictions hopefully from about the time that the phase one rollout is finished, is much more likely to keep the pressure off the NHS than any wholesale relaxation."
A separate study from the University of Warwick also modelled possible scenarios.
Matt Keeling, professor of populations and disease at the university, said one scenario the model considered was the complete relaxation of all control measures in April when there has been three months of vaccination and 30 million doses.
"Completely stopping all controls is disastrous, we get massive peaks of both daily deaths and hospital admissions," he said.
While he acknowledged that no-one was suggesting that relaxing all measures immediately was a viable strategy, "it just shows that even at that point, you can't relax, even at 30 million doses".