There have been a further 22 coronavirus-related deaths recorded in Northern Ireland, 18 of them occurring during the past 24 hours.
It takes the official Department of Health toll to 1,498.
There are 1,205 new cases from tests on 3,848 individuals.
There are 785 confirmed coronavirus patients in hospital, with 55 in intensive care, 38 of whom are on ventilators.
Chief scientific adviser Professor Ian Young said the reproduction number for cases of coronavirus in Northern Ireland was somewhere between 1.5-1.9 last week, but since then has "passed the peak" and has "fallen to significantly lower levels in terms of cases".
Chief medical officer Dr Michael McBride said Northern Ireland faces the most serious moment of the pandemic to date.
He described a very difficult time for the health service and urged the public to follow the "stay at home" message.
Dr McBride said recent high case numbers will translate to admissions into hospital, intensive care and deaths.
Patricia Donnelly, head of the Covid-19 vaccine programme in Northern Ireland, said that almost 100,000 jabs have been administered since it started on 8 December.
She said a "very flexible agile" programme has been produced.
Phase one, involving older adults in care homes and care home workers, is 92% complete, with the remaining outstanding due to Covid-19 outbreaks.
Ms Donnelly described a "very high" level of uptake for the most vulnerable group.
The over-80s group is currently being inoculated through via GP surgeries, as well as the health staff group.
Phase two, which is for the over 75s, is about to begin.
Ms Donnelly said there are seven large vaccination sites across Northern Ireland that will operate seven days a week from 8am to 8pm as well as a large number of mobile teams.

---
---
Stormont's political leaders have said Northern Ireland's health system would try to accommodate seriously ill patients from the Republic in a special Covid-19 hospital in Belfast.
First Minister Arlene Foster said the issue of cross border cooperation was discussed during a virtual meeting of the Executive today.
"I don't think there has been a formal request (for assistance).
"I think our health minister is concerned about our own health service capacity at present, particularly when we see the increase in numbers with Covid in our healthcare system.
"But I've no doubt that the conversations will continue between Robin Swann and Stephen Donnelly in the days and weeks ahead," Mrs Foster said.
Deputy First Minister Michelle O'Neill said there should be as much cooperation north-south and east-west as possible.
"Of course we need to share resources whenever each other are stretched."
"I think that, absolutely, we have to work together and collaborate, and I'm quite sure that the health ministers will have that conversation. And I'm quite sure that there'll be a willingness and an order to be able to facilitate each other where the need requires."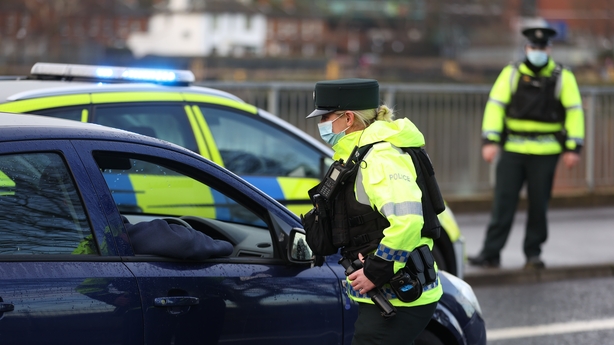 The Police Federation for Northern Ireland has called for tougher coronavirus regulations to help officers enforce them.
Chairman Mark Lindsay said officers need the authority to order people home instead of just issuing guidance.
"It beggars belief that some people wilfully ignore the advice that's offered. However, they're not breaking any law when they thank officers for the guidance they are offered and plough on regardless, he said.
Mr Lindsay added: "For the minority who flout the guidance, the police must be given full enforcement powers to order them to do what they should be doing anyway, and that is staying at home and not leaving the house unless for permitted activities.
"For as long as we don't see guidance turned into regulation, we will have abuses."
PSNI assistant chief constable Alan Todd has expressed concern at the number of house parties continuing to take place during lockdown.
Mr Todd said gatherings in private dwellings remained the key concern of public health experts and, as a consequence, was the main focus of police efforts to enforce coronavirus regulations.
He also insisted officers did have the power under the regulations to enter properties to ascertain whether breaches had occurred, so long as their actions were necessary and proportionate.
He said generally there had been "very high" rates of compliance with new laws making it a legal requirement to stay at home in all but a limited set of circumstances.
Police mounted over 300 vehicle checkpoints last Friday, Saturday and Sunday.
They also issued 168 fines over these days - mostly for individuals in respect of illegal house parties.
Mr Todd said: "I think what the public can expect to see in the coming weeks are more police, in more places, more of the time.
"That'll be a combination of road checks on key routes, with specifically-tasked resources to that, we're also protecting the resources in local neighbourhood teams, so they can expect to see the local neighbourhood policing teams police their area as well."
Mr Todd also said that the PSNI and gardaí are in daily contact.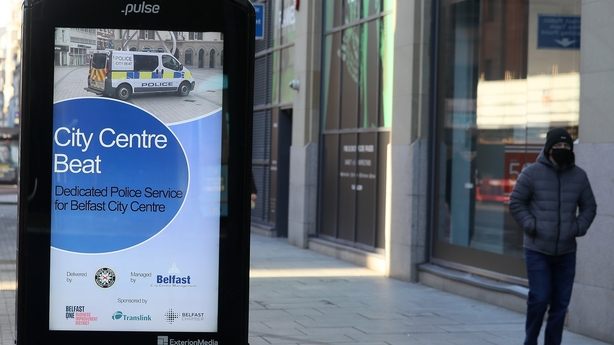 First Minister Arlene Foster urged "simple and everyday choices" such as phoning family and friends rather than visiting, doing one big food shop rather than going out each day and not going into the workplace when people do not have to.
Speaking at joint news conference with Deputy First Minister Michelle O'Neill in Dungannon, Mrs Foster urged the public to "take personal responsibility and do the right thing".
She said: "I do appreciate the costs these restrictions are having, I appreciate the weariness, we're all sick and tired of restrictions but we absolutely must do it to get through it.
"There is light at the end of the tunnel, the vaccine is rolling out at a very good rate, we can see a route back to normality but it will take us months to get there."
Additional reporting PA