The United States kicked off a mass vaccination drive today hoping to turn the tide on the world's biggest coronavirus outbreak, as the nation's death toll passed a staggering 300,000.
New York inoculated its first healthcare worker, an intensive care unit nurse in Queens, with the Pfizer/BioNTech Covid-19 vaccine today.
Sandra Lindsay was given the vaccine at Long Island Jewish Medical Center in Queens, an early epicentre of the country's Covid-19 outbreak, receiving applause on a livestream with New York Governor Andrew Cuomo.
"It didn't feel any different from taking any other vaccine," Ms Lindsay said.
"I feel hopeful today, relieved. I feel like healing is coming. I hope this marks the beginning of the end of a very painful time in our history. I want to instill public confidence that the vaccine is safe."
The US - which has the globe's highest death toll, and the largest number of reported cases at 16.3 million - passed 300,000 deaths just hours after the vaccinations began, according to the Johns Hopkins University tally.
Minutes after her injection, President Donald Trump sent a tweet: "First Vaccine Administered. Congratulations USA! Congratulations WORLD!"
Northwell Health, the largest health system in New York, operates some of the select hospitals in the United States that were administering the country's first inoculations of the Pfizer/BioNTech Covid-19 vaccine outside trials.
The vaccine, developed by Pfizer and its German partner BioNTech, won emergency-use approval from federal regulators on Friday after it was found to be 95% effective in preventing illness in a large clinical trial.
The first 2.9 million doses began to be shipped to distribution centres around the country yesterday, just 11 months after the United States documented its first Covid-19 infections.
---
---
Watch LIVE as the first person in New York gets vaccinated: https://t.co/a3p8QOtK6w

— Andrew Cuomo (@NYGovCuomo) December 14, 2020
Hospitals in Texas, Utah and Minnesota said they also anticipated receiving their first doses of the vaccine at select hospitals today, to be administered right away.
The first US shipments of coronavirus vaccine departed from Pfizer's facility in Kalamazoo, Michigan, yesterday, packed into trucks with dry-ice to maintain the necessary low temperatures.
They were then transported to UPS and FedEx planes waiting at air fields in Lansing and Grand Rapids, kicking off a national immunisation endeavour of unprecedented complexity.
First Vaccine Administered. Congratulations USA! Congratulations WORLD!

— Donald J. Trump (@realDonaldTrump) December 14, 2020
The jets delivered the shipments to UPS and FedEx cargo hubs in Louisville and Memphis, respectively, from where they were loaded onto planes and trucks to be distributed to the first 145 of 636 vaccine-staging areas across the country.
Second and third waves of vaccine shipments were due to go out to the remaining sites tomorrow and Wednesday.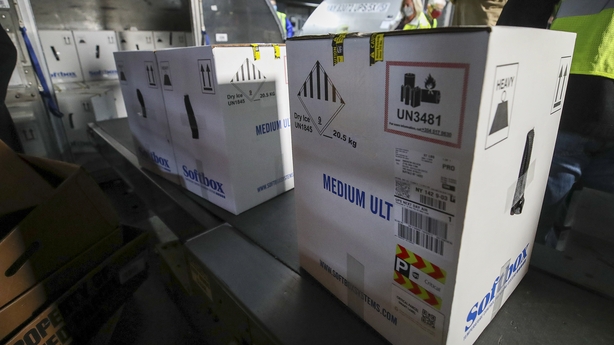 "This is the most difficult vaccine rollout in history. There will be hiccups undoubtedly but we've done everything from a federal level and working with partners to make it go as smoothly as possible. Please be patient with us," Surgeon General Jerome Adams told Fox News, adding that he would get the shot as soon as he can.
The logistical effort is further complicated by the need to transport and store the Pfizer/BioNTech vaccine at minus 70 Celsius (-94F), requiring enormous quantities of dry ice or specialised ultra-cold freezers.
Healthcare workers and elderly residents of long-term care homes will be first in line to get the inoculations of a two-dose regimen given about three weeks apart.
Canada to begin Pfizer-BioNTech Covid-19 vaccine rollout
Canada begins a rollout of the Pfizer-BioNTech Covid-19 vaccine today, just days after becoming one of the first countries to approve the treatment.
The first shipment of the vaccine arrived in the country last night, with Prime Minister Justin Trudeau hailing the "good news".
"But our fight against Covid-19 is not over. Now more than ever, let's keep up our vigilance," he said in a tweet.
Mr Trudeau has previously said the country will receive 249,000 initial doses of the vaccine this month, the first 30,000 doses of which are expected to have arrived by today.
Local media have reported it will be rolled out in Quebec - the country's hardest-hit province - the same day, where it will be distributed to elderly care homes.
Distribution will begin in neighboring Ontario tomorrow, the province said on its official website, as part of a pilot scheme to be given to more than 2,500 frontline workers in hospitals and care homes.
It is unclear when precisely other provinces are set to receive the vaccine, though officials have said the roll-out is expected to take place this week.
Speaking to national broadcaster CBC, Dany Fortin - who is in charge of the vaccine distribution - said "the delivery schedule is unfolding exactly as planned."
"The provinces will be in a position to administer the vaccines in the coming days," he said.
Canada pre-ordered 20 million doses of the Pfizer-BioNTech vaccine when it was still in development, with an option for 56 million additional doses.
The vaccine - which proved to be 95% effective in late-stage clinical trials - is administered in two doses, 21 days apart.
Canada had as yesterday counted 460,743 cases of the virus, with 13,431 deaths.
AstraZeneca UK vaccine trial drops sub-group with children - US trial register
Drugmaker AstraZeneca has removed a study group comprising children from a trial of its Covid-19 vaccine candidate in Britain, clinical trial registers in the United States showed.
The mid-to-late stage trial of more than 12,000 participants previously included children above the age of five years with the consent of their parents.
However, the page was updated on 10 December to reflect the changes.
AstraZeneca, which is developing the vaccine along with the University of Oxford, did not immediately respond to a request from Reuters for comment.
New Zealand aims to open to Australians in early 2021
New Zealand hopes to open a travel bubble with Australia by April next year and is working to finalise the necessary anti-coronavirus border measures, Prime Minister Jacinda Ardern has said.
Ms Ardern said New Zealand's cabinet had agreed "in principle" to open a trans-Tasman travel bubble in the first quarter of 2021 provided there are no major virus outbreaks in either country.
"It is our intention to name a date for the commencement of quarantine-free trans-Tasman travel in the new year, once remaining details are locked down," she told reporters.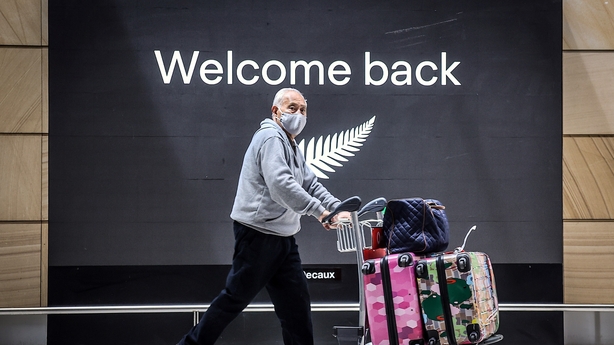 New Zealand closed its borders in March and since then all international arrivals, including Australians, have been required to undergo two weeks of managed isolation.
The country has been widely praised for its strict handling of the coronavirus, which has caused just 25 deaths in a population of five million.
Ms Ardern said she would not allow unnecessary risks to be taken to reopen travel with Australia, which before the pandemic was New Zealand's largest source of overseas visitors.
She said a key consideration was how to prevent border facilities being swamped if there was a major virus outbreak in Australia that prompted thousands of visiting New Zealanders to rush home.
"It's not a hypothetical - there have been several (Australian outbreaks)," she said.
"We'd need to make arrangements to have potentially thousands of New Zealanders brought back to New Zealand in numbers we would not necessarily be able to handle in managed isolation."
Australia has allowed quarantine-free travel for New Zealand arrivals since October, but New Zealand has not reciprocated, maintaining its 14-day quarantine.
Over the weekend, New Zealand announced a similar plan for a travel bubble with the tiny Cook Islands in the Pacific in the first quarter of next year.
Singapore approves Pfizer/BioNTech vaccine
Singapore has approved Pfizer-BioNTech's coronavirus vaccine and expects delivery of the first shots by the end of December, Prime Minister Lee Hsien Loong said.
The city-state of 5.7 million people expects to have enough vaccines for everyone by the third quarter of 2021 and will make it free for citizens and long-term residents, Mr Lee said.
While vaccination will be voluntary, Mr Lee said he and other government officials would be among the early recipients along with healthcare workers, other front-line personnel, the elderly and the vulnerable.
Singapore has also signed advanced purchase agreements and made early down-payments on promising vaccine candidates including those being developed by Moderna and Sinovac, setting aside more than $1 billion for shots, authorities said.