Minister for Higher Education Simon Harris has said that a combined effort from political parties will be needed to support a future Covid-19 vaccine.
He was responding on Twitter to the result of a Mail On Sunday/Ireland Thinks poll showing that 70% of people in Ireland would take such a vaccine.
"We will need bipartisan efforts to support vaccination when one or more are approved for #Covid19 by authorities. This is not a party political point," said Mr Harris, who was minister for health at the start of the pandemic.
"Good people in all parties & we will all need to work together to get the message out. We have done it before on major issues," he wrote on Twitter.
Minister for Health Stephen Donnelly has said the rollout of a vaccine depends on which comes to market first.
Speaking on RTÉ's This Week, he said there are four possible vaccines, stating he will bring a memo to Cabinet this Tuesday on a fifth vaccine.
He said how it is administered could differ depending on which vaccine is chosen.
He explained that the task force team is coming up with who should be prioritised with it likely to be healthcare workers and the elderly and vulnerable.
Professor Tomás Ryan from the school of immunology in Trinity College has said it is "not good enough" to rely on the possiblity of a vaccine being available in the near future.
"The reality is it is going to be from seven to 12 months before a vaccine changes the story in Ireland."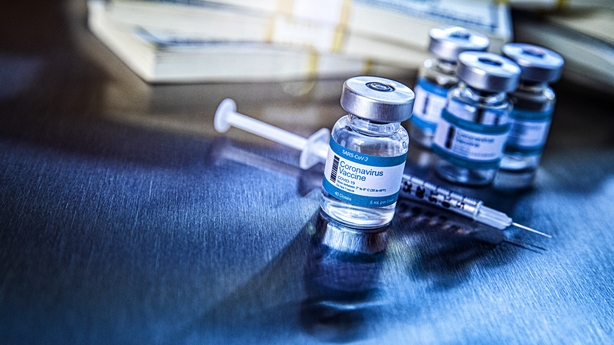 Adrian Hill, who is head of the Jenner Institute in Oxford where the latest Covid-19 vaccine was developed, has explained how they came upon a more effective result during trials of the vaccine by using a lower dose.
Speaking on RTÉ's Sunday with Miriam, he said that in most clinical trials, it would be normal to look at different doses.
"What we found is that the standard two dose regime gave us a certain level of efficacy. Whereas if we halved the first dose and gave a full dose second, we got what appears to be higher efficacy at around 90%."
The Irish vaccinologist said this means the safety profile overall was better and "immune responses were just as good".
Prof Hill said the results have been very good from their interim analysis on the vaccine trial data from Brazil and UK earlier this week.
He spoke about "tantalising evidence" that the vaccine may also be preventing transmission of the virus.
---
Read More:
WHO's Ryan says arrival of vaccines will not mean zero Covid-19
New AstraZeneca vaccine trial likely after lower dose performs better
---
Planning and preparation for a Covid-19 vaccine and how an immunisation programme in Ireland would work have been under way for months.
Teams in the Department of Health and the HSE have been working on it, and a new high-level Government task force has also been set up.
The task force had its first meeting earlier in the week and has committed to providing a full national vaccination strategy and implementation plan to the Taoiseach by Friday 11 December.
Indications from Europe are that the Pfizer and Moderna vaccines are at the top of the queue to be approved. It is understood this is informing the work of the task force.
Europe has advanced purchasing deals with six different manufacturers, from which Ireland will benefit.
Infectious diseases specialist Professor Karina Butler is the chair of the National Immunisation Advisory Committee, who gives advice to the Department of Health on vaccines.
She said the group is keeping a close eye on what is in development and is waiting for a vaccine to be authorised so that it can give recommendations.
Decisions around which groups of people need to be prioritised, will depend on which vaccine is approved, what is its suitability and how well it works.
Prof Butler said: "We want to make sure that anyone getting vaccinated understands it, knows the risks and the benefits to them and their wider community."
Before final decisions can be made, her group wants to see that the vaccines have been "thoroughly reviewed" by the European Medicines Agency and other regulatory bodies.