The Covid-19 reproduction number in the UK is estimated to be below 1, suggesting that England's second national lockdown is stemming infections, government scientists said.
The number of new infections is falling by between 0% and 2% every day, the UK Government Office for Science said, after it was estimated to be growing between 0% and 2% in last week's figures.
The reproduction number is estimated to be between 0.9 and 1, meaning every 10 people infected will go on to infect between 9 and 10 people, down from last week's range of 1.0-1.1.
The lockdown in England - home to around 85% of the UK's total population - ends on Wednesday and will be replaced with a regional system of tiered restrictions.
The UK today reported 521 deaths within 28 days of a positive Covid-19 test.
Another 16,022 cases were confirmed - a 25% fall on the previous week.
Wales will introduce more stringent restrictions in an attempt to bring down rising infection rates ahead of an easing of the rules over Christmas, the devolved government announced.
Wales only emerged from a two-week countrywide "firebreak" lockdown on 9 November.
But rising rates and concern over a post-Christmas spike mean further action is required, according to First Minister Mark Drakeford.
Cinemas, bowling alleys and other indoor entertainment venues will close from next Friday, but gyms, hairdressers and other non-essential retail outlets will still be allowed to operate.
---
---
Latest figures show the spread of Covid-19 around the world has slowed slightly, but the virus is still rising fast in South America.
Europe remains the centre of the pandemic, with an average of 236,900 new cases each day - far ahead of the United States and Canada's 174,000 infections a day - but the rise in infections is slowly sharply.
For the second week in a row the number reduced, falling back 10% with many countries in lockdown.
But Europe is the only continent where new cases are clearly dropping, according to tally from the AFP news agency.
While infections are stable in the US and Canada, Africa and the Middle East, they are up a tenth in Latin America and the Caribbean and 13% in Asia.
While there were only 24 new cases a day in Oceania, that was a rise of 64% on last week.
In terms of deaths, the US is still by far the worst hit country with 1,571 a day - more than twice that of Italy (711), Mexico (591), France (547), India (521) and Poland (497).
The US also still heads the overall death toll with 263,462, followed by Brazil with 171,460; India with 135,715; Mexico with 104,242; and the UK with 57,031.
Germany's coronavirus infections pass one million
Germany has seen its total number of Covid-19 infections pass one million, the Robert Koch Institute for disease control has said.
The institute recorded more than 22,000 new daily cases, pushing the country's total beyond the one million mark.
Germany had largely contained the spread of the virus in the spring but has been hit hard by a second wave of infections.
The number of coronavirus patients in intensive care nationwide has soared from just over 360 in early October to more than 3,500 last week.
Most populous North Rhine-Westphalia state has recorded more than a quarter of all cases, ahead of Bavaria's 198,000 confirmed infections. Berlin has seen 62,000 cases since the start of the pandemic.
South Korea faces hospital bed shortage
South Korea reported more than 500 new infections for the second consecutive day, a level unseen in nearly nine months, as a third wave of infections spread nationwide, leaving authorities scrambling to provide more hospital beds.
"The situation is extremely serious and acute, as all of the 17 metropolitan cities and provinces and especially all the 25 districts in Seoul are reporting new cases," Prime Minister Chung Sye-kyun said.
The daily tally of 569 came a day after the numbers hit the highest level since 6 March.
Of the latest cases, 525 were domestically transmitted and more than 64% of those were from the Seoul metropolitan area, according to the Korea Disease Control and Prevention Agency.
Authorities said the fresh wave is more difficult to trace and contain than early outbreaks which were concentrated in a specific region or among a certain religious group.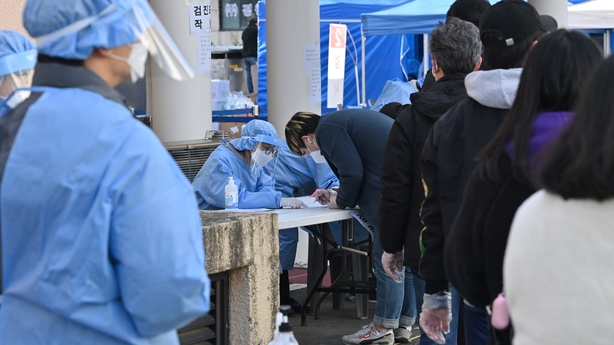 India's doctors warn over New Delhi half-marathon
Top doctors in India have warned elite runners are taking a major health risk by competing in Sunday's New Delhi half-marathon in the midst of a major coronavirus outbreak and soaring air pollution.
Women's marathon world record-holder Brigid Kosgei from Kenya and Ethiopia's two-time men's winner Andamlak Belihu are among the 49 elite athletes running the 21km race, while thousands of amateurs are taking part virtually.
Organisers say the "highest level of safety-standards, with bio-secure zones" have been laid on for the race starting at the Jawaharlal Nehru Stadium.
But with New Delhi recording more than 500,000 virus cases, and air quality in the world's most polluted capital hovering between 'unhealthy' and 'hazardous', health experts said the athletes should think twice.
South Korea foils North Korean attempt to hack Covid-19 vaccine makers
South Korea's intelligence agency has foiled North Korean attempts to hack into South Korean companies developing coronavirus vaccines, politicians said.
Ha Tae-keung, a member of the parliamentary intelligence committee, said after being briefed by the National Intelligence Service (NIS) that the agency did not specify how many and which drug makers were targeted but said there was no damage from the hacking attempts.
The revelation came after Microsoft said early this month that hackers working for the Russian and North Korean governments have tried to break into the networks of seven pharmaceutical companies and vaccine researchers in Canada, France, India, South Korea and the US.
Mr Ha and another member, Kim Byung-kee, said North Korean leader Kim Jong-un had taken some "unreasonable" actions due to Covid-19 "paranoia".
They said these included banning fishing and salt production because of fears that seawater might have been contaminated with the virus, and stranding some 110,000 tons of rice from China in the northeastern Chinese port of Dalian.