South Korea has reported 583 new coronavirus cases, the highest since March, as it grapples with a third wave of infections that appears to be worsening despite tough new social distancing measures.
The government reimposed strict distancing rules on Seoul and surrounding regions this week, only a month after they had been eased following a second wave of infections.
Some experts say the government moved too early to relax those rules, as the daily tally exceeds 500 for the first time since 6 March, with young people at the centre of the surge.
"The easing was done because of economic concerns and growing fatigue but it was premature and sowed the seeds of people's complacency," said Kim Woo-joo, a professor of infectious diseases at Korea University Guro Hospital in Seoul.
South Korea's first wave erupted in late February from meetings of a religious sect but the latest cases are more dispersed around the capital, Seoul, making them harder to trace and contain.
Of the latest cases, 553 were locally transmitted and almost 73% of those were from the greater Seoul area, the highest ever for the region, according to the Korea Disease Control and Prevention Agency (KDCA).
The daily tally could hover between 400 and 600 until early December if people fail to stick to stricter distancing, a senior KDCA official said.
The armed forces ordered a 10-day ban on leave after a series of outbreaks at military facilities. Other clusters have been traced to a sauna, a high school, churches, a children's café and a get-together among friends.
---
---
"Covid-19 has arrived right beside you and your family," Health Minister Park Neung-hoo told a televised meeting of health officials.
"The spread of infections among young generations is extraordinary."
Infections among young people, many of whom show no symptoms, prompted the government to urge students to stop attending cram schools and private lessons ahead of college entrance exams on 3 December.
Austria warns EU ski ban would be 'disastrous'
Proposals for an EU-wide ban on ski holidays to curb coronavirus infections have under fire in Austria, with government and industry representatives warning that the fallout for the country's tourism-reliant economy would be "disastrous".
Germany and Italy are pushing for Europe to ban such holidays but as Austria's more than 250 ski destinations make much of their profits during the Christmas and New Year period, industry representatives suggest the move could knock up to a third off total revenues for the sector.
"This would be absolutely disastrous, not just for us but the entire country," said Franz Hoerl, head of the Austrian ski lift operators' association and a member of parliament.
Yesterday, Austrian finance minister Gernot Bluemel estimated that the proposed ban would cost the sector up to €2 billion.
Austria is currently under lockdown until 7 December and ski resorts and the government have invested millions of euro in coronavirus measures for the coming season, with lifts and resorts planning to open in time for Christmas.
Last season, one of the first destinations to be affected was Ischgl, a tiny village in the western province of Tyrol, where more than 6,000 tourists are thought to have contracted the virus.
"We live off tourism not 100%, but 110%, so this would be an enormous strain on us," Andreas Steibl, head of Ischgl's tourism association, said of the proposed ban.
While the EU's health commissioner has suggested that a bloc-wide ban is unlikely, Italy and France have said their own ski lifts will remain closed throughout the Christmas holidays.
In Germany, Chancellor Angela Merkel urged people not to go on skiing trips this winter.
She also said that restrictive measures designed to slow the spread of the coronavirus in Germany will be in place until at least the end of December and possibly longer.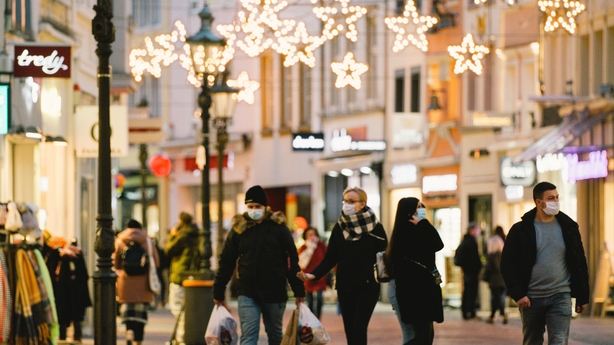 "Given the high number of infections, we assume that the restrictions which are in place before Christmas will be continue to be valid until the start of January, certainly for most parts of Germany," Mrs Merkel told parliament.
"We have to say, unfortunately, that we cannot promise an easing for Christmas and New Year's," she added.
Earlier, her chief of staff said Germany might have to extend measures into March.
"We have difficult winter months ahead of us. This will continue until March," Helge Braun told RTL television.
"After March, I am very optimistic because we will probably be able to vaccinate more and more people and it will be easier to keep infection rates low with the spring."
Chancellor Merkel agreed with leaders of Germany's 16 federal states yesterday to extend and tighten the coronavirus lockdown until 20 December, but ease rules over the Christmas holidays to let families and friends celebrate together.
The number of confirmed coronavirus cases in Germany increased by 22,268 to 983,588, data from the Robert Koch Institute (RKI) for infectious diseases showed, while the death toll rose by 389 to 15,160.
Germany imposed a month-long "lockdown lite" on 2 November to rein in a second wave that is sweeping much of Europe. Bars and restaurants are closed, but schools and shops remain open.
From 1 December, private gatherings will be limited to five people. Over Christmas, that number will rise to 10, not counting children, although families are asked to avoid social contact for a week ahead of visits.
Normal life could return to France by autumn 2021, says scientific adviser

People in France could return to some form of normal life by autumn 2021 provided that a major vaccination programme to tackle the coronavirus works well, French government scientific adviser Arnaud Fontanet told BFM TV.
The leading epidemiologist said France needed to get vaccines to 80%-90% of its population for a semblance of normality to return by autumn of 2021.
Finland's Covid-19 situation rapidly worsening - PM
Finland's Covid-19 situation has worsened rapidly in recent days, Prime Minister Sanna Marin said, though she added that the government had decided it did not yet have the grounds to adopt emergency measures as it did in March.
Finland's 14-day incidence rate per 100,000 inhabitants stood at 75.8 yesterday, Europe's second lowest level behind Iceland, European Centre for Disease Prevention and Control data showed, but the Finnish government warned the number of new cases was rising at a worrying pace again.
In the worst hit region around the capital Helsinki, the number of new cases rose by nearly 70% last week from the week before, the region's Chief Medical Officer said.
"The coronavirus situation has worsened in Finland rapidly. The number of infections has increased and the amount of those in need of hospitalisation has risen," Ms Marin told reporters.
"In my opinion, we should not rule out any measures," she added, referring to the possibility of resorting to a national state of emergency again.
The government has recommended that regional authorities temporarily close all high-risk public spaces in regions where case numbers were rising rapidly.
The region around Helsinki will ban all public meetings both indoors and outdoors and send pupils and students of more than 15 years old home to remote learning, among other measures, local health authorities said.