The Department of Health has been notified of 318 new cases of Covid-19, with one further death confirmed.
There have now been a total of 2,023 deaths in Ireland, with 70,461 confirmed cases of coronavirus.
There are 282 patients in hospital with Covid-19 and the number of patients in ICU is down one to 31.
There have been 17 additional hospitalisations in the past 24 hours.
Of the cases notified today, 155 are men and 161 are women.
The department said that 73% of today's cases are under 45 years of age, with the median age of 28.
The regional breakdown shows that 126 cases in Dublin, 45 in Cork, 28 in Limerick, 21 in Donegal, 18 in Kildare and the remaining 80 cases are spread across 18 other counties.
Ireland's 14-day incidence rate has now dropped 109.1, behind just Finland and Iceland in the ECDC statistics.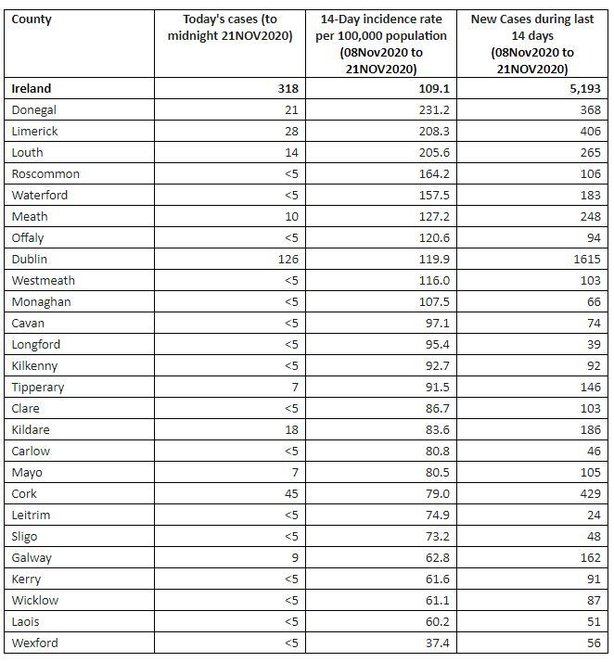 In Northern Ireland, ten further Covid-19 deaths have been recorded today, six occurring during the past 24 hours, taking the official death toll to 933.
A further 342 new cases were confirmed today, taking the total number of positive tests to 49,784.
The seven-day infection rate per 100,000 for Northern Ireland is 162.3.
The Mid Ulster council area has the highest rate at 233.9, followed by Derry City and Strabane on 217.7. The council area with the lowest seven-day rate is Ards and North Down with 87.6.
Earlier, the Minister of State in the Department of Agriculture said there would not be a free-for-all two-week holiday at Christmas.
However, Senator Pippa Hackett said that the Government wants everyone to have a meaningful Christmas where people can celebrate together.
Her comments come as discussions continue this weekend on an exit from Level 5 Covid-19 restrictions.
Speaking on RTÉ's The Week in Politics, Ms Hackett said that the current Covid numbers are concerning and that the move the Government makes will be based on advice from the National Public Health Emergency Team.
She appealed to people to redouble their efforts to reduce the number of infections.
Minister of State in the Dept of Agriculture @pippa_hackett says #Covid19 figures are disappointing and concerning. Moving to a lower level is a risk and the Government needs to see what advice NPHET gives next week and act on that advice. #rtetwip #rtepolitics pic.twitter.com/5wfwZXeeQi

— The Week in Politics (@rtetwip) November 22, 2020
Sinn Féin TD Pádraig Mac Lochlainn told The Week in Politics that the hospitality and retail sector has made huge sacrifices, but the Covid-19 numbers needs to get down as much as possible.
He said the Government needs to be frank with businesses.
.@PadraigMacL SF TD says the Government needs to be frank with all sectors of business in the run-up to Christmas and they need to ensure that the financial supports are there to keep these businesses afloat to ensure that next year they can continue on. #rtetwip pic.twitter.com/4x0UbcQJjL

— The Week in Politics (@rtetwip) November 22, 2020
Meanwhile, Labour TD Ged Nash said newspaper reports are probably a good prediction at where the Government is at.
Mr Nash said it was inevitable that we will see cross-country travel at Christmas, but the Government needs to make sure that the decision is based on the evidence.
He said we are currently nowhere near the numbers we should be.
.@geraldnash @labour Spokesperson says the decisions that are taken by Government must be based on evidence. He says expert and public health advice must be taken seriously because we are nowhere near where we need to be with #Covid19 figures. #rtetwip #rtepolitics pic.twitter.com/rZHeczFR9N

— The Week in Politics (@rtetwip) November 22, 2020
Independent TD Denis Naughten said we only have "educated guessing" at the moment and we need to scrap Level 5.
Mr Naughten said we need to look at all the information and analyse it to see what works in terms of restrictions.
.@DenisNaughten Independent TD says the Government has to scrap 5 level restrictions that are in place. He says Government must analyse data to see what does and doesn't work in terms of restrictions. #rtetwip #rtepolitics pic.twitter.com/hm1HrpH9T4

— The Week in Politics (@rtetwip) November 22, 2020
He said we need to abandon monitoring the tests results for Covid-19 and look at the ICU admission rate.
Covid-19 cases could escalate rapidly in crowded indoor settings, says Henry
A member of the National Public Health Emergency Team is warning that Covid-19 cases could escalate very rapidly in crowded indoor settings.
Dr Colm Henry's comments come amid calls from pubs and restaurants for indoor services to resume next month, when Level 5 restrictions are due to ease.
The HSE's Chief Clinical Officer said: "The virus tends to flourish in indoor congregated settings with poor ventilation
"Regardless of what purpose there is behind it, those indoor congregated settings where people are very close together fosters transmission of the virus in a way that really can lead to the numbers escalating very rapidly and our overall situation deteriorating."
He is also appealing to people to "redouble their efforts" to reduce the number of Covid cases and comply with the public health measures.
Dr Henry said the choices all of us make, with regard to compliance with the public health measures, will determine the choices available to all of society not just for Christmas but for January and February.
"We would call on everybody to redouble their efforts with regard to compliance with these measures so we have more choices available to us when Level 5 comes to an end," he said.
Concern that case numbers have plateaued
Meanwhile, the President of the Irish College of General Practitioners has said case numbers have come down but they have plateaued, which is of concern.
Speaking on RTÉ's This Week programme, Dr Mary Favier said we need to pay attention and we have a week or so to make a difference.
She said whatever is decided, it will come down to our individual actions over the Christmas period.
Dr Favier, who is also a member of NPHET, said that no home visits should be kept, right up to the holiday season.
She said people should wear a mask and keep socially distant if they do visit a household.
In her own practice, Dr Favier said GPs are noticing young people and older people who are staying indoors are suffering most mentally in this pandemic.
She said older people need to be told that they can still go out for a walk, for example.
Ian Talbot, CEO of Chambers Ireland, told the programme that its members feel they need to get their businesses open on 2 December.
He said a lot more Irish companies have online options and that 'click and collect' has worked very well. He also said that An Post have delivered 5.5 million packages in the past fortnight.
Mr Talbot said retail is essential and should be reopened at Christmas.
---