The number of coronavirus cases in Europe surpassed the 15 million mark today, according to a Reuters tally, as the region sees a surge in infections with the onset of winter, reporting a million new infections about every four days.
Europe has so far witnessed at least 15,046,656 reported infections and 344,401 reported deaths caused by the novel coronavirus, accounting for a quarter of global infections and deaths reported.
While it took the region nearly nine months to record its first 5 million cases, the next 10 million cases were reported in less than two months, according to a Reuters analysis.
With just one-tenth of the world's population, Europe accounts for 26% of the global case load of 56.9 million and 25% of the 1.3 million deaths worldwide. Of every 100 infections last reported worldwide, about 39 were reported from countries in Europe.
France surpassed Russia to become the worst-affected nation in the region, ranking only behind the United States, India and Brazil. France and Russia now account for roughly 27% of the total cases in Europe, according to the Reuters tally.
Within the region, Eastern Europe has roughly one-third of total cases in Europe and 24% of deaths in reported in the region. Czech Republic, Poland, Russia and Ukraine remain among the hardest-hit countries in the sub-region based on the number of cases per capita.
On a weekly average, Russia is reporting more than 22,434 cases each day. Some hospitals in country are experiencing serious shortages of drugs used to treat Covid-19 and cannot restock because of panic buying, high demand and problems with anew labelling system.
The governments of the United Kingdom could ease their current stringent lockdowns to allow families to gather for Christmas as there are signs the number of cases are starting to flatten.
India reaches 9 million cases
India has crossed the grim milestone of 9 million coronavirus cases, with 45,882 new infections recorded in the last 24 hours, the health ministry has said.
India is only the second country to cross 9 million coronavirus infections, after the United States, but cases have slowed down in the country after hitting a peak in September.
Deaths rose by 584, with the total now at 132,162, the health ministry said.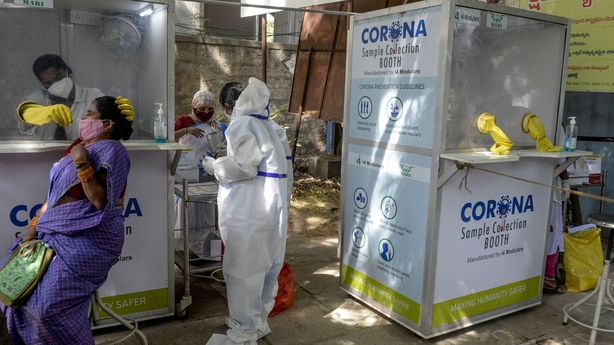 Government officials and experts have warned that the country could still see a spike after the festival of Diwali was celebrated this month.
India, the world's second-most populous nation, has seen a drop in daily cases over the past month but it is still registering about 45,000 new infections on average every day.
New Delhi, facing the dual scourge of winter pollution and coronavirus, has seen infections soar past half a million with a record rise in daily cases.
Yesterday, the megacity's government quadrupled fines for not wearing a mask in an effort to get a grip on the outbreak.
India imposed a stringent lockdown in March but restrictions have been gradually eased as the government seeks to reboot the economy after the loss of millions of jobs.
Experts say this has helped spread the disease, as has a general reluctance to wear masks and maintain physical distancing.
The western city of Ahmedabad, home to six million people, late last night announced an indefinite night curfew after an uptick in cases.
US sees 2,200 deaths, 200,000 new cases in 24 hours
The US registered more than 2,200 deaths from Covid-19 in the last 24 hours, according to the Johns Hopkins University tally, a record high since May as the pandemic surges across the country.
The number of cases as of last night was 11,698,661 with 252,419 deaths, meaning 200,146 new infections and 2,239 more deaths in 24 hours.
US authorities have urged Americans not to travel for the Thanksgiving holiday next week as virus cases soar. California yesterday announced a night-time curfew aimed at curbing the pandemic.
---
---
Mexico's coronavirus deaths surpass 100,000
Mexico has said its coronavirus death toll had risen above 100,000, becoming the world's fourth country to pass the grim milestone.
"Today in Mexico we have 100,000 people who have lost their lives due to Covid-19," deputy health minister Hugo Lopez-Gatell told a news conference.
The health ministry announced 576 more deaths in its daily update, taking the total to 100,104, behind only the United States, Brazil and India.
The overall number of infections registered now stands at 1,019,543 in the nation of more than 128 million, up 4,472 from the previous day.
While the number of daily infections has begun to rise again in recent weeks, the authorities say that deaths remain on a downtrend.
"There are infections, but fortunately... there are fewer deaths and that's the aim," President Andres Manuel Lopez Obrador said this week.
Elsewhere in the world, South Australia's six-day "circuit-breaker" lockdown will be cut short, officials said today, blaming a pizza parlour worker who misled contact tracers about how he contracted the virus.
Premier Steven Marshall indicated a tough lockdown for the state's almost two million people would end late on Saturday, at least two days earlier than planned.