Minister for Health Stephen Donnelly has told the Dáil there has been a "more than 90% reduction in fatalities" in the second wave of Covid-19 compared to the first wave.
He was speaking during a debate on the report of the Special Committee on Covid-19 Response.
Mr Donnelly added that the country now has "... the capacity to undertake up to 140,000 tests per week. Over 1.8 million tests have been done since the pandemic began."
Sinn Féin health spokesman David Cullinane said it was not yet time to "look back" when it comes to Covid-19 because the virus is still spreading.
He said that lessons needed to be learned, particularly in relation to intensive care unit bed capacity, nursing homes, testing and tracing and GP care.
Earlier, the Department of Health announced that it had been notified of four further deaths of people with Covid-19 and 429 new cases of the disease.
There has been a total of 2,010 coronavirus-related deaths in Ireland.
The total number of cases is 69,473 and this includes the denotification of 14 previously confirmed infections.
The number of people in ICU is 33, unchanged since yesterday. There are 290 patients with coronavirus in Irish hospitals with 15 admitted in the past 24 hours.
The number of hospital admissions is averaging 20 per day, said Philip Nolan, chair of the National Public Health Emergency Team's Irish Epidemiological Modelling Advisory Group.
The positivity rate is no longer declining, he warned. It was over 7% in late October and got down to 3.5% last week but is now closer to 4%.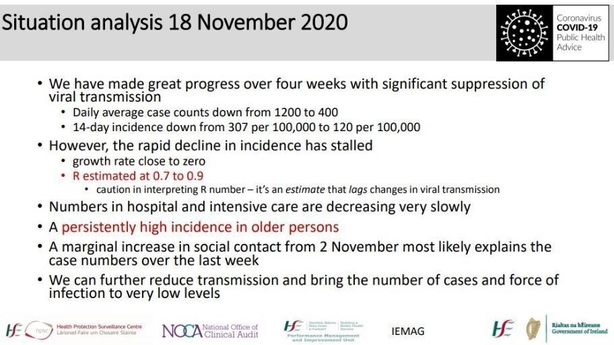 Prof Nolan added: "For three weeks we saw case numbers declining at a rate of 5% to 7% per day and a reproduction number as low as 0.6. We are aware that case numbers have now stopped declining and as a consequence the reproduction number has increased to an estimated 0.7 to 0.9.
"The data strongly suggests that a small, recent increase in the level of social contacts has led to the increase in reproduction number we see now.
"A small additional effort to reduce our contacts will make a big difference to reduce disease incidence before 1 December."
Prof Nolan added that the incidence rate of the virus in over-65s is not decreasing, even though it is decreasing among younger age groups.
The reproduction number for Covid-19 has increased from an estimate of 0.6 last week to a figure of between 0.7 and 0.9, Prof Philip Nolan has said.

He said this is a 'significant cause for concern' | Read more: https://t.co/l0b6HDydBT pic.twitter.com/jSgDfSvjpO

— RTÉ News (@rtenews) November 19, 2020
He said this was a "significant cause for concern".
There is "disappointment" that the transmission of the virus is not declining as rapidly as it was. "People have done an extraordinary job of reducing their social contacts but we've let that slip over the last week or so."
Prof Nolan said we have gone from an average of 2.6 contacts per positive case to 3.2 contacts. This means people have increased their social contacts.
"The marginal decisions you make about whether or not to meet people makes a difference."
He told a NPHET news briefing this evening that the recent rapid decline in the number of cases has stalled and social contacts could be the reason why.
'We've made enormous progress' in tackling Covid-19 during the Level 5 restrictions, Prof Philip Nolan has said, but warned that this progress has stalled | Read more: https://t.co/l0b6HDydBT pic.twitter.com/lWBhIT3tfM

— RTÉ News (@rtenews) November 19, 2020
Prof Nolan said it is still possible to reduce transmission over next two weeks and bring numbers down.
Chief Medical Officer Dr Tony Holohan said "progress has stalled" in the six-week period to drive down Covid-19 infection in the community.
Some people who could work from home were not doing so and people were meeting each other unnecessarily.
He said the message about workplaces is not getting through. ''People will tell you stories about canteens and workplace that are full."
Many people are choosing not to work from home when they can and are coming into the workplace, he told reporters.
---
---
He said everybody has to redouble their efforts. "That means staying at home from work and avoiding all situations where you might have contacts with other people."
'Car parks are full, canteens are full in workplace settings'

Dr Tony Holohan says the message around working from home during Level 5 restrictions 'really hasn't gotten through' | Read more: https://t.co/l0b6HDydBT pic.twitter.com/wDNVl3g4Sy

— RTÉ News (@rtenews) November 19, 2020
The CMO said we have to think about our contacts and do everything we can to try and reduce them. "Now is not the time for socialising."
Dr Holohan said NPHET wanted to get the level of the virus "as low as it can be so we can have as much choice as we can as a country at the end of the month".
He said we have "lost a week in the six weeks [of Level 5] .... we now need to make up that time".
We need a "collective final push" to get us where we want to go, he told reporters. "We are in a better place than most other countries but 400 cases a day is still very high."
We have 'lost a week' in the six-week Level 5 restrictions and we now need to 'make up that time' by focusing on driving down our contacts, Chief Medical Officer Dr Tony Holohan has said | Read more: https://t.co/l0b6HDydBT pic.twitter.com/BBoeD1f8AF

— RTÉ News (@rtenews) November 19, 2020
Dr Holohan said it was "too early" to say what will happen on 1 December. He added that it only takes "a small change in behaviour" to have a significant impact on transmission.
The vast majority of people are keeping up a very high standard, he added.
"We should not take our foot off the gas in the hope of a vaccine," said the CMO. "We have to get through this winter first."
However, he said data shared by pharmaceutical companies gives us "reason to believe that 2021 and beyond will be different to what we've had in 2020".
'It is reasonable for us to express hope for the future'

Data shared by pharmaceutical companies gives reason to believe that 2021 and beyond will be different to what we've had in 2020, Chief Medical Officer Dr Tony Holohan has said | Read more: https://t.co/l0b6HDydBT pic.twitter.com/0WuPAps4Eu

— RTÉ News (@rtenews) November 19, 2020
Taoiseach Micheál Martin took part in a video conference this evening with fellow members of the European Council. The battle against Covid-19 was one of the topics for discussion.
He said on Twitter that he was "discussing the roll-out of vaccines and a coordinated approach on testing" at the meeting.
Discussing the roll out of vaccines and a coordinated approach on testing at this evening's #EUCO meeting pic.twitter.com/cAUP1uOdht

— Micheál Martin (@MichealMartinTD) November 19, 2020
EU Commission President Ursula von der Leyen later said that the European Union could approve two coronavirus vaccines being tested by Pfizer-BioNTech and Moderna before the end of December.
Of the cases notified today, 173 are Dublin, 44 in Cork, 26 in Donegal, 22 in Louth, 21 in Kildare and the remaining 143 cases are spread across the remaining 20 counties.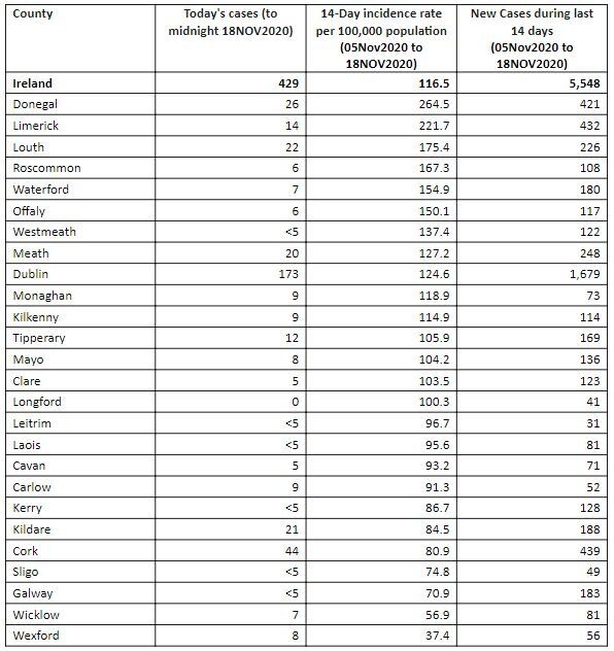 Cases included 194 men, 234 women and 69% are under 45 years of age.
Deputy Chief Medical Officer Dr Ronan Glynn said the positivity rate for household close contacts of Covid-19 cases was about one in four compared to around one in ten for other close contacts.
"This is not too surprising. We drop our guard in our own home."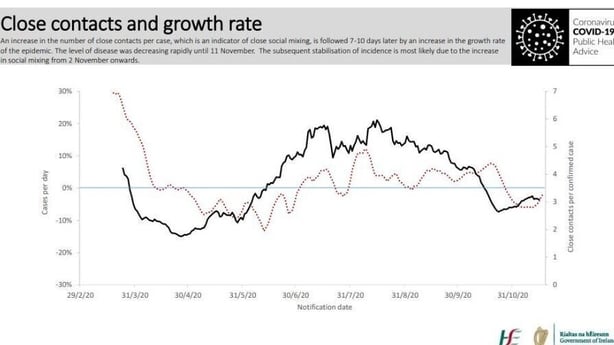 Dr Glynn also revealed: "Deaths associated with Covid-19 have increased by 18% in the European region over the past fortnight. Last week alone, Europe registered over 29,000 new deaths. That is one person dying every 17 seconds.
"We have made significant progress in Ireland over recent weeks, but the disease and its risks have not changed. Please continue in your efforts to follow public health advice, limit the transmission of Covid-19 in Ireland and protect those who are most vulnerable in our families and across our communities."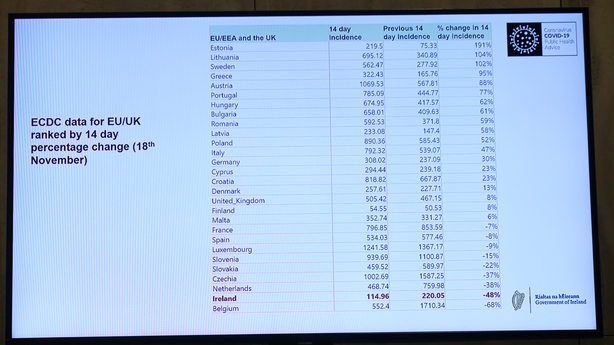 The Deputy CMO said some people are continuing to show up for work while showing symptoms of Covid-19.
Dr Glynn said some people were concerned about their employment and pay but for a lot of people it is just a habit to show up for work.
People are not doing this maliciously but "we need a step change in how we approach symptoms like fever and cough this winter".
Employers have a 'significant responsibility' to facilitate employees to work from home as much as possible at the moment, Deputy CMO Dr Ronan Glynn has said | Read more: https://t.co/l0b6HDydBT pic.twitter.com/0s49UCtX2D

— RTÉ News (@rtenews) November 19, 2020
HSE Chief Clinical Officer Dr Colm Henry said: "This pandemic has placed huge demands on our healthcare workers in addition to the standard care of patients.
"Their work now involves additional infection prevention and control measures which require constant vigilance and awareness. The best way we all can show our appreciation for their work is by doing your part to reduce community transmission."
The NPHET update comes after it met again today amid rising concerns that the progress in tackling Covid-19 nationally appears to have slowed significantly over the past week.
The latest numbers show that new confirmed cases of the virus are running at just over 400 per week, broadly unchanged on the situation one week ago.
In Northern Ireland, a further 12 coronavirus deaths were recorded, ten during the past 24 hours, taking the official Department of Health toll to 901.
There are 487 new cases from tests on 3,134 individuals, taking the cumulative total to 48,716.
There are 456 confirmed Covid-19 patients in hospital, with 41 in intensive care units, 32 of whom are on ventilators.
Health officials in Northern Ireland have expressed concern about a rise in the R number, the reproduction value of the virus, from 0.7 to around 1.0 in recent weeks.
Most college activity will remain online
Minister for Higher Education Simon Harris has said that as long as Covid-19 restrictions remain in the Level 3 to Level 5 range, a lot of college activity will be online.
He told RTÉ's Six One News he is "very worried and concerned" about the effect the restrictions are having on the college experience of students.
Mr Harris said he met the presidents of Ireland's universities today and discussed their shared ambition to do more to allow students have some on-campus experience.
He said he hopes that a plan can be put in place to give students some semblance of normality but this may vary from institution to institution.
Minister Harris said he believes that more can be done and the Government would bring clarity to the situation next week.