Ireland has moved into the orange zone in the EU traffic light travel system - meaning fewer restrictions for people travelling abroad.
Other 'orange' countries include Spain's Canary Islands, Iceland, most of Norway and Finland and some Greek islands.
Under the new EU traffic light system, passengers from orange regions who have a negative test result for Covid-19 up to three days prior to departure do not need to restrict their movements on arrival in most countries.
The system is advisory and passengers should still check the Covid-19 requirements of their destination.
Irish Government advice remains for people to avoid all non-essential travel, both within the country and abroad, while Ireland remains under Level 5 restrictions.
Tánaiste Leo Varadkar commented on Twitter: "Ireland goes from red to amber in latest EU Covid map. Numbers in last few days haven't been good, but we have made huge progress in recent weeks.
"We just need to redouble our efforts for the next two weeks so we can open up more fully in December."
The European Centre for Disease Prevention and Control publishes a three-stage colour system map every week to indicate the level of risk in each area of the EU.
Levels are determined by a range of factors including the 14-day incidence per 100,000 population, the number of tests being carried out and the positivity rate.
Most of Europe is in the red zone, where passengers must restrict their movements for 14 days. However, from midnight on 29 November, passengers from red regions coming into Ireland can move about freely if they receive a negative Covid-19 PCR test at least five days after arrival.
Passengers arriving from green regions do not need to restrict their movements. At present, only Greenland and part of Finland are listed as green.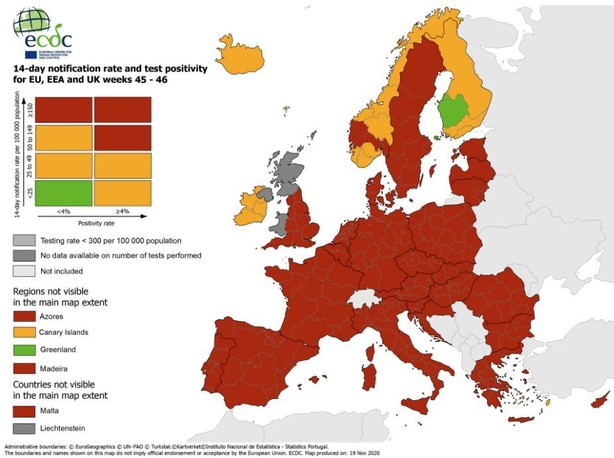 Also today, Dublin Airport's first Covid-19 test facility has opened.
The drive-through test centre was available from today, with a separate walk-in testing facility to open on Monday.
The testing facilities, which will be operated by healthcare firms Randox and RocDoc, are open to the public, whether they require a test for travel or for another reason.
150 swabs were carried out at the new facility today. RocDoc offers two different types of tests, a PCR and a LAMP technology test. 
They range in price from €129 for a PCR test, which can take up to 36 hours to turn around. A LAMP test costs €159, with results back in 8-10 hours, while a rapid test can set you back €199 and can take 4-5 hours.
---
---
Different countries have different rules around testing and recognise different tests, so people intending to travel should check this before booking a Covid-19 test.
CEO of RocDoc, David Rock, said that swabs using the LAMP test can be analysed in a mobile lab on site at the airport, and that a more permanent lab is being built with a "walk-in" facility and will be ready in the coming weeks. PCR tests must be carried out off-site.
Mr Rock said that the swab takes about 4-5 minutes and customers will get an email when the results are in.
While the testing is mainly focused on airline passengers coming into and flying out of Ireland, Mr Rock said it is also being used by certain industries and members of the public who may want a test for personal reasons, such as for peace of mind when going to visit sick relatives.
Paul O'Kane of the daa said the availability of testing on the Dublin Airport campus is a "really positive first step" and that the new EU traffic light system means there is an increased demand for testing.
However, Mr O'Kane said this type of testing is not a silver bullet and that a longer-term solution is needed.
"What we've been calling for for many months is a low cost, really rapid, common system of testing right across Europe.
"The best solution for this is an antigen test that costs about €5 or €6, and people could have results in a half an hour and build that into their travel journey," he said, adding that this has been trialled in other countries and the aviation sector is behind it.
There is testing capacity for more than 12,000 tests per day, which will shortly be expanded to 15,000.
"We have significant capacity in place to implement high volume PCR testing, which is currently the only method of Covid-19 testing recognised and approved by every country worldwide," said Sophie Boyd, Project Manager for Randox's testing service at Dublin Airport.
Randox's walk-through facility will be located in an existing building close to the Terminal 2 multi-storey car park and will have separate entry and exit points for customers.