The Taoiseach has said he believes a window of opportunity can be created to enable people to have a good Christmas, but it would be different to what we might normally experience.
Speaking on RTÉ's Six One News Micheál Martin said the Government is conscious that people want to celebrate Christmas but due to the impact of a global pandemic it cannot be the same as last year.
He was speaking after the Department of Health reported 499 new cases of Covid-19 and a further eight Covid-related deaths.
It brings the total death toll since the outbreak began to 1,940.
There are 292 people in hospital with Covid-19, while the number being treated in intensive care units has fallen by one to 37.
175 of the cases reported are in Dublin, with 72 in Cork, 29 in Limerick, 26 in Mayo and 21 in Meath. The remaining 176 cases are spread across 19 other counties.
More than two-thirds of the cases are in people under the age of 45. The median age of positive cases reported is 32 years old.
The national 14-day incidence rate per 100,000 people has fallen again to 196.4, down from 202 yesterday and 212 on Wednesday.
Donegal has the highest 14-day incidence rate at 299, followed by Meath on 280.4 and Cavan on 261.2.
The lowest 14-day incidence rate is in Leitrim, at 31.2, followed by Wicklow at 91.3 and 96.2 in Wexford.
Earlier the chair of NPHET's Epidemiological Modelling Advisory Group said it is "incorrect" to claim that the National Public Health Emergency Team moved prematurely to advise the Government to impose tighter restrictions.
Speaking on RTÉ's News at One, Professor Philip Nolan also said it was wrong to claim that the sustained drop in Covid-19 cases would have happened under the Level 3 restrictions that were in place in early October.
He said that people "voluntarily" cut their social contacts in advance of the Government's decision to introduce Level 5 restrictions.
We need your consent to load this rte-player contentWe use rte-player to manage extra content that can set cookies on your device and collect data about your activity. Please review their details and accept them to load the content.Manage Preferences
---
---
"The week before level 5 people voluntarily cut their own social contacts knowing what was coming I would imagine, and we are now seeing the beginning of the additional impact of Level 5 over people's spontaneous change in behaviour," he said.
Prof Nolan said he anticipates that the Reproductive number will continue to decrease in the coming weeks.
"It is now comfortably below one so each case is infecting less than one person and we think that it is decreasing further."
He said his team are looking at how to ensure the level of risk of discretionary indoor behaviour is kept at a low level.
"In December we will have to ensure that the level of discretionary indoor higher risk social contacts that people engage in remains low to choke off the specific opportunities that the virus likes to transmit and that we open up in ways in which are the lowest risk and the safest in terms of transmission of the virus."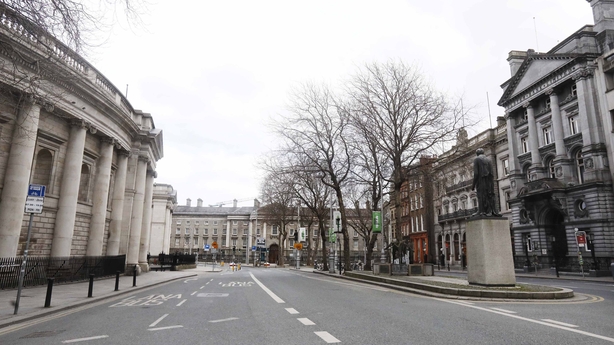 Meanwhile Health Service Executive Chief Clinical Officer Dr Colm Henry said there is cause for hope with some "stabilisation" of the coronavirus, but it does not mean Level 5 restrictions should be eased sooner.
Speaking on RTÉ's Morning Ireland, Dr Henry said what we are seeing across Europe is that if we let up too early on restrictions and people let up on measures "we see rapid deterioration".
However, he said Ireland was in an improved position with a falling R rate and positivity rate, and a drop of cases among two particular age groups, younger people and the older vulnerable groups.
Addressing hopes of meeting up for Christmas, Dr Henry said they want people to come together after what has been a "torrid year", but he added that "we must see through these measures first and get transmission down to very low levels".
He said they want Christmas to be safe so people can congregate safely and visit homes safely, but made it clear that they also want January and February to be safe.
"Ultimately decisions are made by Government not just based on public health guidance but wider economic interests," Dr Henry said.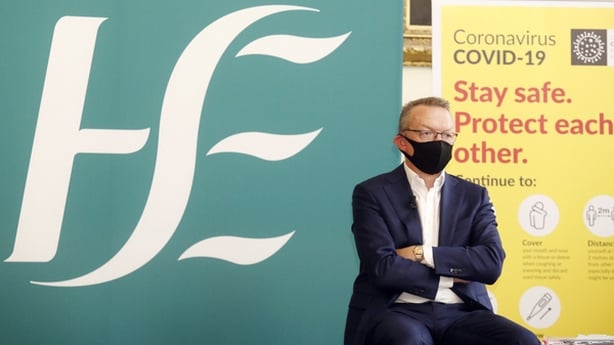 He said the HSE is currently looking at a range of Covid-19 testing strategies to ensure they are safe and effective and there are 23 tests on the market with two stages.
He said the PCR test is a "good one", which shows a high standard of sensitivity.
Dr Henry said: "If we had an antigen test that is 80%of the sensitivity of the PCR test then they could miss one in five cases.
"We don't want to miss one in five cases in a nursing home setting or other vulnerable setting."
Dr Henry said they are finding at this stage that some claims of sensitivity by the companies are not matched with field evaluation.
He said: "We want to see a standard where we can give a good degree of assurance to people that this test they are using, fast as it may be, that it is providing a fairly accurate result.
"We will dispassionately and objectively look at these tests first to validate them and secondly test them out in different settings."
He said it will take time and does not expect those tests to be available for those hoping to travel by Christmas.
"Unlikely, because we need to validate those tests," he said.
Within nursing home settings, Dr Henry said they are still seeing a number of Covid-19 outbreaks with around seven outbreaks of major concern based on the size of the outbreak and impact on staffing.
"Once it gets into a vulnerable setting it is virulent and difficult to control," he added.
He said there has been a reduction in demand for testing and tracing of late and a fall from GP referrals of 30% also.
Dr Henry said they currently have 450 contact tracers and continue to recruit to get to the figure of 800.
We need your consent to load this rte-player contentWe use rte-player to manage extra content that can set cookies on your device and collect data about your activity. Please review their details and accept them to load the content.Manage Preferences