Covid-19 cases are increasing fast in Sweden, Prime Minister Stefan Lofven said as he announced stricter recommendations for another three regions.
"We have a very serious situation," Mr Lofven told a news conference. "
"More and more intensive care beds are now being used to treat Covid patients. The respite we got this summer is over."
He also said parties at restaurants would be limited to eight people.
Sweden has seen a surge in new infections in recent weeks, surpassing peaks set in the spring, though levels are not as high as in countries like Belgium, Spain and France relative to the size of the population.
Health agency data showed the country recorded 10,177 new Covid-19 cases and 31 deaths since Friday.
Meanwhile, the French government is to reimpose an evening curfew on Paris, and possibly the Ile-de-France region around the capital, to tackle worsening Covid-19 figures, a government spokesman has said.
The evening curfew on Paris, which would start at 9pm, would come on top of a new national lockdown imposed last week by President Emmanuel Macron.
"We are going to reinstate a curfew on Paris, and perhaps the Ile-de-France. The Interior Ministry will specify the details later in the day and an edict will be issued," Gabriel Attal told BFM TV.
France reported a record 52,518 new Covid-19 cases yesterday and the number hospitalised rose by more than a 1,000 for the fourth time in eight days, as the pandemic shows no signs of abating despite the new lockdown.
France's Covid-19 death toll rose by 416 to 37,435, compared with an increase of 231 on Sunday and a months-high seven-day moving average of 345.
Health Minister Olivier Veran told RTL radio that one Parisian was becoming infected with Covid-19 every 30 seconds, while a Parisian is admitted to hospital with the disease every 15 minutes.
---
---
Greece and Austria are the latest European nations to impose stricter measures to combat a coronavirus surge.
The virus has infected over 46 million people worldwide, with more than 1.2 million deaths, and the acute outbreaks in Europe and the US are increasing alarm about the state of the global economy.
Austria's cases in recent weeks have surged well past the levels recorded in the spring, forcing the government to impose a curfew between 8pm and 6am starting today until the end of the month.
Chancellor Sebastian Kurz had announced the measures on Saturday, describing them as "dramatic interventions in our social life".
No meetings will be allowed between people from more than two households, and there will be limited curfew exceptions for care responsibilities and essential work travel.
Universities and secondary schools will move to distance learning, but playschools and other schools will remain open.
Just hours before the beginning of the lockdown, with people enjoying a final night of relative freedom, gunmen opened fire at multiple locations across central Vienna, killing at least four people.
A two-week lockdown will also come into force in Greece's second-biggest city Thessaloniki, with flights suspended and everything closed except schools.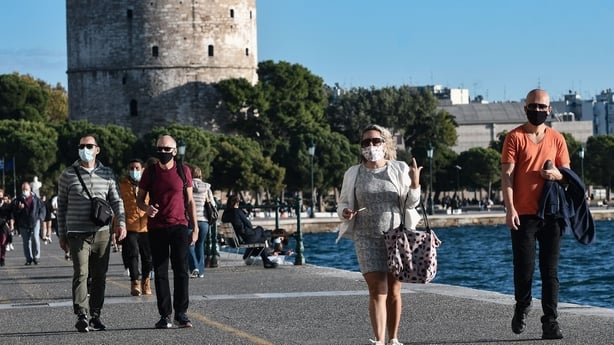 The restrictions follow localised lockdowns in the regions of Kozani and Kastoria earlier this month.
The Covid-19 crisis has deepened in Europe in recent weeks with health experts warning the spikes in infections could overwhelm healthcare infrastructure across the continent.
To curb the spike in Germany, Europe's biggest economy, Chancellor Angela Merkel appealed to citizens to help achieve a "turnaround" by respecting a new round of shutdowns which began yesterday and will last until the end of the month.
Germany has seen a six-fold increase in the number of people being treated in intensive care units for the coronavirus in the last month, the head of the association for intensive and emergency medicine (DIVI) said.
Many hospital employees are working at full capacity, said DIVI's Uwe Janssens, adding that hospitals should move away from regular operations when there are high levels of coronavirus infections.
Much of Portugal also faces a lockdown from tomorrow and England will begin a new lockdown on Thursday, bringing it into line with other parts of the UK and Europe.
The situation with the coronavirus in Ukraine is close to catastrophic and the nation must prepare for the worst, health minister Maksym Stepanov said.
Ukraine registered a record 8,899 new Covid-19 cases in the past 24 hours, the ministry said, up from the 30 October high of 8,312. Total infections stood at 411,093 with 7,532 deaths.
"The situation quickly turns from difficult to catastrophic. We need to prepare for the inevitable - it is impossible to easily pass the second wave," Mr Stepanov told the parliament.
"If Ukrainians continue to severely disregard safety rules, we will not avoid a catastrophe. The hardest is ahead," he added.
Ukraine imposed a strict lockdown in March but eased it in May. Mr Stepanov said the government would consider how to preserve the economy and save people at the same time.
He said last month that Ukraine would introduce stricter lockdown restrictions if cases rise to 11,000-15,000 daily. He warned that the resources of the medical system would run out if the number of daily cases exceeds 20,000.
The frustration over the economic and social cost of lockdowns has led to protests in many parts of the world, especially Europe, with some leading to violent skirmishes, notably in Spain and Italy as well as the Czech capital Prague and the eastern German city of Dresden.
The Covid-19 crisis is among the biggest factors in the US presidential election.
President Donald Trump, seeking a second term, has faced intense criticism over his handling of the pandemic, with more than 9.2 million infections and over 231,000 deaths.
His challenger Joe Biden has stuck to socially distanced gatherings with small crowds or people segregated in their cars right up to the last moment in the campaign - in contrast to Mr Trump's large rallies.