The Department of Health has reported a further 859 cases of Covid-19, bringing the total number of confirmed cases to 56,108.
Four more deaths have occurred. There has been a total of 1,882 Covid-19 related deaths in Ireland.
As of 2pm today, 315 Covid-19 patients were in hospital, of which 37 are in ICU. Last night, there were 38 Covid-19 patients in ICU.
There has been 16 additional hospitalisations in the past 24 hours.
Of the cases notified today, 415 are men and 441 are women, while 62% are under 45 years of age.
The median age of today's cases is 35 years old.
The breakdown of the cases is: 192 in Dublin, 148 in Cork, 58 in Donegal, 55 in Galway, 54 in Meath, with 352 cases spread across 21 remaining counties.
In Northern Ireland, there have been six further Covid-19 linked deaths in the last 24 hours and 923 new cases of the virus, the Department of Health said.
The death toll recorded by the department now stands at 645. There have been 33,209 confirmed cases in Northern Ireland.
There are currently 309 patients with Covid-19 being treated in hospital in the North, with 34 in intensive care.
Earlier today, the Taoiseach said there are going to be "a lot of bumpy roads ahead" in relation to Covid-19, but that as a country Ireland was getting through it.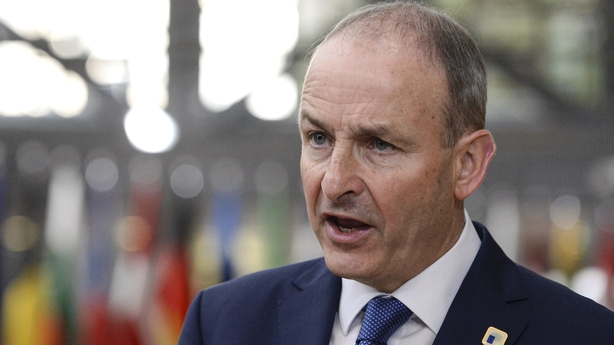 Speaking at a virtual meeting of the MacGill Summer School, Micheál Martin said that the virus presents a challenge and that every country across Europe is now facing problems.
Asked why the Government took so long to move to Level 5 following NPHET's earlier recommendation, Mr Martin said the country had to prepare beforehand, and moving from Level 2 to Level 5 would have been a big leap.
He said: "In my view, it's a very challenging agenda … but as a country we are getting through this, and there's going to be a lot of bumpy roads ahead with Covid-19, but we have a clear policy position working with NPHET."
Mr Martin said prior to moving to Level 5 "Ireland had the most stringent restrictions in Europe" while at Level 3, which involved the closing down of the hospitality sector.
He said one issue was that a lot of behaviour developed at Level 2 that "seeded the spread" of the virus.
Asked if he sees the country going in and out of lockdowns for the foreseeable future, he said the Government was trying to suppress the virus through human behaviour and restrictions, which he acknowledged was very difficult for people.
Mr Martin said: "The strategy we are pursuing is to try and suppress the virus through human behaviour and through restrictions, and it is very difficult for people.
"People are now fatigued, particularly after the first lockdown, to have to move into a second one.
"And I think we've learned from the first reopening that the next one is going to be important.
"But I will say that as a country we have managed to keep our economy viable and to keep the foundations right for a recovery after Covid."
---
---
The Taoiseach said it was important that new schemes were set up in the Budget in order to help businesses and prepare for the move to Level 5.
Mr Martin said part of living with Covid-19 was just that and that people were learning to do that.
He said there were provisions in place and lessons were learned from the first time around that allowed schools, childcare and construction to stay open now.
The Taoiseach also said as the Government receives advice, it also has to factor in wider sets of advice, and that was why it did not make the immediate jump to Level 5.
Decline in positive tests over last seven days - Reid
Chief Executive of the Health Service Executive, Paul Reid, has said the positivity rate for Covid-19 tests has continued to decline over the past seven days and is now at 5.8%.
This is the first weekend where people across the country will be dealing with the new Level 5 restrictions.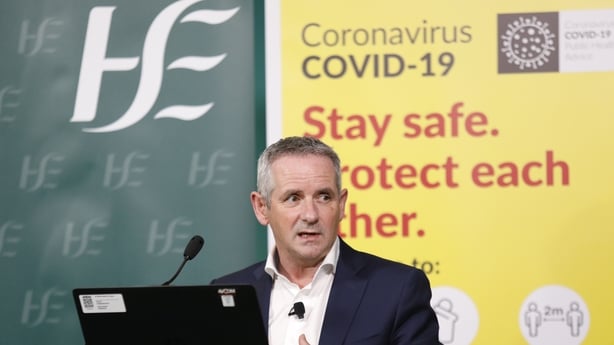 While it is too early to see the effect of those restrictions, Mr Reid said that there has been a decline in positive tests over the last seven days, from 8.9% to the current figure of 5.8%.
Although he said he was reluctant to declare a trend, he said he hoped the figure would give people some encouragement and hope.
Last night, the Chief Medical Officer at the Department of Health said that young people have had to shoulder a huge burden during the Covid-19 pandemic.
Speaking on RTÉ's The Late Late Show, Dr Tony Holohan said that as the parent of two children aged 18 and almost 20, he knew how the lives of that age group had changed in "every way".
"The lives of people in that young age bracket have changed in almost every way," Dr Holohan said.
Reporting Daniel Quinn, Sineád Crowley, PA