Pressing the reset button by moving to Level 5 restrictions is the right thing to do, according to the chair of the National Public Health Emergency Team's Epidemiological Modelling Advisory Group.
Professor Philip Nolan said signs of improvement may be seen in three weeks, but warned that things " turn very slowly".
Speaking on RTÉ's Morning Ireland, he urged people not to focus on daily case count, but instead watch the weekly averages.
Prof Nolan said if people have already "pulled back" and are adhering to public health guidelines over the last week to ten days then cases might "top out" within a week.
However, he said if people have been mixing as normal, or accelerating their socialising in anticipation of Level 5 restrictions, then it may take two weeks.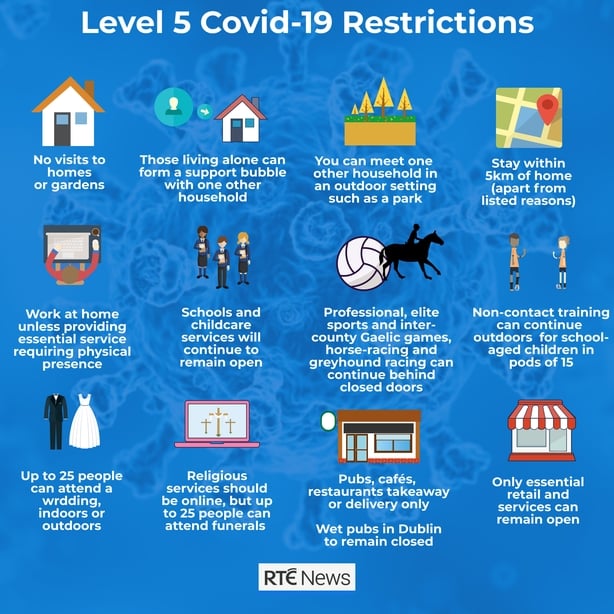 Prof Nolan said the public needs to prepare to behave very differently as the country emerges from Level 5 and warned that if transmission levels rise again in January and February there may need to be more interventions.
He said it was disappointing that the tracing system was overwhelmed at the weekend but understandable given the rapid rise in daily cases.
---
---
Meanwhile, the latest Health Service Executive figures show there are 323 confirmed cases of Covid-19 in hospitals.
Of these, 34 patients are in intensive care.
The hospitals with the most cases are Cavan, Cork University Hospital, Tallaght University Hospital and Beaumont Hospital.
There are 38 vacant ICU beds in the hospital system.
1,039 new cases in Northern Ireland
In Northern Ireland, there have been five further coronavirus deaths. Four of those deaths occurred in the previous 24 hours. It brings the official death toll to 629.
1,039 new cases of Covid-19 have also been confirmed from tests on 4,889 individuals so nearly 1 in 5 tests are positive.
The 7-day infection rate per 100,000 people for Northern Ireland is 360.9.
The rate in Derry and Strabane is 669.7, with Belfast on 509.9, followed by Mid Ulster on 455.5, and Antrim and Newtownabbey on 314.0.
There are 289 confirmed coronavirus patients in hospital, with 32 in ICU, 26 of whom are on ventilators.