A Madrid court has struck down an order that imposed a partial lockdown in the Spanish capital and nine satellite towns, siding with the Madrid region in a stand-off with the central government.
Following an order from the Health Ministry, the Madrid region was forced to stop residents from leaving without a valid reason from last Friday.
The regional authority had appealed the order.
A court statement said it "had denied the ratification (of the measures) on grounds they impacted on the rights and fundamental freedoms" of the 4.5 million residents affected by the closure which went into force on Saturday.
Madrid is battling a soaring infection rate of well over 700 cases per 100,000 people, compared with just 300 per 100,000 in the rest of Spain - in itself the highest rate in the European Union.
Without the measures being ratified by the court, police have no legal grounds on which to issue fines for non-compliance - which they have not done until now, awaiting the court's decision.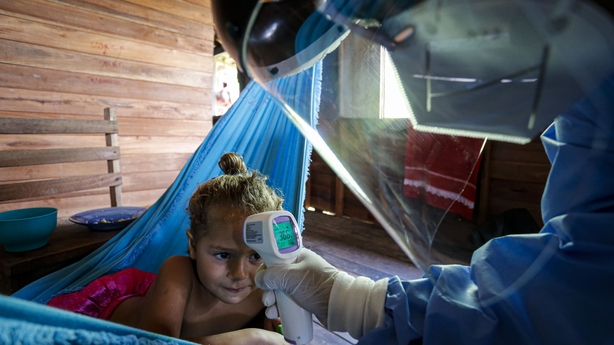 Elsewhere, Brazil has surpassed five million coronavirus infections and is approaching 150,000 deaths from the disease, amid optimism the virus is slowing in the hard-hit South American country.
The Health Ministry reported 31,553 new infections in the previous 24 hours, registering a total of 5,000,694 cases overall, behind only the United States and India.
Home to 212 million people, Brazil also counted 734 new deaths yesterday, meaning the virus has claimed 148,228 lives since the country recorded its first death in March.
Brazil has the world's second-highest death toll from the disease after the US.
The country's curve appears to be descending, however. The average number of deaths per day for the past week was 610. The daily average rarely dipped below 1,000 per day from June through August.
The country averaged around 27,000 new infections per day over the past week. The average was over 40,000 in early September.
But experts agree that despite the downward trend, the situation in Brazil remains "worrying".
The fall in the number of cases "isn't yet sustained", University of Brasilia epidemiologist Mauro Sanchez told AFP.
"Therefore, there is an initial trend of decline, but it has yet to be confirmed," he said.
More French cities set to close bars as Covid-19 infections spike
France's third-biggest city Lyon will have to close its bars in coming days as its coronavirus infection rates are spiking and its hospital emergency beds are filling up quickly with Covid-19 patients, the health minister said.
Minister Olivier Veran said Lyon, Lille, Grenoble and Saint-Etienne would go on maximum coronavirus alert level.
This means they will have to close their bars for two weeks in coming days, as Paris did on Tuesday and Marseille,France's second-biggest city, did earlier this month.
Mr Veran said the situation in Toulouse and Montpellier was also worrying and that those cities could also be moved to maximum Covid-19 alert level from Monday.
Dijon and Clermont-Ferrand would be put on higher alert from Saturday, he said.
"Unfortunately, the health situation in France continues to deteriorate," Mr Veran said at his weekly Covid-19 briefing.
Cities placed on maximum alert level will also have to apply stricter health protocols in restaurants .
The health ministry reported more than 18,000 new confirmed cases for the second day in a row, far above the 7,500 per day level seen during lockdown in spring.
Italy makes face masks mandatory as coronavirus cases surge
Italy has made it mandatory to wear face masks outdoors nationwide in an effort to curb the spread of the coronavirus, as new infections jumped to the highest daily tally since April.
The decree was approved at a cabinet meeting after a steady increase in cases over the last two months. It will probably be effective from today, a government source said.
Several Italian regions including Lazio, around the capital Rome, had already made face masks mandatory.
Data from the Health Ministry showed 3,678 cases were reported in the last 24 hours, up from 2,677 on Tuesday and surging past the 3,000 mark for the first time since 24 April.
Italy is still recording far fewer daily cases than other large European countries such as France, Spain and the UK.
---
---
As a part of Rome's effort to curb contagion, Health Minister Roberto Speranza ordered compulsory testing on travellers from the United Kingdom, Belgium, the Netherlands and Czech Republic.
Italy was the first country in Europe to be hard-hit by Covid-19 and has the second highest death toll in the continent after Britain, with 36,061 dying since the outbreak flared in February, according to official figures.
Thanks to one of the strictest lockdowns in the world, the government managed to get the contagion under control by the summer but infections are now rising fast.
However, daily Covid-related deaths remain far lower than during the first wave of Italy's epidemic six months ago.
Some 31 people died of the virus yesterday, the Health Ministry said, while 24 April, the last day with more than 3,000 cases, saw 420 deaths.
The cabinet also approved a decree to extend the Covid-19 state of emergency to 31 January.
The state of emergency, originally due to expire in mid-October, gives greater powers to central government, making it easier for officials to bypass the bureaucracy that smothers much decision-making in Italy.
France braces for wider Covid restrictions
France is preparing for tighter coronavirus restrictions in several major cities, two days after a maximum alert protocol went into force in Paris.
The number of daily coronavirus infections came in at 18,746 in France yesterday, health authorities reported, a record since widespread testing began.
The rate of positive test results rose to 9.1% from around 4.5% a month ago.
"The virus has been spreading faster in recent weeks," President Emmanuel Macron said late yesterday.
"In places where it is spreading too fast, especially where it is spreading among the elderly who are most at risk, and where there are more and more intensive care beds being occupied, we must proceed to more restrictions," he said on French TV.
He said new measures would be similar to protocols put in place in and around the capital, as well as the region around Marseille in the south.
"We are not in a normal situation, and we won't be for several months," Mr Macron said.
In Paris, bars and cafes were shuttered on Tuesday for two weeks to brake the spread of the virus, just over a week after new restrictions were imposed on Marseille and the overseas department of Guadeloupe.
Health Minister Olivier Veran is scheduled to hold a news briefing on the virus situation later today.
Last week, Veran singled out five large cities - Lille, Lyon, Grenoble, Saint-Etienne and Toulouse - as possibly requiring more restrictions, saying their health situations were "very worrying".
The number of coronavirus patients in hospital care rose to 7,514 across France yesterday from 7,377 a day earlier, with 1,406 in intensive care, of some 5,000 units nationwide.
The same day, authorities reported 80 new coronavirus deaths in 24 hours, taking the total number in France to 32,445.
Europe buys Gilead's remdesivir for 500,000 Covid-19 patients amid supply worries
Gilead Sciences said it had agreed to sell Europe up to 500,0000 courses of its antiviral drug remdesivir, as the continent scrambles to shore up supplies of one of only two drugs approved to treat Covid-19 patients.
The deal will cover purchases of the drug for the next six months for the 27-nation European Union, Britain, six Balkan countries and the other European Economic Area countries - Iceland, Liechtenstein and Norway.
Several European countries have said they are experiencing shortages of the drug, whose global stock has been secured almost entirely by the United States.
Spain, one of the countries with the highest number of infections in Europe, had nearly 10,700 people hospitalised for Covid-19 as of Tuesday.
Payments will be made by the countries that need the drug. The agreement includes an option to extend the time period.
The European Commission, which has overseen joint purchases of vaccines in the EU, agreed only on Friday to top up its initial 30,000 courses of treatment with additional doses to cover 3,400 patients.
Gilead said the new agreement replaced the initial deal financed by the Commission's Emergency Support Instrument and intended to cover from August to October. It said it would begin fulfilling orders from next Monday.
The Commission said it was preparing further joint procurement procedures for equipment needed during the pandemic- vaccine carriers, waste containers, injecting devices,personal protective equipment and anaesthetic consumables.
It said it was also in the final stages of procuring essential intensive care unit medicines.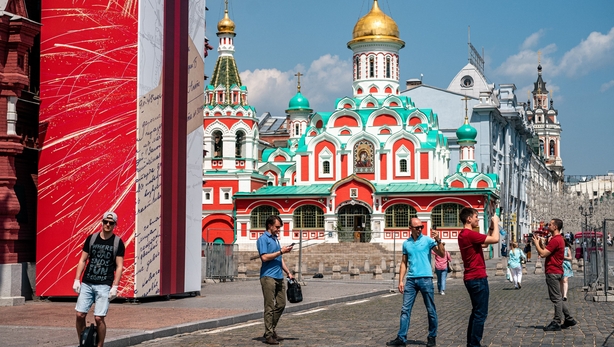 Russia's Covid-19 cases come close to record set five months ago
The Russia's tally of new Covid-19 infections came close to a daily record set nearly five months ago.
An official government website registered 11,493 new virus cases nationally, just shy of the record of 11,656 set on 11 May.
Russia has confirmed 1,260,112 cases, 22,056 of them fatal, since the start of the outbreak - the fourth-highest caseload in the world after the United States, India and Brazil.
Health officials deny that Russia is experiencing a second coronavirus wave and insist sweeping new restrictions are unnecessary, despite the rebound to near-record infection levels.
But Anna Popova, head of consumer watchdog Rospotrebnadzor, on Wednesday described the situation as increasingly difficult and warned new measures may lie ahead.
"Either we observe (restrictions) or we will have to introduce new measures," she said.
Most national restrictions were eased ahead of a major WWII military parade and a July vote on constitutional amendments that paved the way for President Vladimir Putin to theoretically remain in power until 2036.
Moscow, the epicentre of Russia's epidemic, registered 3,323 new cases and 55 deaths.
Mayor Sergei Sobyanin reimposed some virus measures last month as cases started to increase, including stay-at-home orders for the vulnerable and the elderly. Restaurants and bars remain open.