A stroke survivor's family has called for national hospital visiting rules to be reviewed.
This comes as the country faces "a winter like none of us have experienced before" due to the pandemic, according to Health Service Executive CEO Paul Reid.
The McCarthy family, from Garrettstown near Kinsale in Co Cork, made the appeal after being locked out from visiting hospitals where Jimmy McCarthy, 67, was recovering after a devastating stroke.
They eventually met him after 16 weeks.
Mary McCarthy, Jimmy's wife, told RTÉ's Morning Ireland that no family should experience what her family went through.
"It was a nightmare," she said.
She called for stroke patients with devastating brain injuries to have a nominated family member accompany them to assist with communication, advocate for them, and to be part of their recovery programme.
Having a nominated family member should mean visits for severely-ill stroke patients even if Covid numbers increase further and if hospitals go back to visitor lockdown, Ms McCarthy said.
"Prior to a stroke there is a perfectly healthy person. Then, they wake up in hospital with a brain injury unable to move or speak. They are in a ward of strangers with no idea about what has happened.
"Devastating stroke patients should wake up to a familiar face or a family member to help with recovery.
"There are about 1% of these patients that need a family. This can't continue. The family member can wear PPE too," Ms McCarthy said.
It was just a nightmare for us. I can't imagine what it was like for Jimmy. He never saw a familiar face.
Jimmy McCarthy was admitted to Cork University Hospital (CUH) after a stroke before visitor lockdowns were implemented at hospitals. His family visited him for two weeks until 5 March when visitor restrictions were imposed.
Calls via Skype and WhatsApp were facilitated by hospital staff. However, the next time the family saw Jimmy was 11 weeks later through a hospital window.
"It was just a nightmare for us. I can't imagine what it was like for Jimmy. He never saw a familiar face.
"The staff were all wonderful but they were all strangers to him. He didn't know where he was. He didn't know any of these people.
"I can only imagine what it was like for him saying: 'Where are my family?'"
On 25 May Jimmy was transferred to the stroke unit at St Finbarr's Hospital in Cork. It was there his family saw him for the first time through the window of the ward.
"The plus side was that it was on the ground floor," Ms McCarthy said.
"Jimmy's first sight of us was through a window. At that stage we weren't high enough and his first time was seeing the top of my head at the window in the stroke unit.
"From then on we had to get small steps to get to the height of the window," added Ms McCarthy.
The window visits continued for five weeks. The family never got bedside visits but in July were able to attend training courses to facilitate Jimmy's discharge from hospital.
Jimmy returned home on 15 September where he continues his recovery.
Irish Heart Foundation says many families contacted them after having similar experiences to the McCarthy's.
Ms McCarthy added if there are future Covid-19 lockouts for family visits to Irish hospitals that she wants "the people that make the decisions to allow that for the devastating stroke patients recovery that a nominated member of the family would be allowed in".
She added the highest point of the ordeal was "how professional and kind" staff were.
Ms McCarthy stressed she was happy with the care her husband received at CUH and St Finbarr's Hospital.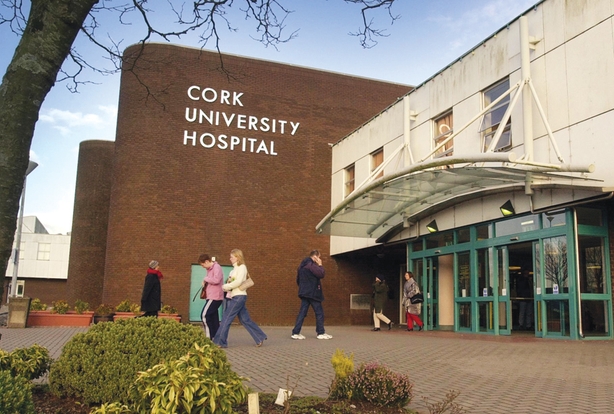 The Irish Heart Foundation (IHF) is calling for hospitals to facilitate visits. The organisation told RTÉ's Morning Ireland many families contacted them after having similar experiences to the McCarthy's.
"Through our nurse support line we have come across a number of people who have had that experience," said Tracy Egan, IHF Patient Support Manager.
"It is a difficult situation. I know hospitals are doing their best with infection control but it is having a huge impact on the person who has had the stroke and their families.
"Sometimes it can be beneficial to a person to have their family with them in the hospital. Then there may be some people who are so disabled by the stroke that they can't speak and they really need somebody who can advocate for them and under normal circumstances that would be a family member," said Ms Egan.
She added that the Irish Heart Foundation "understands that hospitals must have these restrictions in place" because "infection control is paramount at the moment to protect patients and to prevent Covid outbreaks".
She said the issues needed to be dealt with pragmatically and that "hospitals can take a humane approach to people who are long-term patients".
She said "if the welfare of a patient, and their chance of recovery, can be assisted by a visit from a family member that" hospitals should examine options, within the rules, to facilitate a visit.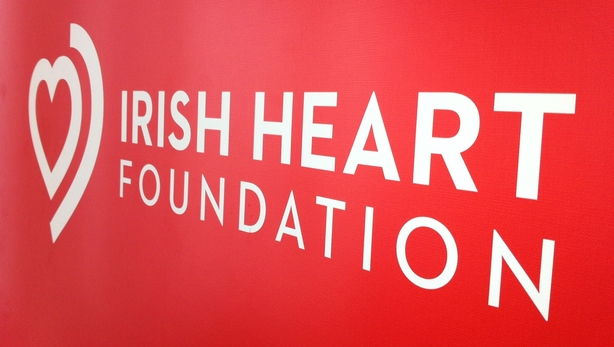 Croí - a heart disease and stroke charity - said blanket visitor restrictions need to be evaluated.
Croí's CEO Neil Johnson, who was unable to visit his own mother for 14 weeks when she was hospitalised at the start of the pandemic, said: "The blanket restrictions that were in place at the early stages of Covid now need to be reviewed".
"Now we know more about what we are dealing with. The one-size-fits-all model needs to be relooked at.
"However, this is not in the context of providing casual or everyday access but in situations where a clinician can make a clinical judgement on how to apply the guidelines on a case-by-case basis.
---
---
"Prolonged isolation in stroke recovery is not good. Access to a loved one at this critical time is very important. Having said that, in the context of Covid, the risk to health and life of the patient, the healthcare team, and other patients is paramount," said Mr Johnson.
Earlier, this year the hospital restrictions on Covid-19 were made nationally. Hospital visits are now allowed on a limited basis.
The HSE explained in a statement to Morning Ireland that visiting restrictions are agreed locally and that all hospitals have visiting arrangements that take account of visiting on compassionate grounds and other needs such as children in hospital.
"In relation to Residential Care Facilities the Government's recent plan sets out the approach to visiting across the five-level framework.
"Guidance exists for Residential Care Facilities on HPSC.ie which is being reviewed to take on board the government plan's approach," the HSE statement added.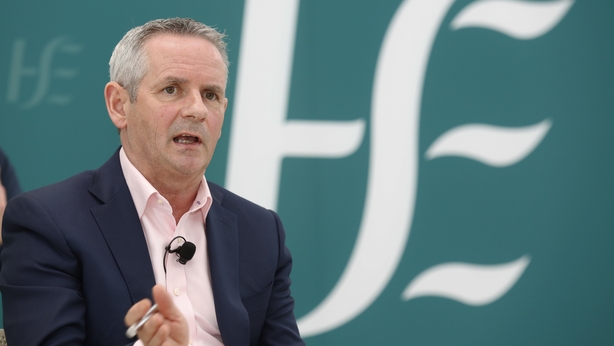 Within the health service there is a view there can't be a one-size-fits-all solution for hospital visits.
Professor Rónán Collins, Consultant Physician in Geriatric and Stroke Medicine at Tallaght University Hospital said a pragmatic approach needs to be taken to Covid-19 guidelines to enhance patient recovery while at the same time not putting the wider hospital population at risk.
At the launch of the health service's Winter Plan last week, HSE chief executive Paul Reid said we are facing "a winter like none of us have experienced before" due to the pandemic.
Cork Kerry Community Healthcare, the hospital group that St Finbarr's Hospital is part of, said in a statement: "We entirely empathise with patients, residents and their loved ones who cannot see each other due to any visitor restrictions which are needed to Covid-19.
"Any visitor restrictions, while difficult, are necessary to keep our residents, patients and staff safe. Every effort is made to assist patients and residents to keep in touch during this difficult time, including the use of technology."
From later today a podcast of this story can be listened to on the Morning Ireland Extra podcast.