The number of recorded cases of Covid-19 around the world has now surpassed 30 million.
According to figures from the Johns Hopkins University in the US, more than 943,000 people have died from the virus.
The US accounts for more than a fifth of the global total.
In Europe, the World Health Organization has warned of an alarming rise on cases, though so far there has not been a corresponding increase in deaths.
WHO's regional director for Europe, Hans Kluge, said a surge seen this month "should serve as a wake-up call" after the continent recorded 54,000 infections in a single day last week - a new record.
"Although the numbers reflect more comprehensive testing, it also shows alarming rates of transmission across the region," Mr Kluge told an online news conference from Copenhagen.
Israel imposes second coronavirus lockdown
Israel will enter a second nationwide lockdown at the onset of the Jewish high-holiday season, forcing residents to stay mostly at home amid resurgence in new coronavirus cases.
The country's initial lockdown was imposed in late March and eased in May as new cases tapered off, reaching lows in the single digits.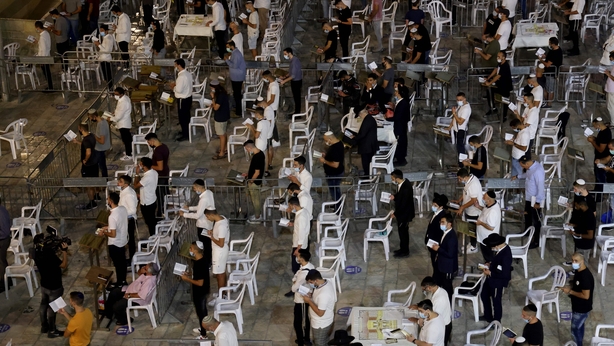 But Israeli leaders now acknowledge they lifted restrictions too soon in the hope of avoiding further economic damage by reopening the private sector.
They had also permitted mass gatherings, which contributed in pushing new cases to daily highs of over 5,000.
The new lockdown, which is due to begin at 11 am Irish time and will last three weeks, coincides with the start of the Jewish New Year, Rosh Hashana, traditionally a time for large family gatherings and group prayer.
Under the new rules, Israelis must stay within 500 metres of home, with exceptions for activities such as commuting to work, shopping for essentials and walking outdoors for exercise.
Workplaces will operate on a limited basis.
Social distancing and limits on the number of worshippers will go into effect at synagogues, usually packed for Rosh Hashana and Yom Kippur, the Jewish Day of Atonement that begins at sunset on 27 September.
Since the outbreak began, 1,169 people have died in Israel, a country of 9 million.
Health officials patchy compliance with mandatory mask-wearing, poor social distancing in close-quarter Arab and ultra-Orthodox Jewish communities and in schools for fuelling a second wave of cases.
Many Israelis have accused Prime Minister Benjamin Netanyahu, whose cabinet ministers have openly quarrelled about how to deal with the pandemic, of having been slow to respond to the new surge, and thousands have gathered for weekly protests outside his official residence in Jerusalem.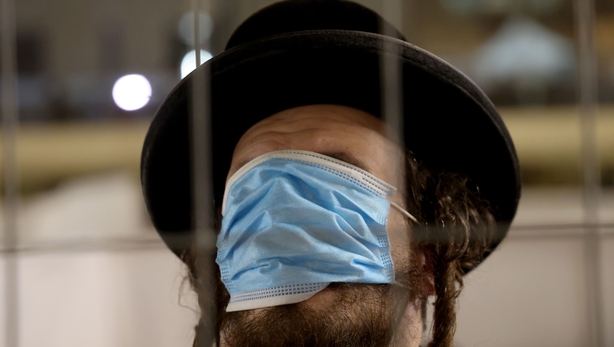 Australia to ease border limits and allow more citizens home
Australia is to increase the number of citizens allowed return home each week to 6,000, as it manages to get new Covid-19 infections under control.
Prime Minister Scott Morrison said the cap on the number of people allowed into Australia each week would increase by 2,000 by mid October after a National Cabinet meeting where states agreed to boost quarantine capacity.
The country's weekly limit is currently set at 4,000 people.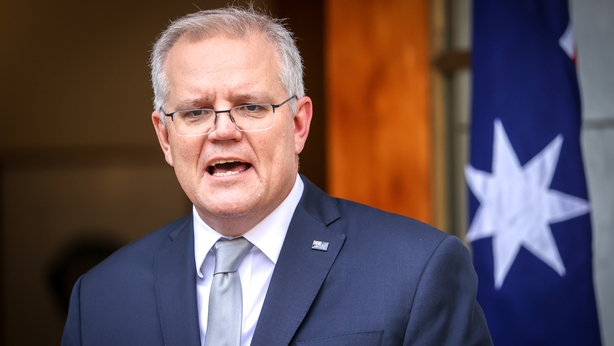 Mr Morrison said there were an estimated 24,000 stranded Australians wanting to return home which the government has pledged to facilitate before Christmas.
"With the success we have had as a country in recent months, we can start opening up again and we can start helping Australians getting home again," Mr Morrison told a press briefing.
Australia is also looking to ease quarantine restrictions for returned travellers from New Zealand which has effectively stamped out the virus, and who account for 15% of returns, to free up hotels for other travellers, Mr Morrison said.
Australia closed its international borders early in the pandemic, and imposed strict lockdowns and social distancing measures, dramatically reducing the spread of the virus. It currently has a mandatory 14-day hotel quarantine for all international arrivals.
Australia has reported more than 26,800 coronavirus cases and 829 deaths, well below the infection and death rates of other developed countries.
The bulk of its infections have been in the hotspot state of Victoria, were new infections have been falling for weeks.
---
---
Victoria logged 45 fresh cases overnight and five deaths, the highest number of new cases in more than a week, following 28 new cases yesterday which was the lowest in three months.
Its rolling two-week average of new infections has been falling, raising hopes lockdown measures confining residents to their homes may be eased before the 26 October deadline.
Average cases over the last two weeks in Melbourne, the state's largest city, fell below 50 this week, the benchmark the state set to start easing curbs.
Australia's six states and two territories have either closed domestic borders or severely limited entry.
Queensland state said that it would open up its border to residents of the national capital Canberra, which has had no new infections in ten weeks.
The island state of Tasmania will begin accepting some workers from virus-free states from next week and will look at opening boarders more widely from 1 December, its premier said.
Czech Republic's daily virus cases hit new record
The Czech Republic registered a record high of 3,130 new Covid-19 cases yesterday, reaching in 24 hours a figure comparable with the entire month of March, health ministry data showed.
It was the third straight daily record for the EU member of 10.7 million people, which has registered 44,155 confirmed cases and 489 deaths since the March outbreak.
And it matches a pattern across Europe of a surge in cases in August-September that has seen many countries move back towards tougher infection control restrictions.
Data cited by the Czech News Agency (CTK) show the Czech Republic is now the second worst-off in the EU after Spain in terms of daily growth in cases per 100,000 inhabitants.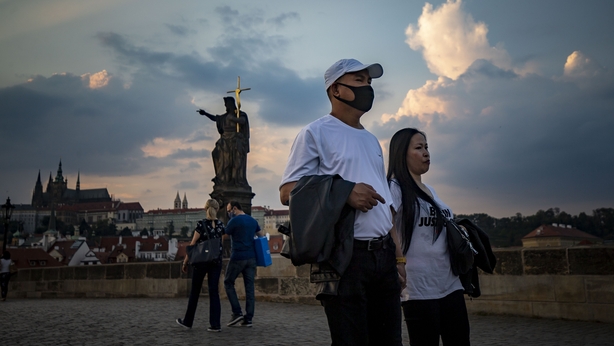 Most of the patients have mild or no symptoms and only 413 people are currently in hospital.
But epidemiologist Roman Prymula, a government coordinator, said on Sunday that "if the epidemic keeps growing in this explosive way, we will get to the very limit of our hospital capacity."
Ladislav Dusek, head of the Czech Institute of Health Information and Statistics, said Thursday the epidemic was no longer spreading within closed clusters.
"We are facing a big risk of an exponential spread," Mr Dusek said.
The government has meanwhile closed bars and clubs between midnight and 6am and introduced face masks in classrooms for pupils and students aged over 11.
It already reintroduced mandatory face masks on public transport and in hospitals on 1 September, before extending the measure to most indoor areas including shops and restaurants on 10 September.
The recent spike has seen the Czech Republic cut from the so-called "safe countries" lists in a dozen fellow EU countries.
After fending off much of the Covid-19 pandemic with timely steps including mandatory face masks outdoors in the spring, the government lifted most of its anti-coronavirus measures before the summer holidays.
"Maybe we should have kept face masks on throughout the summer," populist billionaire Prime Minister Andrej Babis said Thursday, adding: "We just wanted life to return to normal."