A consultant in infectious disease has said that this pandemic will be "a marathon and not a sprint" and that public messaging needs to be refocused.
"I think there was a relaxation in society after the first wave passed and it's important to see this as a marathon and not a sprint," Dr Eoghan De Barra said.
Dr De Barra said that we are now living with Covid-19 and that means we have to stick with the basic public health advice and that all the "diligent hard work" must be continued.
He said that the recent high numbers of confirmed cases are very concerning and that the next steps will be about human behaviour.
"The messaging has to be that this is controllable. It really is what each person does in their day-to-day life that's going to have an impact on the rest of society," he said.
Dr De Barra also said that Ireland's response to the virus has to be "proactive rather than reactive" and that testing, tracing and isolating remains the cornerstone of controlling Covid-19.
He said we now know about the types of environments where the virus can emerge to do this.
---
---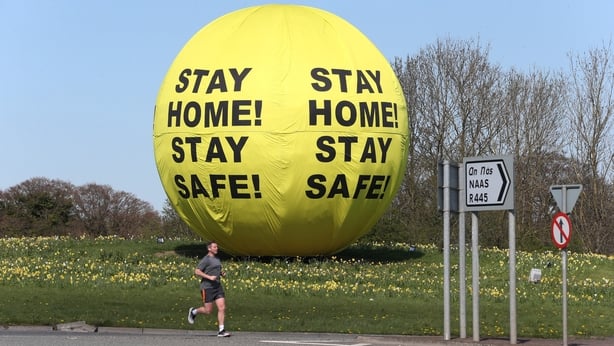 Professor Anthony Staines agrees that we are currently living with the virus, but says he does not believe this should be Government policy.
"My view and that of many of my colleagues is that we have now seen the limits of that [policy].
"If we continue to live with it, we are inevitably going to have more local outbreaks, more local economic disruption and more loss of jobs and it's going to be very very difficult to open schools safely and keep them open safely," he said.
Prof Staines, who is a Professor of Health Systems in Dublin City University said he is urging the Government to look at this policy and "consider carefully if we can adopt a policy of driving it to zero rather than trying to live with it".
He said a 'zero Covid' policy would mean strict rules on people coming into the country, including testing, quarantining and follow-up communications.
There should also be guidance for people here advising against non-essential foreign travel and also non-essential travel outside your county, he said.
Professor Staines explained that the idea is to create "green zones" in certain counties where there are zero cases.
"The idea is to set up particular counties where the virus will go down to 0 quickly and then expand these 'green zones' and join them together so that people could move freely between these counties, mostly rural ones to start with. Then you would spread the green zones to the whole of the Republic of Ireland and ideally the whole island of ireland. That is a zero Covid strategy," he said.
Call for permanent contact tracing staff
Meanwhile, a Professor at the UCD School of Nursing, Midwifery and Health Systems is calling for the recruitment of permanent staff for Covid-19 contact tracing centres across the country to prevent a slowdown in the tracing system.
"The current system worked in a crisis but I don't think it is sustainable in the long term."
Speaking on RTÉ's Today with Sarah McInerney, Prof McAuliffe said she is concerned about the falling number of volunteers to these tracing centres, and the soon-to-be rising demands on the time of public health specialists after schools reopen.
She said more and more people will become infected with the virus if there is a slowdown in the tracing system.
"The current system worked in a crisis but I don't think it is sustainable in the long term", as it is "too reliant on volunteers," she said.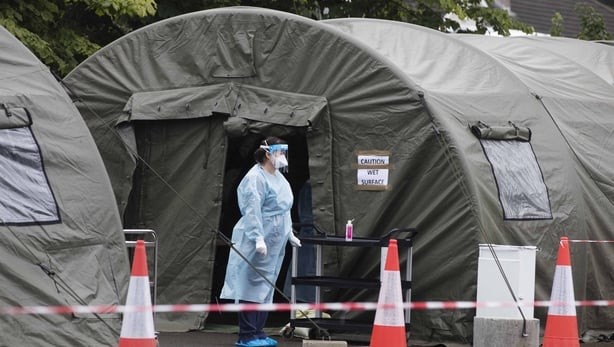 As autumn approaches the number of people who are asymptomatic is a growing source of concern, Prof McAuliffe said, as "people are completely unaware that they are spreading the virus".
The average number of close contacts has gone from two in the early stages of the pandemic to up to 30 now, she said, as she urged people to limit their contacts.
She said: "People need to be acting like they have the virus. If we continue to see the numbers going up and coming down we are going to see a slowdown in the tracing.
"A slowdown in the tracing means more and more people infected. Particularly the concern now is as most people are asymptomatic, they are spreading it.
"People are socialising; they are out and about. It is completely different to where we were at at the early stages of the pandemic, when the average number of close contacts was down to two people.
"Now it's upwards of six and in some cases up to 30. We all need to be acting like we have the virus."